Democratic presidential frontrunner Hillary Clinton fielded a question during a New Hampshire campaign stop Thursday regarding her position on rape victims — and women who've accused her husband, former President Bill Clinton, of sexual harassment and rape.
"Secretary Clinton, you recently came out to say that all rape victims should be believed. But would you say that about Juanita Broaddrick, Kathleen Willey and Paula Jones?" the woman in the audience asked Clinton. "Should we believe them as well?"
"Well, I would say that everybody should be believed at first until they are disbelieved based on evidence," a smiling Clinton replied to a round of applause.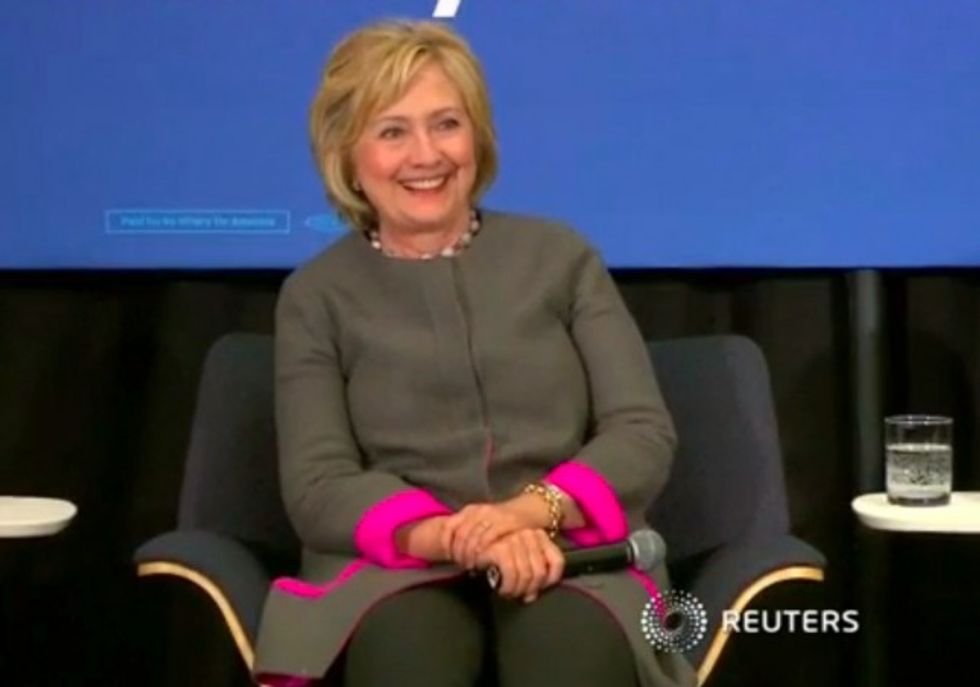 Image source: Reuters
Here's what Clinton tweeted less than two weeks ago:
Every survivor of sexual assault deserves to be heard, believed, and supported. https://t.co/mkD69RHeBL

— Hillary Clinton (@HillaryClinton) November 23, 2015
Jones sued Bill Clinton during his first presidential term, accusing him of sexual harassment while he was governor of Arkansas and she was a state employee; he denied Jones' claims and paid her $850,000 to drop her lawsuit. Broaddrick in 1999 accused Clinton of rape when she volunteered on his first gubernatorial campaign in 1978. Willey, a volunteer at the White House, said Clinton lied under oath when he denied claims that he groped her in the Oval Office, CBS News said.
On Saturday, Ruby Murphy, the young woman who asked Hillary Clinton the "brutal" question appeared on TheBlaze radio to discuss the incident and what happened after the applause died down.
—
Follow Dave Urbanski (@DaveVUrbanski) on Twitter