STERLING, Va. (AP) — Donald Trump's Republican campaign for president is built on the same win-at-all-costs, no-second-guessing confidence that made him billions in real estate and a star of reality television.
Yet in a recent interview with The Associated Press, the GOP front-runner displayed rare, if fleeting, moments of humility and introspection.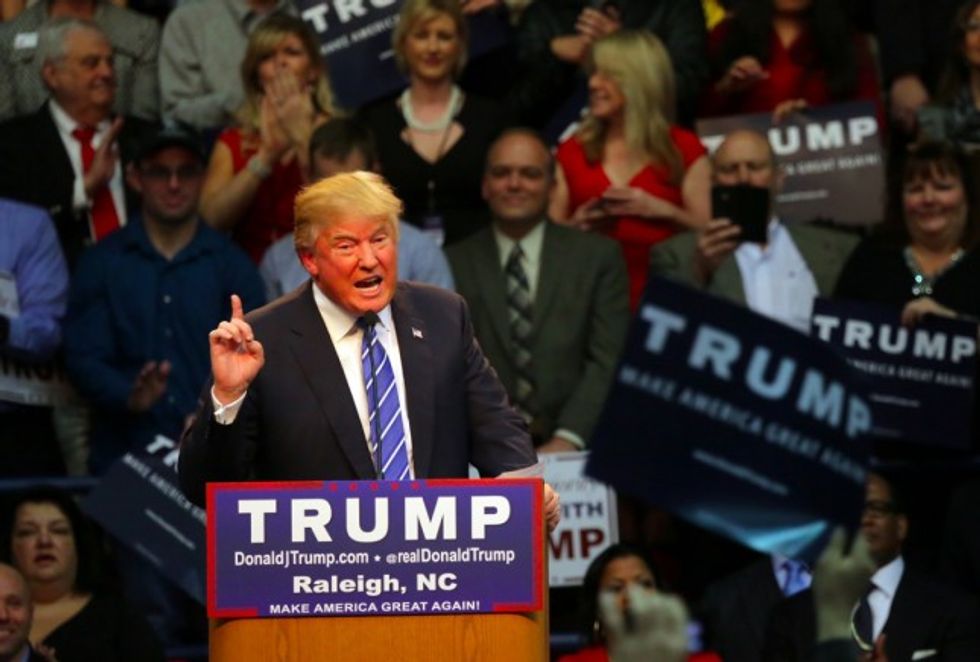 Republican presidential candidate Donald Trump speaks at Dorton Arena in Raleigh, N.C., Friday, Dec. 4, 2015. (AP Photo/Ted Richardson)
"I think I could lose a state, sure," Trump said of the first three states to vote in next year's presidential primaries. "If I came in second or third I think that would be, you know, I wouldn't be happy, 'cause I want to win."
In retrospect, Trump also said he might not have used the phrase "truthful hyperbole" in his 1987 book, "The Art of the Deal." The phrase has trailed Trump in the 2016 campaign, as have questions about whether his penchant for exaggeration and tenuous relationship with some facts would be appropriate for a president.
"I think maybe if I had that phrase to do over again, I'd use the word 'optimistic,' perhaps. I would want to be very optimistic," Trump said.
Trump displayed his signature bravado throughout much of the 30-minute interview with AP at his golf course in northern Virginia. He declined to name a single thing he's said over the course of the campaign that he wished he could take back. He repeatedly referenced his dominant standing in preference polls and the enthusiasm of his crowds.
But the glimmers of self-reflection and self-awareness stood out. They offered a look at a side rarely seen at Trump's rallies and television appearances.
Trump unexpectedly leapt to the top of the GOP field this summer and has yet to be knocked from that perch. With less than two months until the Iowa caucuses, his hold shows no signs of slipping. But people in early states often make final decisions close to voting day.
"I'd like to win," Trump said, and "clean the table."
History suggests that's unlikely, even if Trump does take the nomination.
In modern history, a nonincumbent has never won all the first three early-voting states: Iowa, New Hampshire and South Carolina.
Trump said that while he's doing "very, very well" in them, he was aware of the precedent. Even if he were to lose one, he said, "I won't lose badly."
His political rise has set the party's establishment on edge. Trump draws large and enthusiastic crowds to rallies and repeatedly says things viewed by some women, racial and religious minorities, and disabled people as offensive.
He also has developed a pattern of repeating falsehoods in speeches and interviews. Among them: There are 100 million unemployed workers in the United States, and President Barack Obama plans to allow 250,000 Syrian refugees to resettle in the country.
Trump outlined the concept of "truthful hyperbole" in "The Art of the Deal," calling it "an innocent form of exaggeration — and very effective for of promotion."
"People want to believe that something is the biggest and the greatest and the most spectacular," he wrote.
Asked whether he would take the same approach as president, Trump suggested he would, but would recast it as less about stretching the truth and more about putting a positive spin on the circumstances.
"I want to be truthful, but I want to be optimistic," he said.
Trump said that as president, he would aim to tell the truth in speeches such as the State of the Union, he believes that being optimistic is just as an important a goal.
"I think the best word would be, I would want to be optimistic, and I am very optimistic about our country," Trump said. "I think if we get the right leadership, which will be me — it's the way I feel, I'll do the best job — but I think if we get the right leadership I think we have tremendous potential and I would be very, very optimistic about the country and I would be that way in the State of the Union address."
Both polls and interviews with Trump supporters suggest that many of his backers have not voted in previous presidential elections.
That gives Trump an opportunity to expand the electorate. It also poses significant challenges in terms of registering those new voters and ensuring they show up. Trump said in the interview that his campaign has built an aggressive operation to take on those tasks, though he provided no details.
Speaking on Saturday at a rally in Spencer, Iowa, Trump pressed the importance of caucusing.
"You've got to get to the caucus, you've got to get there," Trump told the crowd. "Even if you're not feeling good, if you're feeling horrible, if you had a horrible fight with your wife or your husband... If you caught your husband cheating the night before, you've got to go to the caucus, right?"