As the National Republican Senatorial Committee plans for a potential GOP nominee in Donald Trump, fellow presidential contender John Kasich said Sunday that it won't happen.
The Ohio governor told CNN's Jake Tapper that Trump's popularity will soon fade as voters want "somebody who has the experience."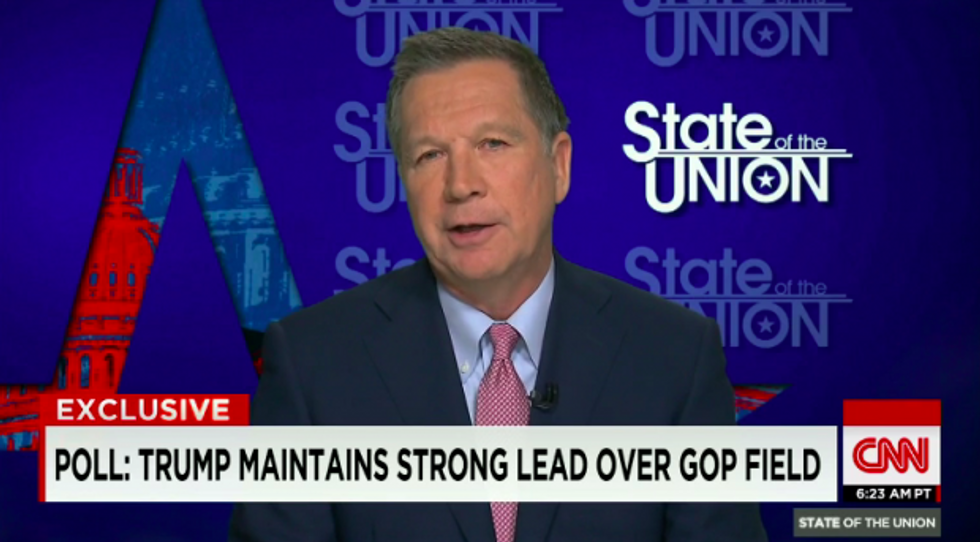 Image source: CNN
"I believe that Donald Trump will not be the nominee," Kasich said matter-of-factly. "I think things will settle down, and I believe at the end of the day, and what I've heard in New Hampshire, is that experience is what counts. Somebody who's been a reformer, but somebody who has experience. And I think we look for somebody at the end who knows how to land the plane."
Tapper and Kasich discussed the candidate's latest ad which attacks Trump and likens him to Nazis.
"This is a message about uniting people," Kasich said of the advertisement. "When you attack Hispanics, when you characterize all Muslims in a very negative way, when you insult women — we don't think that that's good. We think that at this point in time, more than any other time, we need to have America united, and we need to have an American president who is going to unite us and not divide us."
Kasich said any other interpretation of the advertisement is not what was intended.
According to Real Clear Politics' aggregated polling data, Trump leads the pack of Republican hopefuls at 30.8 percent. In comparison, Kasich is polling in eighth place at 2.3 percent.
Watch Kasich's interview with Tapper here.