The New York Times is being questioned by journalists over "ethically dubious" Iran tour packages the paper is offering with the apparent approval of the Iranian government.
Among the various overseas tours guided by New York Times' reporters, the paper is offering a $7,195 tour called "Iran: Tales from Persia."
The pitch on the Times' website for the 13-day tour reads in part: "Persia. Iran. For 2,500 years, this powerful country has entranced and mystified the world. Discover the ancient secrets and modern complexities of this influential land on a 13-day itinerary incorporating some of the oldest archaeological sites in the world. Welcome to the once-forbidden land of Iran."
The Times warned prospective buyers in capital letters that "THIS TRIP IS SELLING FAST" with only two dates left with space available.
Reporter James Kirchick in Foreign Policy magazine raised serious questions about the Times' journalistic ethics in light of the paper's support for the Iran nuclear deal and its call for Iran to release imprisoned Washington Post correspondent Jason Rezaian, even as it was taking American tour groups to visit Iran.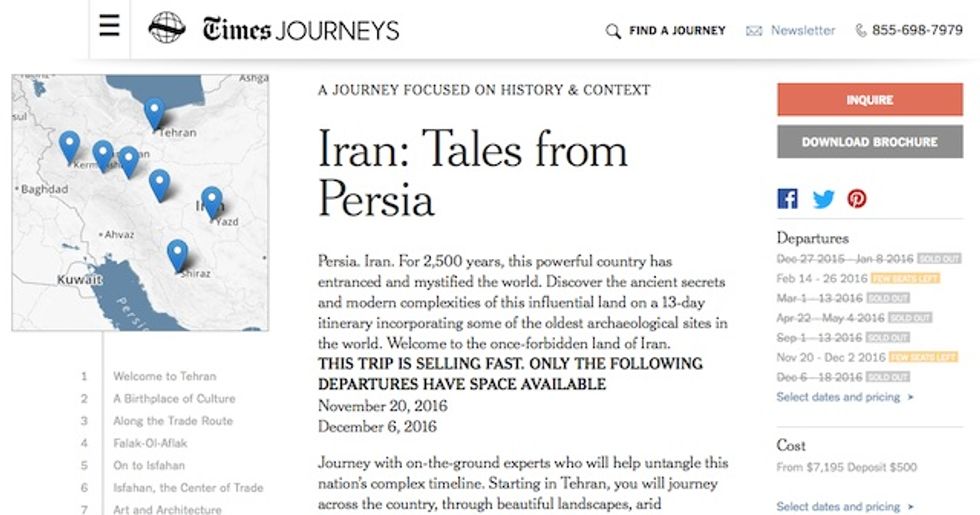 The New York Times tour package to Iran costs $7,195 and is led by reporters. (Screenshot: New York Times)
"As a journalist, I find it dismaying that the Times would collaborate in a business venture with a government currently imprisoning an American reporter," Kirchick wrote in Foreign Policy.
"While the newspaper has been demanding the release of an American journalist — one now facing a prison sentence of indeterminate length — some of its own journalists, under the auspices of their employer, have been engaging in a commercial enterprise that benefits his captors," Kirchick wrote.
"What is ethically dubious is an ostensibly impartial news organization engaging in a mutually advantageous moneymaking venture with an authoritarian regime holding an American journalist hostage," Kirchick wrote.
Washington Post reporter Rezaian has spent more than 500 days in Iranian prison, having been charged with espionage.
"Needless to say, Evin Prison, where the Iranian government houses political prisoners and Rezaian continues to languish, is not among the stops, though a visit to the home of the late Ayatollah Khomeini is," Kirchick noted.
Other prominent journalists also pointed to the offering of "fun tours" given the American reporter's ongoing imprisonment.
Why NY Times sells $7K 13-day fun tours of Iran (w/journos as guides) when WPost reporter is on 502-day prison tour?https://t.co/iBrtXtXFUh

— Richard Behar (@beharjournalist) December 5, 2015
Why is the @nytimes offering curated vacations to #Iran when Americans rot in their jails? @jkirchick reports https://t.co/ltUTfsU2Fc

— Eli Lake (@EliLake) December 4, 2015
This made me pause... https://t.co/Lojcnt2Jts

— Scott Simon (@nprscottsimon) December 4, 2015
Kirchick pointed out that such travel packages bring in much needed cash to Iran and "would be impossible absent approval from high-level figures in the host country's government, who have a political and financial interest in their taking place."
He also raised questions about the potential conflicts of interest of reporters leading the "profit-generating" tours who themselves strongly pushed the Iran nuclear deal.
However, the New York Times said the tours have no influence on the paper's reporting.
"These destination choices in no way represent an endorsement by The Times and have no impact on our news coverage. Instead, the trips reflect the broad range of interests of our readers," Times spokeswoman Eileen Murphy told Kirchick.
The Washington Post reported Wednesday that Rezaian is in "immediate danger" as his health has deteriorated and the mistreatment of him has intensified. The 39-year-old Washington Post Tehran correspondent holds dual U.S. and Iranian citizenship.
Read Kirchick's full report at Foreign Policy.