The Federal Bureau of Investigation is looking into just how much the mother of one of the San Bernardino shooters knew before her son and his wife went on their shooting rampage that left 14 people dead.
Attorney General Loretta Lynch announced the FBI's probe Sunday.
"Obviously, it's something that we're looking at very, very closely," she said during an appearance on NBC's "Meet the Press."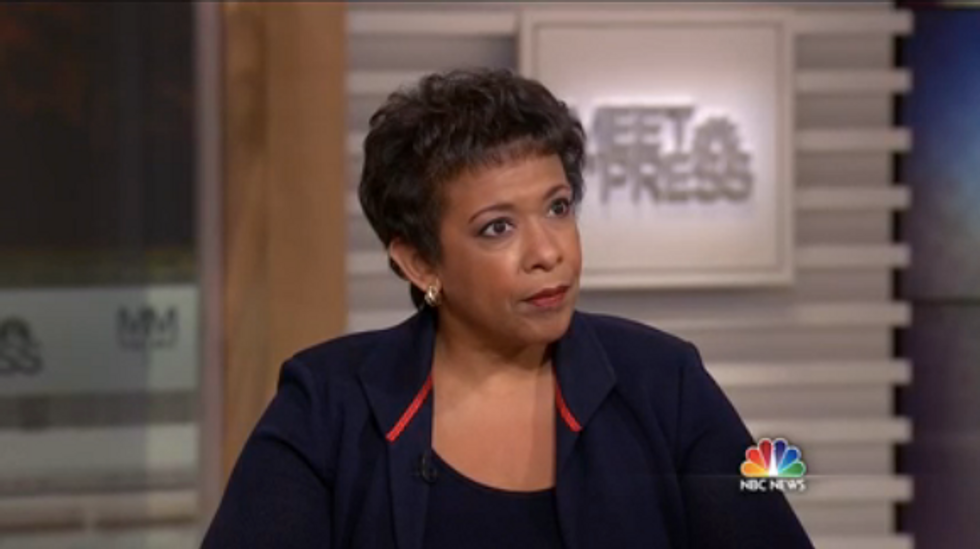 Image source: NBC News
The mother, Rafia Farook, reportedly lived in the same house in California as her son, Syed Farook, and his wife, Tashfeen Malik. Law enforcement officials said the couple built at least 15 homemade pipe bombs and stored thousands of rounds of ammunition inside the home.
When Farook and Malik walked into a holiday party at a social services agency in San Bernardino, California, and opened fire, they were carrying two .223-caliber rifles. The firearms were purchased by a neighbor and friend of Farook's, who authorities say is not a suspect. That same man has checked himself into a mental health facility following the attack.
According to the Daily Mail, Farook and his mother were reportedly very close.
Farook's father, also named Syed, told an Italian newspaper that his son was a "momma's boy" who was "too shy, conservative and fixated against Israel." The two parents are separated, the Daily Mail reported.
Attorneys for the Farook family — David Chesley and Mohammed Abuershaid — said during a press conference Friday that Rafia was questioned extensively by the FBI following the attack.
As the Daily Caller reported, Rafia is an active member of the Islamic Circle of North America — a Muslim organization that promotes the establishment of a caliphate and has ties to a radical Pakistani political group.