Republican White House hopeful Texas Sen. Ted Cruz has overtaken Donald Trump and Ben Carson in the race for the 2016 Republican nomination in Iowa, a new Monmouth University poll released Monday found.
According to the poll, Cruz received 24 percent of support from likely Republican caucusgoers, while Trump received 19 percent, good enough for second place.
Florida Sen. Marco Rubio moved to third with 17 percent of support, while retired neurosurgeon Carson came in fourth with 13 percent.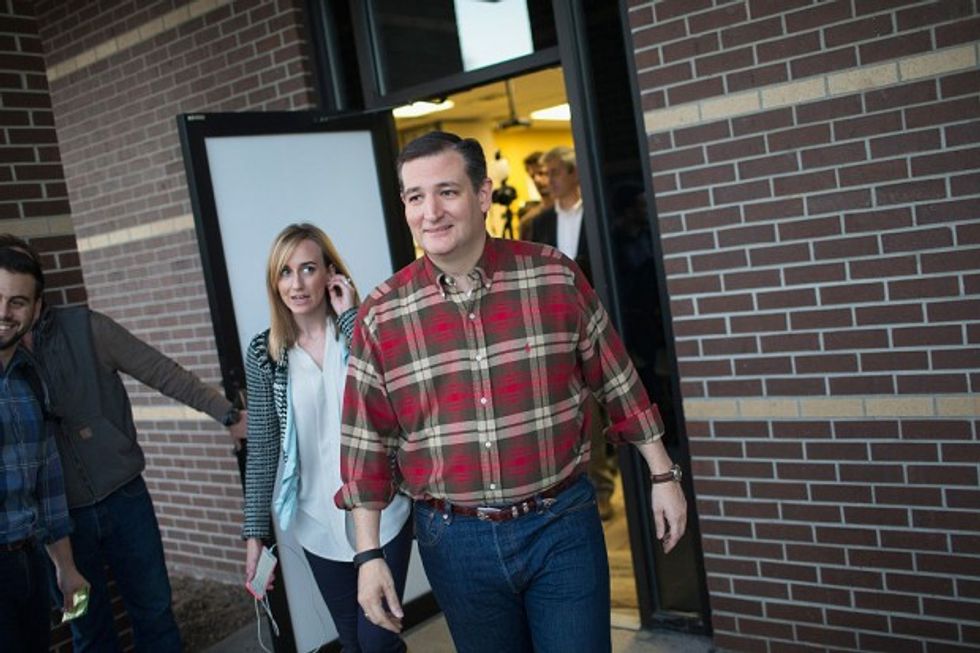 Republican presidential candidate Sen. Ted Cruz (Texas) leaves a campaign event at CrossRoads Shooting Sports gun shop and range Dec. 4. (Getty Images/Scott Olson)
Cruz's 14-point jump was the largest gain of any candidate compared to the same poll from October. Carson, who was leading in October with 32 percent, saw the largest drop, falling 19 points.
Former Florida Gov. Jeb Bush rounded out the top five with 6 percent. Kentucky Sen. Rand Paul followed with 4 percent, while former Hewlett-Packard CEO Carly Fiorina and Ohio Gov. John Kasich tied with 3 percent.
New Jersey Gov. Chris Christie and former Arkansas Gov. Mike Huckabee completed the top 10, each with 2 percent. Former Pennsylvania Sen. Rick Santorum garnered a single percentage point of support.
South Carolina Sen. Lidnsey Graham did receive more than 0 but less than 1 percent of support. Former New York Gov. George Pataki and former Virginia Gov. Jim Gilmore both received no support in the poll.
Cruz was also found to be the respondents' most likely second choice (18 percent), with Rubio close behind (17 percent).
The poll found Rubio, Carson and Cruz to be the most favorable, while Bush and Trump were the most unfavorable.
—
Follow the author of this story on Twitter and Facebook:
[facebook //www.facebook.com/plugins/like.php?href=