A controversial Egyptian television personality has suggested that the U.S. Congress either "send Obama to the guillotine" or "stick him on an impalement rod," because just one week before the San Bernardino shootings, President Barack Obama told the American people that there was no "credible" threat of an attack on the homeland.
Television host Ahmed Moussa excoriated the president for downplaying the security threat and even accused him of helping terrorists by numbing Americans to the threat.
"I would like Congress to send Obama to the guillotine, because three days before the [San Bernardino] terror attack, the attack was on Wednesday. On Tuesday or Monday, he appeared and lied, like he always does that liar. … He said: There is no threat to American citizens," Moussa said, according to a translation of excerpts by the Middle East Media Research Institute.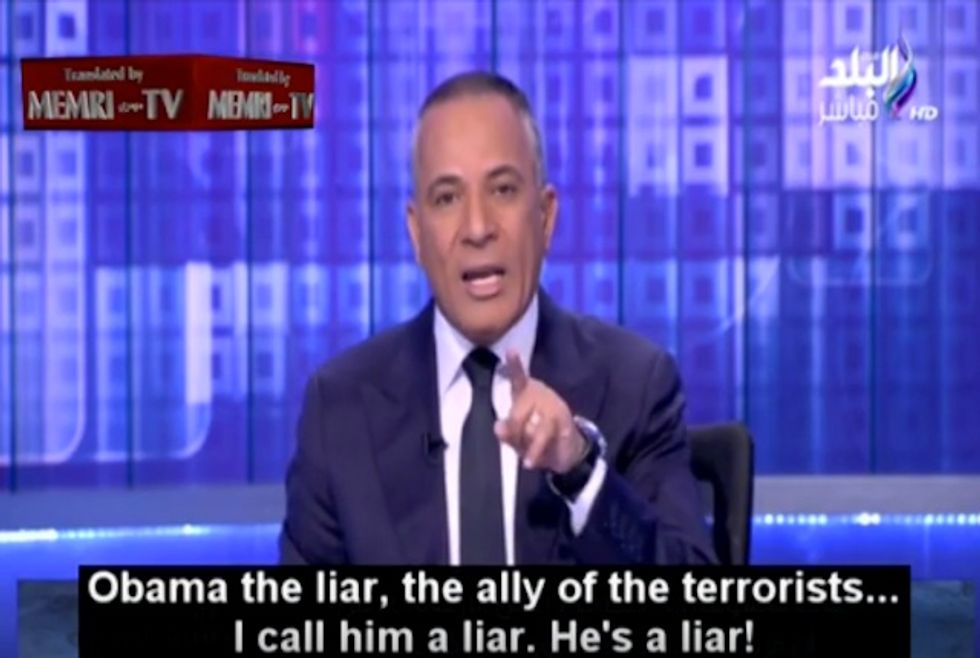 Controversial Egyptian television host Ahmed Moussa says Obama should face punishment over a statement downplaying homefront terrorist threats just one week before the deadly San Bernardino shootings that killed 14. (Image source: MEMRI)
Moussa was likely referring to Obama's statement Nov. 25 — one week before the San Bernardino attack — following a meeting with his national security team when he said that there was no "credible" threat of an attack on U.S. soil.
"Now, right now, we know of no specific and credible intelligence indicating a plot on the homeland. And that is based on the latest information I just received in the Situation Room," Obama said the day before Thanksgiving.
"It is as if he was trying to cover," Moussa said. "Today, I suspect that Obama is connected to the terrorists who carried out the attack. When he says something like this, he numbs the security agencies, the military and the intelligence agencies."
"The U.S. Congress should ask: 'How come you said that according to your information no terrorist attack was imminent?'" Moussa suggested.
The Egyptian television host then offered an even more shocking suggestion: "He should be sat on an impalement rod. They should take Obama and stick him on an impalement rod."
The media personality said that alternatively, Obama could just resign. "If Obama had any courage and dignity — which he has not — he would have said: 'I resign today to face trial,'" Moussa said.
Moussa emphasized that he has no problem with the American people, whom he described as "friends of Egypt." But as to Obama, Moussa said, "I call him a liar. He's a liar! He is the ally of the terrorists. This Obama deserves to stand trial."
The Egyptian media figure was mocked in October after apparently using footage from a video game to demonstrate what he described as the "success" of Russian airstrikes in Syria. The controversial host also has faced prison sentences and fines over defamation lawsuits filed against him by public figures.
Moussa's anti-Obama tirade was broadcast on the Al-Qahera Wal-Nas TV channel on Dec. 5. Watch the piece here.
(H/T: MEMRI)