A gun rights activism group is planning to hold a mock mass shooting at the University of Texas over the weekend.
The stunt is intended to shed a negative light on gun-free zones while pubic colleges in Texas debate just how to implement a new law that allows for concealed carry on campus. The performers, who are with Come and Take It Texas and DontComply.com, will be armed with cardboard guns and will use fake blood. The sounds of gun shots will be broadcast on the campus with bullhorns, according to the Statesman.
Performers will play the role of first responders — not including law enforcement officials  — victims and shooters.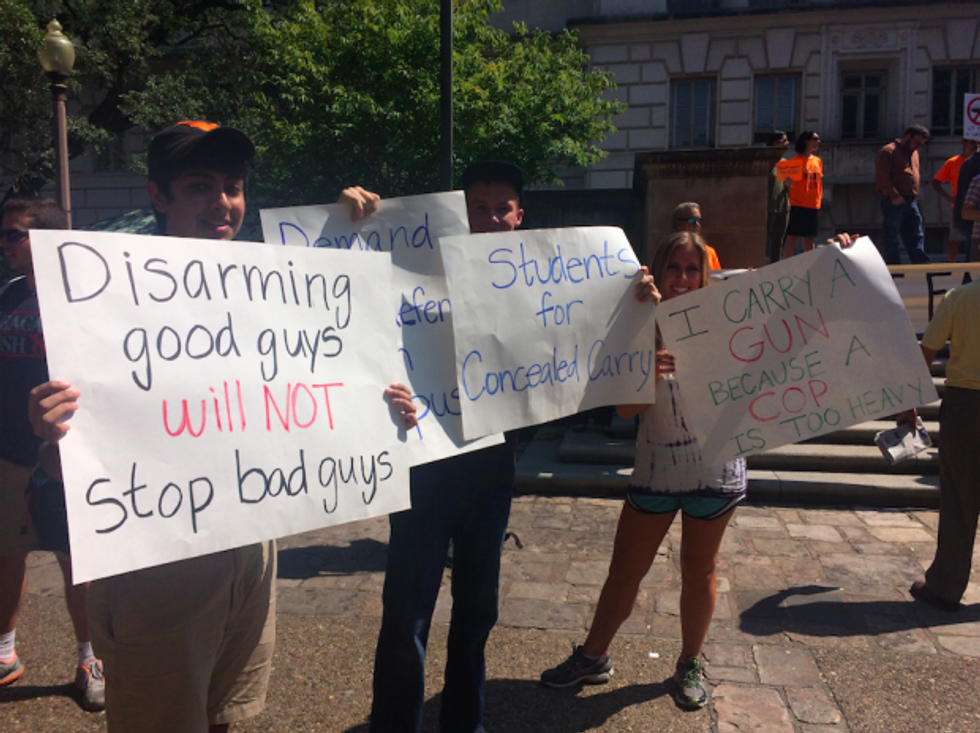 University of Texas at Austin students gathered to show their support for recently passed campus carry legislation. (Image provided to TheBlaze.)
"Criminals that want to do evil things and commit murder go places where people are not going to be able to stop them," Matthew Short, a spokesman for both gun rights groups, told the Statesman. "When seconds count, the cops are minutes away."
Short said that his organizations were not seeking permission from the city of Austin or the public university. He also said the groups were not concerned about how the demonstration could look in the wake of the recent San Bernardino shooting in California when terrorists killed 14 people and injured more than a dozen.
Murdoch Pizgatti, president and founder of Come and Take it Texas and co-founder of Don'tComply.com, told TheBlaze that the performance will showcase a change in the body count when gun-free zones are enforced.
"We want to educate the public on the dangers of gun-free zones," he told TheBlaze in an interview Wednesday.
Pizgatti said he expected 30 or more people to turn out for the demonstration and added that the group was not worried about any safety issues.
"It's presented in a very outlandish and over-characterized version. It's not a realistic performance," he told TheBlaze. "There are no safety concerns. It's just an expression of speech. It's not a realistic performance art piece."
"We want criminals to fear the public being armed," Short also said. "An armed society is a polite society."
In March, Citrus Community College in California planned a mock active shooter situation for an emergency drill that would include an actor armed with a real gun firing blanks. However, the drill was eventually nixed.
"We find it offensive that a group would seek to simulate a game where the criminals are actually law-abiding citizens in real life," Antonia Okafor, southwest regional director for Students for Concealed Carry, told TheBlaze. "This is not what we wish to convey to the community at large. Concealed carry license owners are upstanding citizens and SCC wants to uphold that view."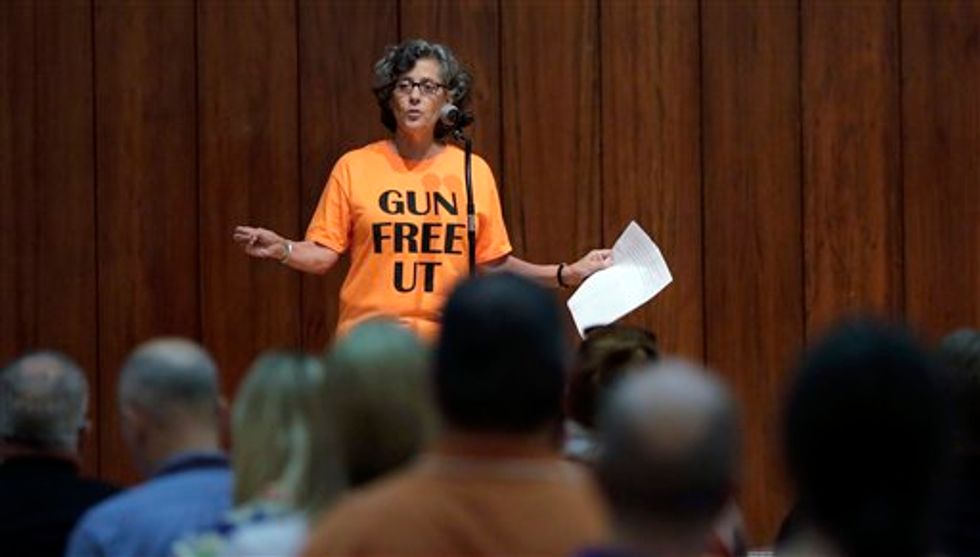 Professor Joan Neuberger speaks during a public forum at the University of Texas campus as a special committee studies how to implement a new law allowing students with concealed weapons permits to carry firearms into class and other campus buildings Sept. 30 in Austin. The law takes effect August 2016. (AP Photo/Eric Gay)
Okafor said that SCC, which is not affiliated with the groups planning the Texas weekend demonstration, is a single-issue organization with its focus on concealed carry, not open carry.
UT faculty, staff, students and the community have been embroiled in a bitter fight regarding campus carry ever since Republican Gov. Greg Abbott signed legislation that would allow for campus carry in June. 
The law will not go into effect until 2016, but already more than 1,300 faculty members have signed a Google doc petition demanding the ban of guns on campus.
More than 1,800 students, parents and faculty members belong to the Gun Free UT group, according to the group's Facebook page, which has been made private.
A UT spokeswoman did not respond to a request for comment from TheBlaze in time for publication.  
The gun rights groups also plan to participate in an open carry walk — brandishing real firearms — prior to Saturday's demonstration on campus.