In the wake of last week's terrorist attack in San Bernardino that killed 14 and injured 21, gun sales and applications for concealed carry permits have spiked around the country, and surveys show Americans are increasingly concerned for their safety.
That sentiment is particularly apparent at a gun store less than two miles from the site of the San Bernardino shooting. They're so busy at Turner's Outdoorsman that customers have been asked to "take a number" and come back later, KCAL-TV reported.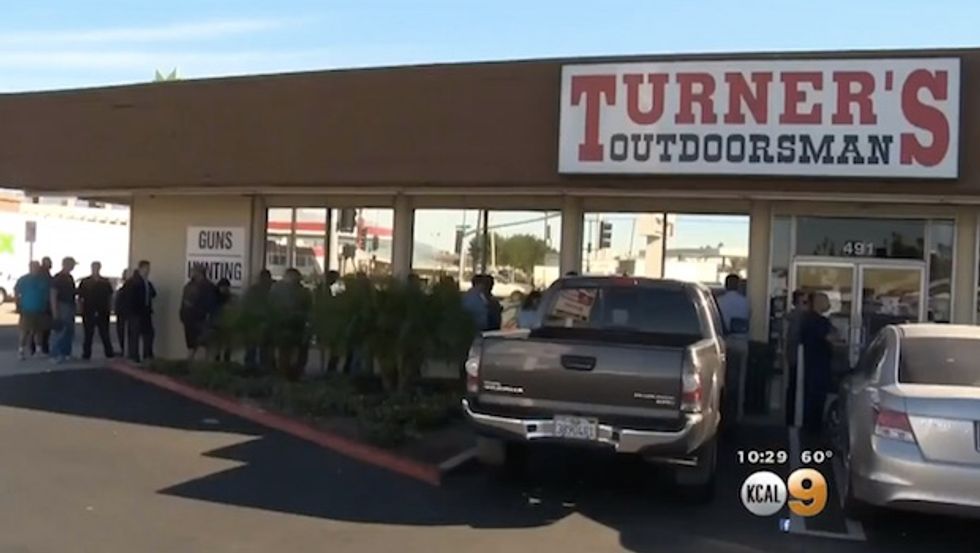 Image source: KCAL-TV
"My children who are in their 20s decided they wanted to learn how to shoot," Milton Strickland told the station. "After the incident the other day, they figured it would be a good skill to have in case they ever get caught in anything like that."
At the Riverside Magnum Range — where one of the suspected San Bernardino killers, Syeed Farook, practiced his shooting skills — firearms sales are up 60 percent in the last week.
Concealed carry permit applications also have skyrocketed. The San Bernardino Sheriff's office told the Los Angeles Times it's received seven times the typical number of applications for permits in just the past seven days.
"After the shooting, we have to be prepared," Angelica Carrillo of Lake Arrowhead told KCAL, who's looking to buy her first gun. "You can't mess around."
Carrillo added that she's "had Christmas parties the same place they had it. So, it's like, you know what, you can never be too prepared. You have to protect yourself."
Desiree Pagliuso, a single mother of three, told KCAL that she's never had a gun — until now: "I've had, you know, multiple conversations with women that have never even shot guns that are looking into buying guns to be able protect themselves."
_
Follow the author of this story on Twitter and Facebook: