White House press secretary Josh Earnest said it's up to "voters of that city" to decide whether embattled Chicago Mayor Rahm Emanuel remains in his job, but he was not willing to say whether the city's most well known voter — President Barack Obama — has confidence in the mayor.
Asked if being the leader of the Democratic Party and someone set to become a full-time constituent of the Chicago mayor in 13 months is a reason for Obama to weigh in Emanuel's performance, Earnest told TheBlaze, "It may be." However, he would not say if the president has continued confidence in his first White House chief of staff.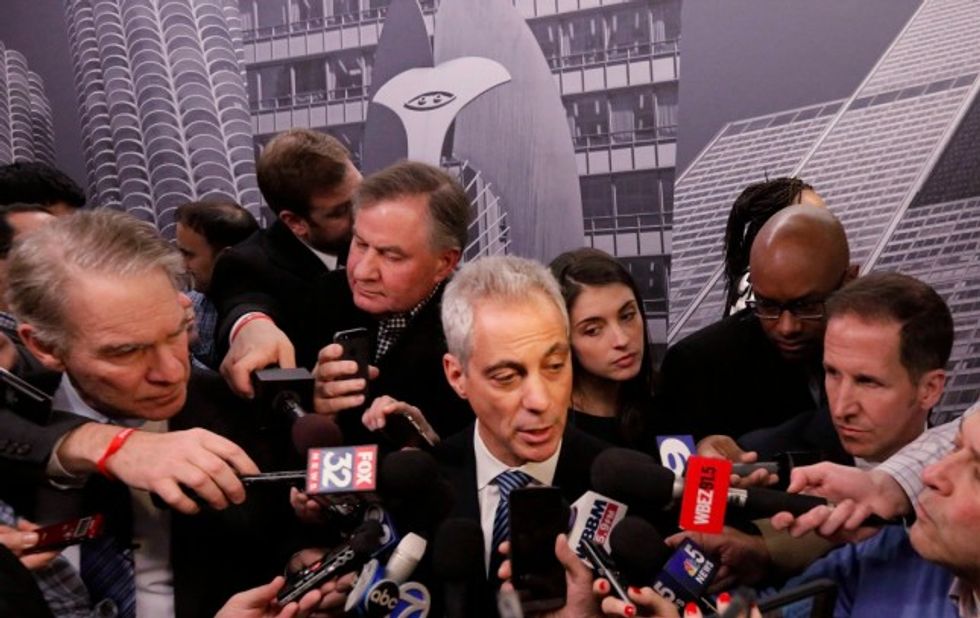 Chicago Mayor Rahm Emanuel speaks to the media Dec. 3 in Chicago. Faced with growing calls for federal intervention after a white officer fatally shot a black teen, Emanuel said that the city would welcome a Justice Department investigation of "systemic issues" in the Chicago Police Department. (AP Photo/M. Spencer Green)
Earlier this week, about 200 residents of Chicago marched on City Hall, calling for Emanuel to step down over the city's handling of a 2014 police shooting and killing of an unarmed black teen. Former police officer Jason Van Dyke shot 17-year-old Laquan McDonald 16 times.
"The president obviously knows and respects Mayor Emanuel. In terms of rendering judgment about his fitness to continue to lead, the voters of that city will have to make that determination themselves," Earnest told TheBlaze. "It's quite clear that many of them will based on how he takes responsibility for and follows through on his commitment to implement needed reforms in the Chicago Police Department. He's offered up that commitment to see through the implementation of those reforms, but ultimately the most appropriate judge of his success are the citizens of the city of Chicago."