CHICAGO (TheBlaze/AP) — About 200 protesters in downtown Chicago called for Mayor Rahm Emanuel to resign in the wake of documents that show police officers' accounts of the 2014 killing of a black teen differed greatly from what was captured on dashcam video.
Meanwhile the Justice Department is expected to announce this week a civil rights investigation of the Chicago Police Department similar to probes of police departments in Baltimore and Ferguson, Missouri.
RT Fabmeenne: Rahm Emanuel has to go! #chicago#protest#LaquanMcDonaldpic.twitter.com/YIDNrCi1xnhttps://t.co/QZ57S3KJ9d;

— Protest Pin (@ProtestPin) December 6, 2015
Marchers on Sunday were heard chanting in one clip, "Hey hey, ho ho, Rahm Emanuel has got to go!"
Protesters walking in the business district known as The Loop counted to 16 to signify the number of times Officer Jason Van Dyke shot 17-year-old Laquan McDonald.
Police fought for months to keep the public from seeing the dashcam video but released it in November facing a court deadline and only hours after Van Dyke was charged with murder.
Emanuel fired the city's police chief this week over the handling of the case.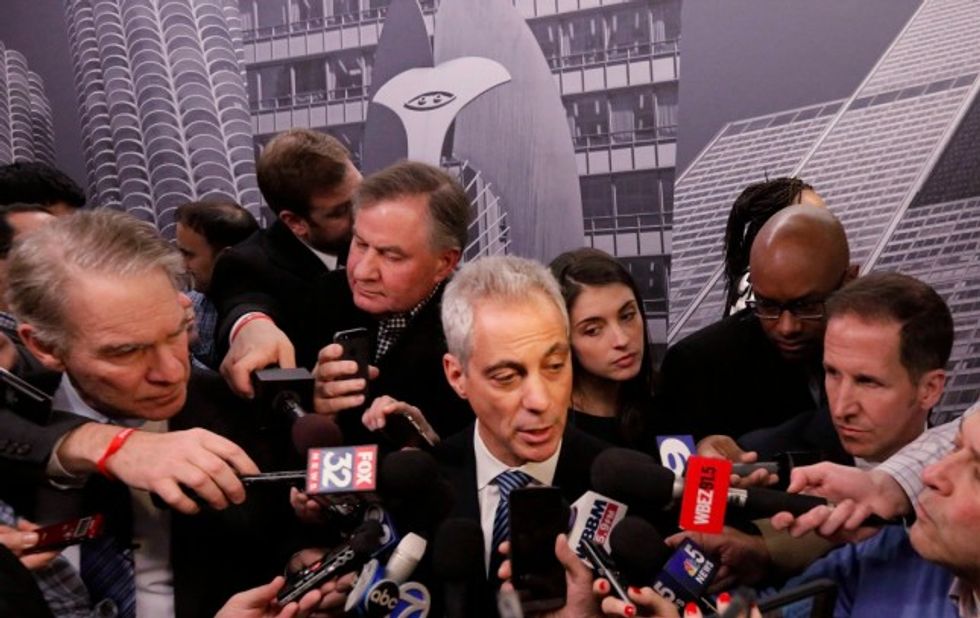 Chicago Mayor Rahm Emanuel speaks to the media, Thursday, Dec. 3, 2015, in Chicago. Faced with growing calls for federal intervention after a white officer fatally shot a black teen, Emanuel said Thursday the city would welcome a Justice Department investigation of "systemic issues" in the Chicago police department. (AP Photo/M. Spencer Green)
The Rev. Jesse Jackson said he hopes the sight of protesters holding a disciplined and non-violent march will prompt the city to "dispense justice and fairness all across the city."
The Justice Department's decision to investigate was confirmed to The Associated Press by a person familiar with the decision who wasn't authorized to discuss the investigation publicly because it has not yet been announced. The person said an announcement is expected this week.
This story has been updated.
—
Follow Dave Urbanski (@DaveVUrbanski) on Twitter