After more than a decade, an even broader bipartisan consensus was reached that the previous bipartisan consensus on the federal role in education didn't work very well.
In 2002, No Child Left Behind was heralded as a grand bipartisan accomplishment when Republican President George W. Bush and Massachusetts Democratic Sen. Ted Kennedy were holding events together and pushing hard to sell their education vision to their respective parties. They were successful, but the law prompted years of angst and some regret.
On Thursday, in a somewhat rare bill-signing ceremony underscoring how unpopular the law had become, President Barack Obama signed the Every Child Succeeds Act as a replacement.
"After more than 10 years, members of Congress from both parties have come together to revise our national education law," Obama said at the bill-signing, flanked by lawmakers and school children. "I'm proud to sign a law that will make sure every student is prepared to succeed."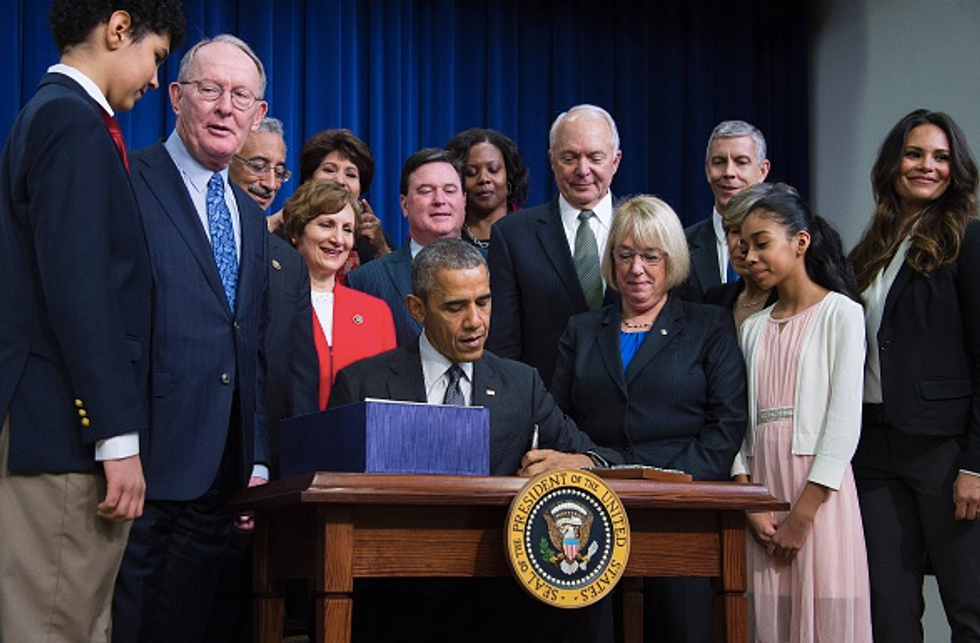 President Barack Obama signs the Every Student Succeeds Act, a bipartisan rewrite of No Child Left Behind, at the Eisenhower Executive Office Building in Washington, D.C., Thursday. (Jim Watson/AFP/Getty Images)
Obama jokingly said the bill is "a Christmas miracle, a bipartisan bill-signing right here."
NCLB established some principles about children learning at grade level and accountability for schools — some of which will be upheld in the Every Child Succeeds act.
The chief goals of the Every Child Succeeds Act, which passed the House and Senate with overwhelming support, focuses on higher academic standards in states in order to push U.S. schools to be on a par with international competitors. While making no mention of the controversial Common Core standards, the legislation calls for establishing college- and career-ready standards for students to be incentivized with additional Race to the Top grants.
The bill also provides billions to pre-school programs, as well as more money for science, technology, engineering and math for K-12, which Obama has been advocating for years.
"The goals of the predecessor of this law, No Child Left Behind, were the right ones," Obama said. "It didn't always work out in practice. That's OK. Sometimes reform efforts, you make modifications."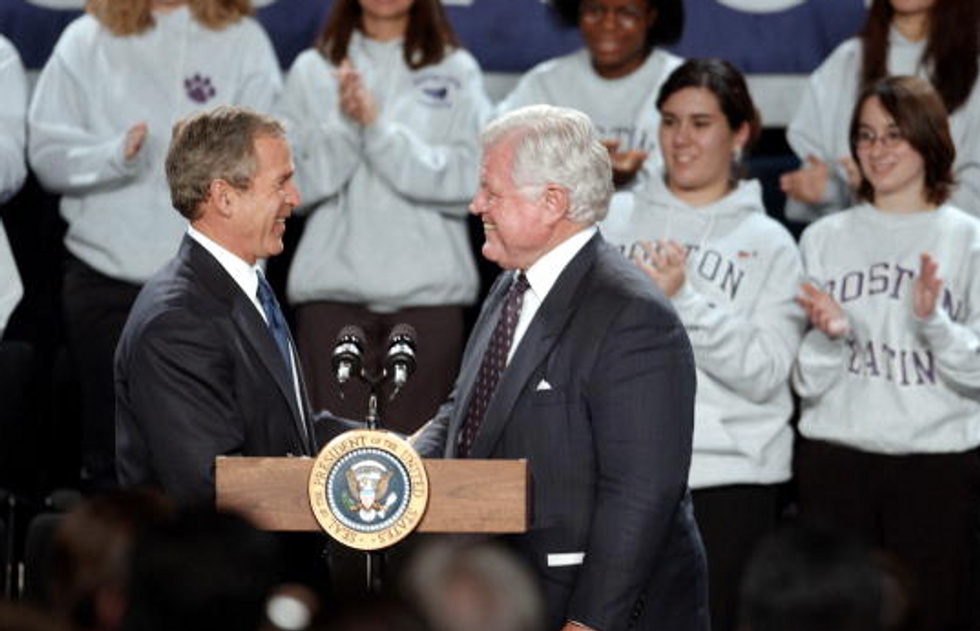 President George W. Bush shakes hands with Sen. Edward M. Kennedy (D-Mass.) Jan. 8, 2001, at Boston Latin School in Boston. Bush spoke about his No Child Left Behind education bill. (Darren McCollester/Getty Images)
While proponents say the new legislation provides greater authority to state and local governments than the plan championed by Bush and Kennedy, the law maintains annual standardized testing, which has been one of the chief complaints about NCLB. However, the legislation is designed to give schools and teachers more room to prevent the testing from crowding out instruction time.
"Both parties have long-agreed that No Child Left Behind is broken and needs to be fixed," Senate Majority Leader Mitch McConnell (R-Ky.) said. "A new majority in Congress thought it was time to finally change that dynamic. So we demonstrated how a functioning committee process in a functioning Senate could help break through gridlock."
"The Every Student Succeeds Act would put education back in the hands of those who know our kids best: parents, teachers, states and school boards," McConnell said. "It would help students succeed instead of helping Washington grow. That's something all of us can get behind, because all of us represent different states with different children who have different needs."