New surveillance video shows a New York City man slapping a restaurant worker after asking if she is Muslim.
Robert Murino, 26, of Brooklyn, was arrested Monday after police say he ordered a slice of pizza from Salt & Pepper restaurant near Herald Square and asked three different workers — one from Pakistan, one from India and one from Bangladesh — about their religious affiliations.
"How do you feel about ISIS," Murino asked one worker, according to the New York Daily News. Murino is then seen slapping Tahir Mahood, 34, from across the counter and later throwing chairs in an all-out tirade.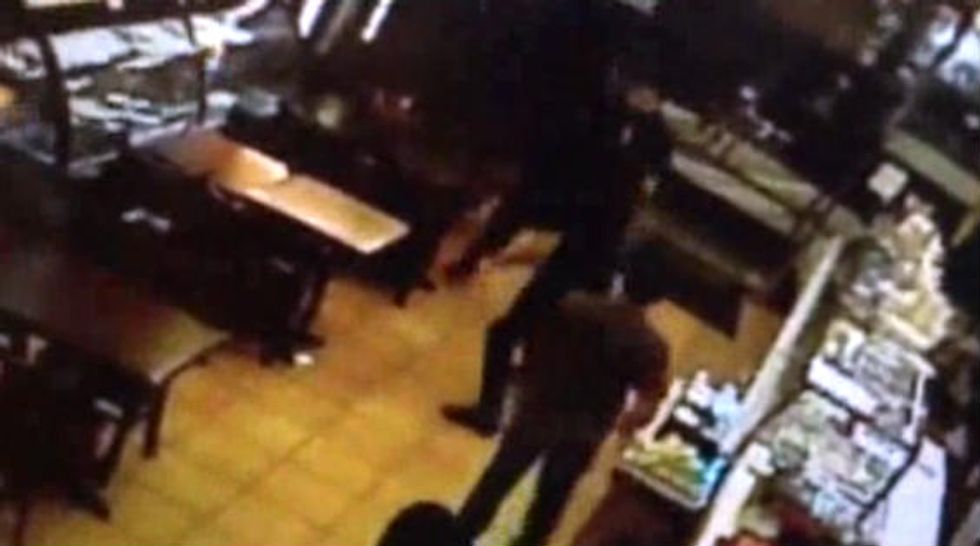 Image source: New York Daily News
"I've been here for the last two years and nothing ever happened like this before," Mahood said. "As a Muslim, I want to be polite, I don't want to fight anyone."
Lina Parvin, 35, who has also worked at the restaurant for two years, said that Murino appeared drunk when he entered the store.
"He was swaying...I gave him the pizza, and he went to sit down," Parvin said. But moments later, Murino came back up to the counter.
"He comes up to me yelling, 'Where are my fries? Where are my fries?'" Parvin said. "I told him I didn't charge him for fries, but he kept yelling, 'You f***ing lady, give me my fries. Lady, I'm going to f*** you up," she told the paper.
"He started yelling, 'Why don't you tell me your religion?' Mahood kept saying, 'I don't know, I don't know!' The guy then starts yelling, 'Muslim motherf***ers!' He then reached over and punched him."
Murino was later arrested and charged with attempted assault and criminal mischief. Both of the alleged crimes are being treated as hate crimes, the New York Daily News reported.
(H/T: New York Daily News)
–
Follow Jon Street (@JonStreet) on Twitter