UPDATE 11:09 a.m. ET: The ACLU of Colorado contacted TheBlaze Friday morning and pointed to the following statement, dated Dec. 11:
The ACLU of Colorado does not condone the recent personal Facebook post of regional volunteer Loring Wirbel.

The ACLU of Colorado is a nonpartisan organization. We do not endorse candidates or parties. We have proudly spent decades fighting for the rights of all Coloradans, regardless of political affiliation, to vote and to freely participate in the political process.

Our members, supporters, and volunteers are free to express their own personal views and opinions in their personal lives. We have fought for decades to preserve that right, as well, for all Coloradans, no matter how strongly we disagree with the content.

However, the personal posts of members, supporters, and volunteers on their own personal social media sites should not be mistaken for endorsements or official statements of the ACLU of Colorado.
TheBlaze attempted to clarify with the ACLU if its statement, in fact, indicates that Loring Wirbel wrote the Facebook post, but we didn't immediately receive a response.
Original story below
A Facebook post attributed to the co-chair and chapter representative to the ACLU of Colorado Board of Directors suggests Donald Trump voters should be shot.
"The thing is, we have to really reach out to those who might consider voting for Trump and say, 'This is Goebbels. This is the final solution. If you are voting for him I will have to shoot you before election day,'" the Dec. 7 post allegedly from Loring Wirbel reads. "They're not going to listen to reason, so when justice is gone, there's always force, as Laurie would say."
No fan of Trump, but if you are threatening to shoot his fans … you're doing it wrong. Good catch @Daniel_J_W_Cole pic.twitter.com/JTvHn4Ur6P

— Aaron Gardner (@Aaron_RS) December 10, 2015
But Wirbel told KRDO-TV the post isn't his.
"It's very clear that wasn't my belief, that we shouldn't do that type of thing. That was all put together with comments from a bunch of different threads and presented as one unified whole as if I was the one advocating that Trump supporters should be shot, which is just not me," Wirbel told the station Thursday. "I don't believe in violence against people."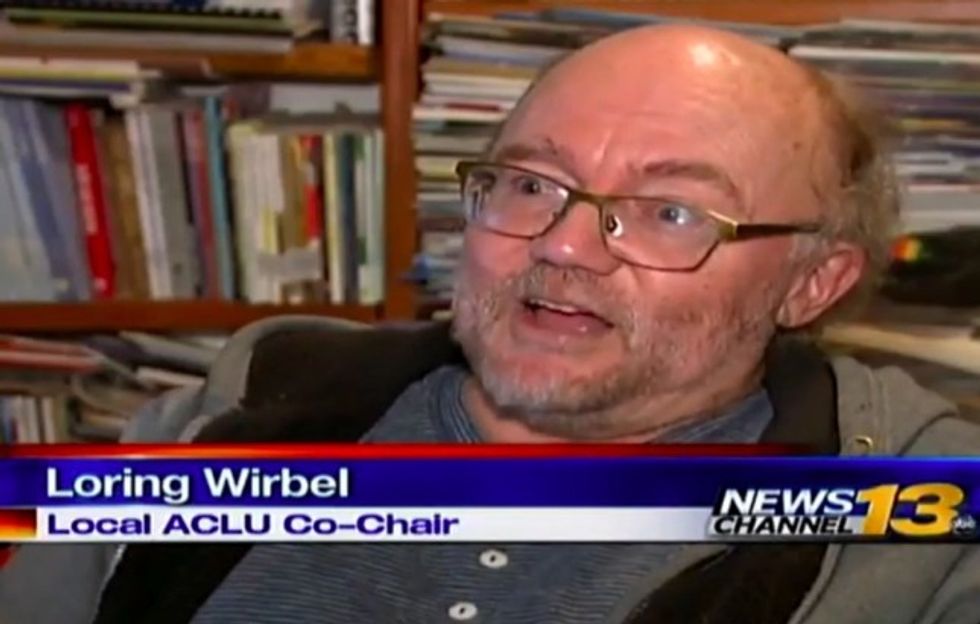 Image source: KRDO-TV
He added that the post "looks to me like assembled political attack material. It's the only way I can describe it."
But Daniel Cole, executive director of the El Paso County Republican Party, told KRDO the he saw the comment with his own eyes on Wirbel's Facebook page and took a screenshot.
"We have security at our meetings and events," Cole told KRDO in a statement. "The Republican Party champions the peaceful exchange of ideas. We encourage the ACLU to do the same."
ACLU Chair says we photoshopped comment. Shameless. @Aaron_RS @seanpaige @tonygioia @michellemalkin @derekahunter https://t.co/Jln8YUDpRa

— Daniel Cole (@Daniel_J_W_Cole) December 11, 2015
An article by the Daily Caller about Wirbel's alleged post included a screenshot as well — and went further, including pushback from Facebook commenters:
When confronted by commenters who questioned comparing someone running for office to one of Hitler's henchmen, Wirbel was unambiguous. One commenter implored him, "Let's not stoop to Trump tactics to combat Trump. Let's defeat him with reason and data." Wirbel would have none of it.

The ACLU board member replied with a swipe at a larger percentage of the Republican Party and the American people.

"But see, most people don't even know what reason is. They don't use anything other than the lower brain," Wirbel wrote, "and would no more make decisions based on logical conclusions than choose milk based on a theme song. The base of the Republican Party is unfamiliar with a cortex."

When confronted for offering "extreme fear-mongering," Wirbel didn't back down. "I think Cruz is just as dangerous, but I don't think likening Trump to Nazism is fear-mongering at all," he replied.
The post was not on Wirbel's Facebook page Friday.
"People are going to take you literally regardless, that was my lesson," he told KRDO. "It doesn't mean I'll be any less outspoken. I'll just have to be careful of how I say things."
The Colorado ACLU on Friday didn't immediately return TheBlaze's request for comment.
video platformvideo managementvideo solutionsvideo player
(H/T: Twitchy)
—
Follow Dave Urbanski (@DaveVUrbanski) on Twitter