Steve Locke, an assistant professor at the Massachusetts College of Art and Design, said he was walking down a street near the Boston campus last week to get a burrito before an afternoon class when he noticed a police cruiser following him.
In his Dec. 5 blog post about the events of the day, Locke noted that he was wearing this outfit: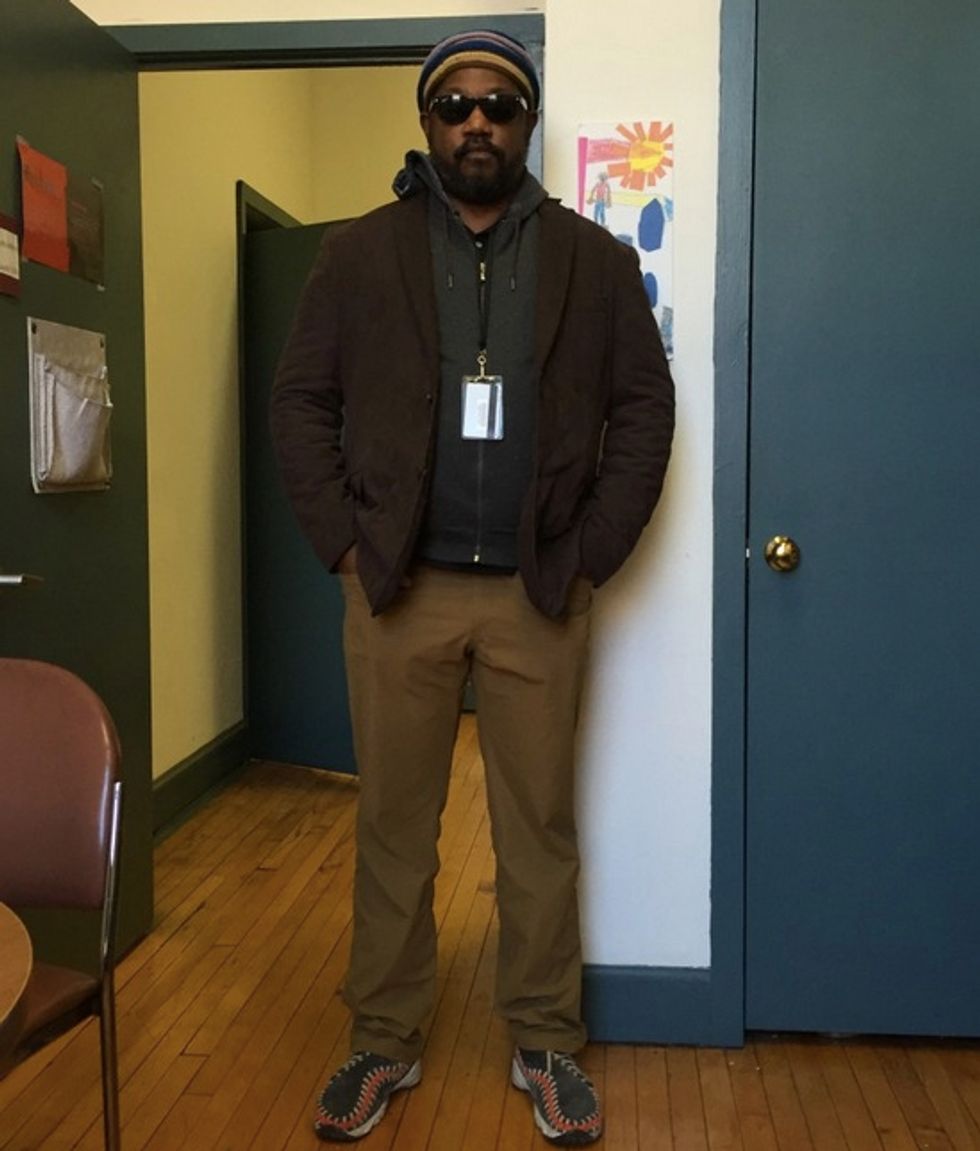 Steve Locke (Image source: personal blog)
"Hey, my man," Locke recalled one officer saying to him after getting out the cruiser and unsnapping his gun holster.
Locke wrote that he took his hands out of his pockets and replied, "Yes?"
Police said Locke fit the description of someone who tried breaking into a woman's house; he said he told the officers he's a college professor — and even had his faculty photo ID around his neck.
But police nevertheless wanted to take him to the woman who made the attempted break-in complaint and have her "take a look at you to see if you are the person."
That was a turning point for Locke:
It was at this moment that I knew that I was probably going to die. I am not being dramatic when I say this. I was not going to get into a police car. I was not going to present myself to some victim. I was not going let someone tell the cops that I was not guilty when I already told them that I had nothing to do with any robbery. I was not going to let them take me anywhere because if they did, the chance I was going to be accused of something I did not do rose exponentially. I knew this in my heart. I was not going anywhere with these cops and I was not going to let some white woman decide whether or not I was a criminal, especially after I told them that I was not a criminal. This meant that I was going to resist arrest. This meant that I was not going to let the police put their hands on me.

If you are wondering why people don't go with the police, I hope this explains it for you.
"Thanks for cooperating," Locke recalled one cop saying. "This is probably nothing, but it's our job and you do fit the description. 5′ 11″, black male. One-hundred-and-sixty pounds, but you're a little more than that. Knit hat."
More from Locke:
An older white woman walked behind me and up to the second cop. She turned and looked at me and then back at him. "You guys sure are busy today."
I noticed a black woman further down the block. She was small and concerned. She was watching what was going on. I focused on her red coat. I slowed my breathing. I looked at her from time to time.
I thought: Don't leave, sister. Please don't leave.
The police soon learned from Locke that he'd been teaching at the Massachusetts College of Art and Design for 13 years and that he drove from home and parked his car nearby.
"Okay," he recalled a detective telling him. "We're going to let you go. Do you have a car key you can show me?"
"Yes," Locke said he replied. "I'm going to reach into my pocket and pull out my car key."
Locke showed him the key, the police thanked him for cooperating and apologized for "screwing up" his lunch break and that appeared to be that.
Except, for Locke, it was only the beginning. He said the encounter left him badly shaken.
"I am 52 years old. I grew up in Detroit, Michigan," he told HuffPost Live. "A lot of my life has been organized around avoiding interactions with the police. But whenever I encounter the police, I understand that I'm encountering them differently than other citizens encounter them."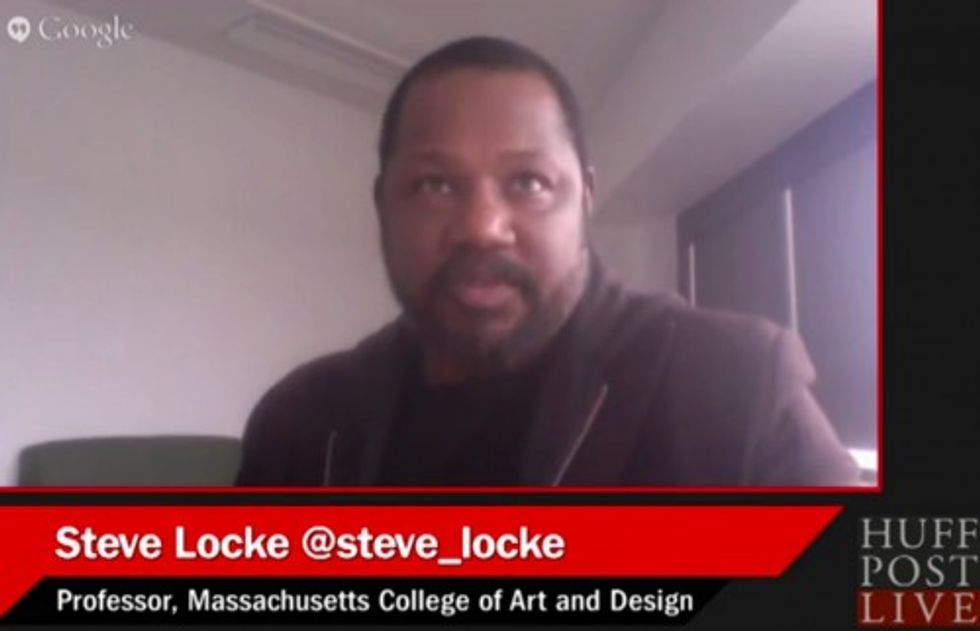 Image source: The Huffington Post
Locke added that the incident underscored "just how dangerous it is for a black person in that situation to exercise their most basic rights."
I turns out that Locke was able to speak to Boston's mayor and police commissioner since the incident and that he's "very, very grateful" that they understand the city's checkered history in regard to racial profiling and that there's more work to do.
Locke's blog post received more than 164,000 likes as of Friday morning.
(H/T: The Huffington Post)
—
Follow Dave Urbanski (@DaveVUrbanski) on Twitter