© 2023 Blaze Media LLC. All rights reserved.
Chicago Police Officer Accused of Shoving Service Pistol Down Suspect's Throat Found Not Guilty
CHICAGO (AP) -- A Chicago police commander accused of shoving his gun down a suspect's throat and pressing a stun gun to the man's groin was acquitted on battery and misconduct charges Monday, in a ruling that comes amid heavy criticism of the police department's treatment of suspects.
Cook County Judge Diane Cannon found Cmdr. Glenn Evans not guilty of aggravated battery with a deadly weapon and official misconduct stemming from the 2013 incident involving Rickey Williams, whom Evans believed he had seen holding a gun.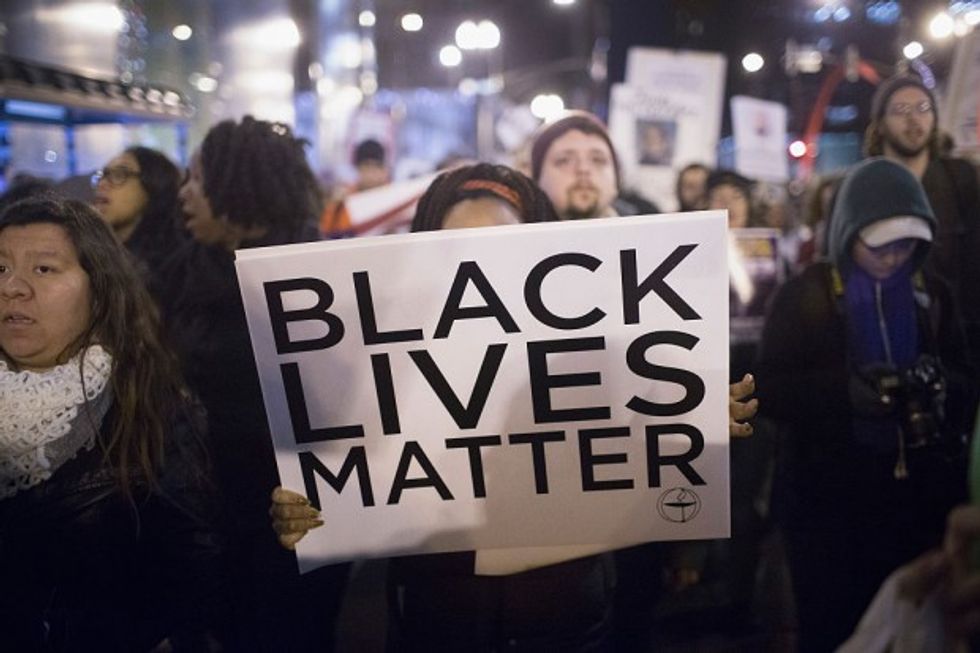 Demonstrators march through downtown calling fror the resignation of Mayor Rahm Emanuel, Dec. 10. (Getty Images/Scott Olson)
Evans' case has received widespread attention because of the commanders' aggressive tactics - condemned by some, praised by others - as the city has struggled to get its violent crime rate down. Former Chicago Police Supt. Garry McCarthy and residents of crime weary neighborhoods said Evans helped clean up a number of areas under his command, while others say he symbolized the department's failure to keep its officers under control. Both Evans and Williams are black.
The bench trial unfolded as protesters rallied against alleged brutality by Chicago police after last month's release of a squad-car video that showed a white officer shooting a black teenager 16 times in October 2014. That officer was charged with first-degree murder just hours before police finally released the video after being ordered to do so by a judge.
In announcing the Evans verdict, Cannon said she didn't find Williams' testimony believable, saying he changed his story repeatedly and that the presence of his DNA on Evans' service pistol didn't mean Evans' was guilty. She said it was reasonable to think it got on the gun during a tussle during his arrest.
Cannon also made a point of saying Evans' case has nothing to do with other police brutality cases throughout the country.
"This is just one case."
Evans showed little reaction upon hearing the verdict. He could have faced up to five years in prison.
Williams' lawyers issued a statement saying they will proceed with a lawsuit and are confident they'll meet the burden of proof needed to show that Evans violated Williams' rights.
Prosecutors alleged that Evans tackled Williams and stuck his gun in Williams' mouth while demanding to know where he had put the gun he believed he had seen Williams holding. Williams testified that he hadn't been carrying a gun and that Evans must have mistaken it for a cellphone he had been holding. He said Evans shoved his gun so far down his throat that he gagged and later spat blood.
Investigators never recovered a gun. Prosecutors presented evidence showing Williams' DNA on Evans' service weapon.
Evans' attorneys had questioned Williams' credibility and the reliability of the DNA evidence.
A University of Chicago study found that Evans was the subject of at least 45 excessive-force complaints over a 20-year period ending in 2008. And he was held up by critics as an example of the department's willingness to condone or at least ignore the brutal behavior of its officers.
Chicago Mayor Rahm Emanuel holds a press conference, Dec. 7. (Getty Images/Scott Olson)
The city's main police oversight agency, the Independent Police Review Authority, also came under fire during the trial. Evans' attorneys tried to paint the agency's probe as biased against the officer.
The review authority is more often criticized for not recommending enough that officers be punished. Its director, Scott Ando, testified during Evans' trial even though he was forced to resign last week.
The U.S. Justice Department announced last week it was opening a civil rights investigation of the city's police department. Mayor Rahm Emanuel, under a barrage of criticism, announced a number of measures to shore up accountability, including firing McCarthy.
Protesters are calling for more resignations, including those of Emanuel and Cook County State's Attorney Anita Alvarez.
Want to leave a tip?
We answer to you. Help keep our content free of advertisers and big tech censorship by leaving a tip today.
Staff Writer
Chris Enloe is a staff writer for Blaze News
chrisenloe
more stories
Sign up for the Blaze newsletter
By signing up, you agree to our
Privacy Policy
and
Terms of Use
, and agree to receive content that may sometimes include advertisements. You may opt out at any time.