The U.S. has mapped out locations the Islamic State has been using as media safe houses for the distribution of social media and digital propaganda used in its recruiting. But the government won't strike the locations for fear of harming civilians, the Washington Times reported.
Most of the locations were based in heavily residential areas of Syria, Iraq and Libya since such areas are less likely to be targeted by U.S. airstrikes, according to the information obtained through the a secret military project. The Washington Times report cited anonymous sources, but the White House, CIA and Defense Department each declined to comment to the newspaper.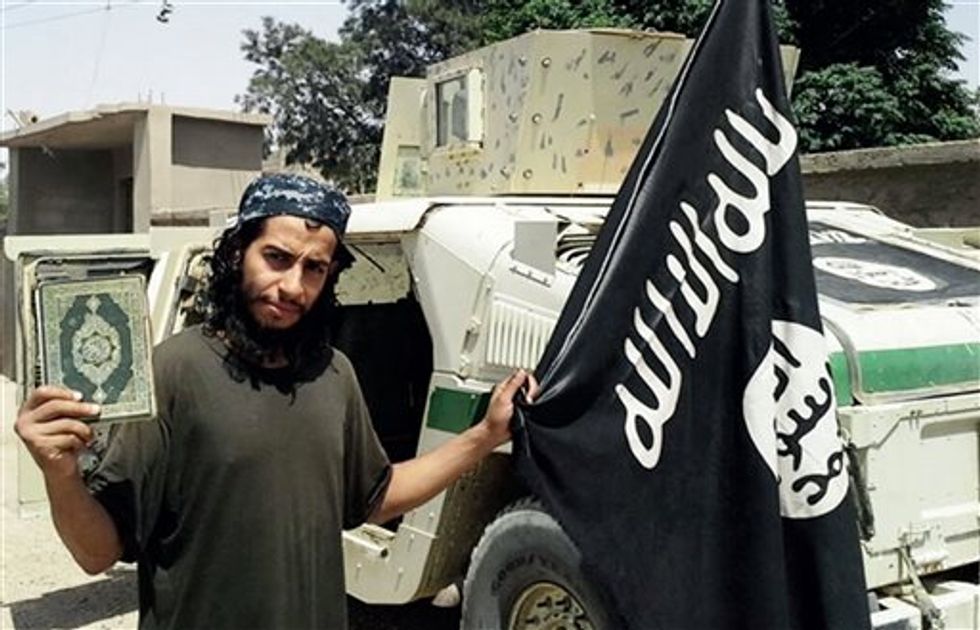 Militant Photo via AP
According to the Times, critics on Capitol Hill question why the administration would choose not to strike once it discovered the sources of the digital messages – essentially allowing the propaganda to continue. The videos are used in recruitment efforts across the globe.
The U.S. program operates from the Center for Strategic Counterterrorism Communications at the State Department. The center was created in 2011, with part of it's mission being to push a counter message against radical Islamic propaganda using Facebook and Twitter.
Last week, the first Chinese-language Islamic State video was launched calling for Muslims to "wake up."
The most recent English-language video mocks the suicides of soldiers returning from war in Afghanistan and Iraq.
"You claim to have the greatest army history has known. You may have the numbers and weapons, but your soldiers lack good will and resolve," the the voice says in English. "Still scared from their defeats in Afghanistan and Iraq, they return dead or suicidal, with over 6,500 of them killing themselves each year. So while you go around cooking the facts on the results of your military airstrikes, we continue to haunt the minds of your soldiers and sew fear into their hearts."