On Wednesday, Salon published an essay that accused "white men" of "killing us" all, alleging that the FBI identifies "right-wing, Christian men" as the United States' greatest internal threat.
Race, guns and gender – the common denominator at the heart of so many problems – are what we need to talk about https://t.co/XXpEHpnjBB

— Salon (@Salon) 1450279985.0
The author, Chauncey Devega, attempted to draw parallels between racism and gun control, saying that guns are "central to the founding of an American society where hierarchies of race and gender were central to the country's Herrenvolk white racial settler democratic project."
"Guns helped White America to commit genocide against First Nations peoples and to steal land under the doctrine of Manifest Destiny," Devega wrote. "The gun maintained Southern society as a white over black racial military dictatorship. The gun was also a tool for white elites to control the working classes and poor."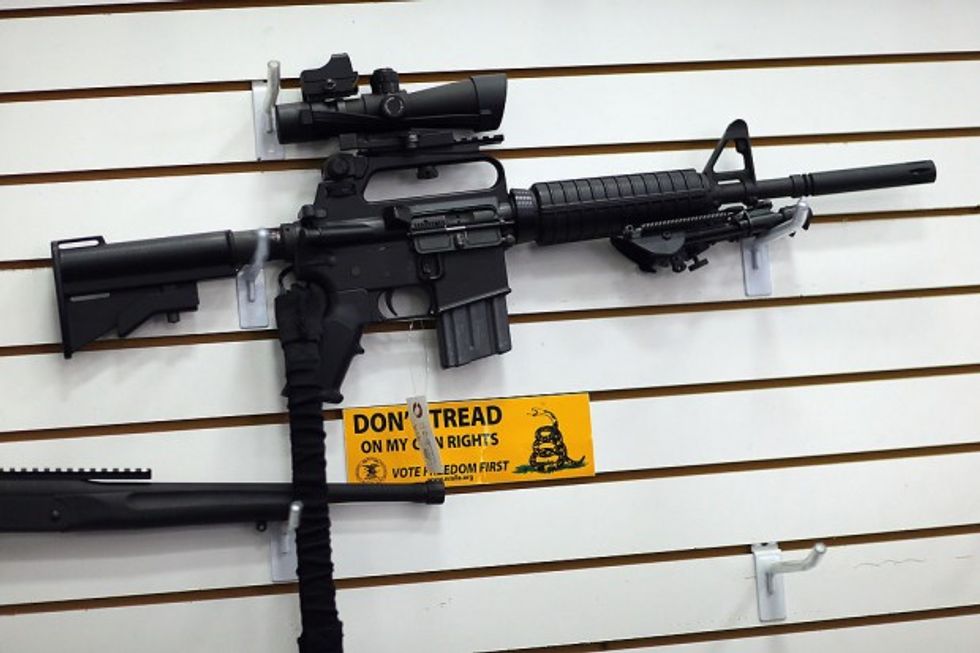 An AR-15 is seen for sale on the wall at the National Armory gun store Jan. 13, 2013. (Joe Raedle)
Devega went on to accuse "right-wing Christians, mostly men," as being America's "greatest internal threat" for domestic terrorism, citing a Mother Jones article that said "white men are approximately 30 percent of the population but account for 60 percent of the mass shootings."
More from the essay:
Stand Your Ground laws are racist in their enforcement and use. Support for concealed carried laws is also related to anti-black sentiment and animus.

The demographics of gun ownership in the United States are also essential to working through this puzzle. Guns are more likely to be owned in the South and "rural" parts of the United States. The American South is the former slave owning white supremacist Confederacy, land of Jim and Jane Crow, and now bastion for Red State America. In American public discourse the word "rural" is code for "white." Ultimately, patterns of gun ownership help to map out the racial geography and attitudes of the United States.
Devega concluded in the essay that there will be no "effective gun control" until "analysts realize that the gun is a type of totem or fetish object for too many white men."
"It would appear that in the United States too many white men love guns more than their children, wives, each other, and – as indicated by suicide rates – even themselves," he added.
Devega has a history of publishing essays like this one. In June, following the Charleston church massacre, he wrote an article on Salon titled "The plague of angry white men: How racism, gun culture & toxic masculinity are poisoning America."
—
Follow the author of this story on Twitter and Facebook:
[facebook //www.facebook.com/plugins/like.php?href=