Some parents in a Minnesota school district are questioning a choir director's decision to include a Ramadan-themed song during Thursday night's holiday show — a tune with lyrics that include the phrase "Allahu Akbar."
The saying, which means "God is great," is a common Islamic phrase, but some families who attended the concert at Blaine High School in Blaine, Minnesota, apparently didn't appreciate its inclusion in the show.
Christian and Jewish songs — including "Silent Night" and "Away in the Manger" — were slated to be sung as well, but debate only seemed to rage over plans to offer Arabic and English renditions of the Muslim song — titled, "Eid un Sa'Eid."
Frustrations reportedly flared after a parent of a 9th-grade student posted the lyrics on Facebook.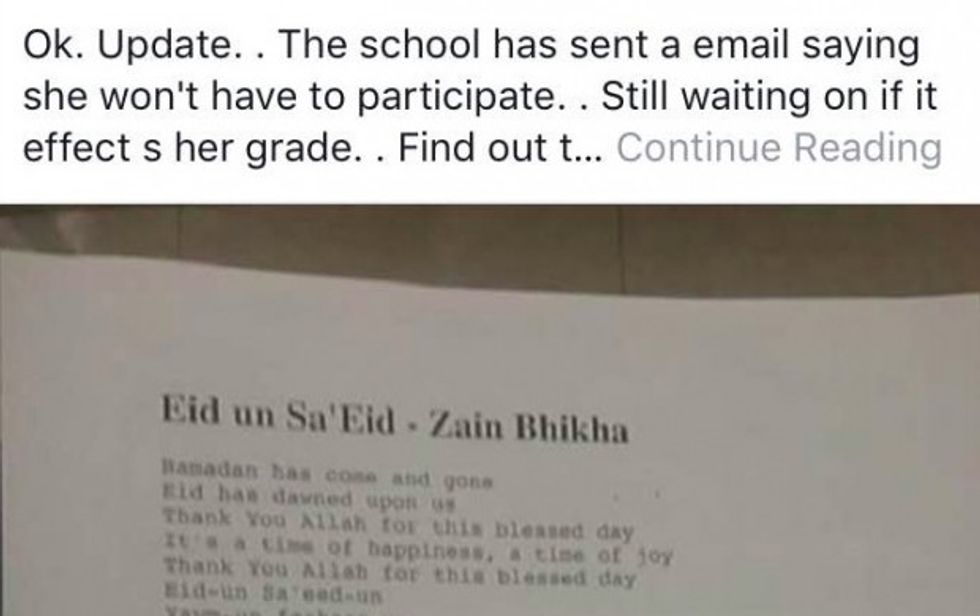 The Facebook post that reportedly started the controversy (Facebook/WCCO-TV)
Soon, others began to protest as well, taking their grievances to the Anoka-Hennepin School District, WCCO-TV reported.
"No child should be forced to sing a song about the Muslims and the religion of hatred," one parent said in response to the debate.
But the district made it clear that kids were not compelled to sing the lyrics if they did not feel comfortable doing so.
A representative for the district released a statement explaining that there are many students at the school with different backgrounds and that the purpose of the song was not to praise a specific faith.
"Songs are not performed in a worship setting or to promote religion, but rather in [an] educational setting where students are learning and performing music," the district statement read.
The Anoka-Hennepin School District also said that it had received around a dozen complaints that came from parents as well as individuals who are not connected with the school, according to WCCO-TV.
The concert was held on Thursday night, and there is no indication of how the performance was handled.
(H/T: WCCO-TV)
--
Follow the author of this story on Twitter and Facebook: