MSNBC's Joe Scarborough pressed Donald Trump on his cozy relationship with Russian President Vladimir Putin on Friday, noting that he "kills journalists that don't agree with him."
Trump immediately responded, "Well, I think our country does plenty of killing also, Joe."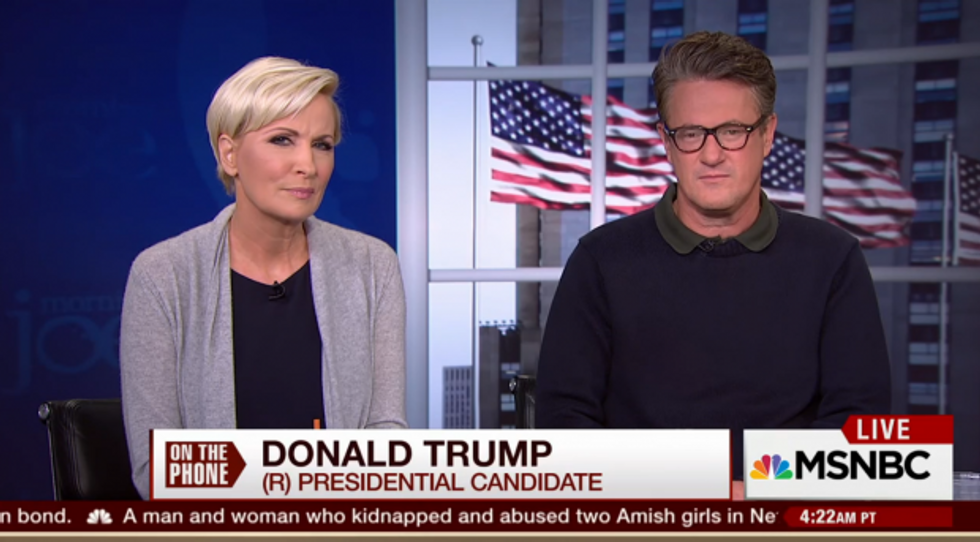 MSNBC
"I'm confused," Scarborough said. "You obviously condemn Vladimir Putin killing journalists and political opponents, right?"
"Oh, sure," Trump said. "Absolutely."
The GOP presidential frontrunner called Putin a "strong" and "powerful" leader who has "represented his country" as made apparent by his popularity numbers in Russia. He also took a shot at President Barack Obama, saying at least Putin is a "leader," unlike "what we have in this country."
Trump also said countries around the world "truly hate" the U.S.
"Our infrastructure is a disaster, our bridges are falling down," he added. "Our whole country's a mess."
Putin reportedly said in a recent interview that Trump is a "really brilliant and talented person" and the "absolute leader in the presidential race."
---