Fox News' Jesse Watters took a trip down to Plantation, Florida, this week to cover a battle that's been unfolding for quite some time between a local family and government officials surrounding an annual Christmas light display.
The massive annual show, known as "Hyatt Extreme Christmas," is run by Kathy and Mark Hyatt at their home, and has become a must-see tradition for many locals over the past two decades.
But it seems that some government officials are anything but impressed, as Watters reported that they're suing to shut it down.
Watters ended up approaching Plantation Mayor Diane Veltri Bendekovic as she was exiting a grocery story to ask her about the ongoing litigation — and as you can imagine, she wasn't too thrilled to encounter him.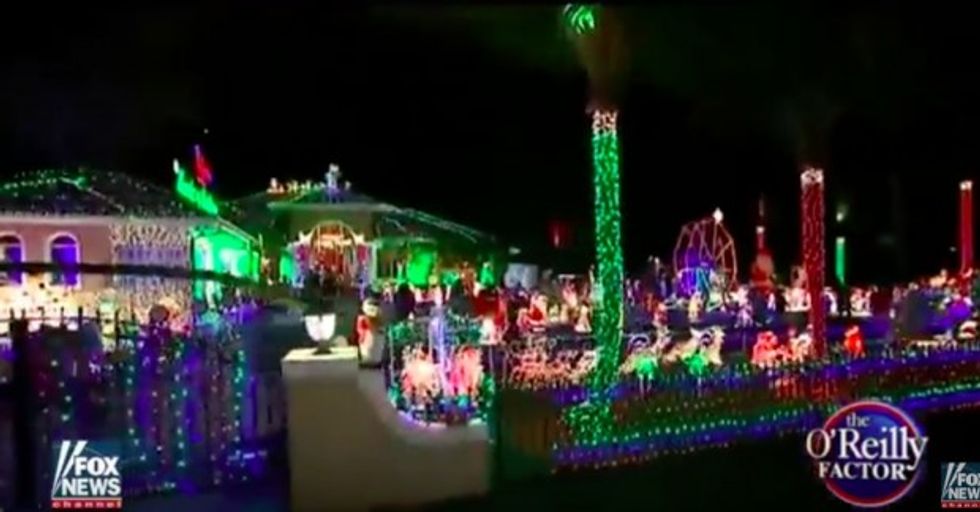 Christmas lights outside the Hyatt home (Fox News/YouTube)
"Merry Christmas. We wanted to know why are you suing a family for having Christmas lights on their house?" Watters asked, with Bendekovic responding that she can't comment due to "pending litigation."
But the Fox News producer — known for his comical video encounters — said that the Florida Bar Association says that officials can comment so long as they "don't prejudice one side or the other." Again, she wasn't moved to share any viable information.
[sharequote align="center"]"I don't think you should be voicing your opinion what Santa wants and what Santa doesn't want."[/sharequote]
"This isn't a very good of taxpayer money, going after home owners for a few Christmas lights, is it?" Watters pressed. "I don't think Santa's going to be happy with you."
While definitive information about the lawsuit wasn't offered up, Bendekovic did make it clear that she thinks that Watters is in no position to speak for Santa Claus.
"I don't think you should be voicing your opinion what Santa wants and what Santa doesn't want," she shot back.
Watch the encounter below:
According to the Sun Sentinel, the Hyatts have been battling with officials for years over the size and scale of the display, with the city — which considers it a nuisance — filing a lawsuit earlier this year to stop it.
After years of arguing with the Hyatts to scale back the display, the city sued this year to quash the spectacle, which officials consider a neighborhood nuisance. A scheduled hearing did not take place over the summer as planned and has not yet been rescheduled.
In addition to the lawsuit, the family claims on its official website that it faces $250 per day in fines for continuing the show, citing "government interference" as being at the root of the dispute. Here's a portion of a petition that is posted on the "Hyatt Extreme Christmas" website:
By signing this petition, you show your support for Hyatt Extreme Christmas, a 20 year-old tradition, which has been entertaining, inspiring and motivating families from around Plantation and South Florida.

The Hyatt's take great joy in creating memories for children both young and old during this special time of year. Our community can see our display of more than 200,000 lights for FREE. We give back to our community by raising awareness and funds for charitable partners such as Humane Society, Broward Food Bank and Support for the Military working with the Red Cross "Holiday Cards for Heroes".
Despite facing legal woes, the Hyatts are back at it this year, bringing their display to the masses. The husband and wife duo took Watters through the display, and he interviewed some locals who fully support it.
"It's just brought so much happiness to so many families," one woman proclaimed.
When asked why he believes that the government has gone after the display, Mark Hyatt said that he thinks it is all "about money."
"They're just not making money on this and they wanted money from us," he said, claiming that city officials wanted the family to charge admission for the free display. "When we wouldn't give it to them, all the sudden we're in court."
(H/T: Mediaite)
--
Follow the author of this story on Twitter and Facebook: