For 13 years, the Chicago-based Pro-Life Action League has organized protests across the country where pro-lifers gather around an empty manger outside of an abortion facility and sing Christmas carols.
In an interview with TheBlaze, Eric Scheidler, the executive director of Pro-Life Action League, said the events began when a friend remarked to him, "what a horrible experience it would be to go through an abortion at Christmas" because the annual Christmas decorations, music and festivities celebrating "new life" may come to serve as a reminder of an "irrevocable choice."
"Part of the story of Christmas is an unplanned pregnancy to a poor woman," Scheidler said. "The kind that Planned Parenthood would encourage her to end."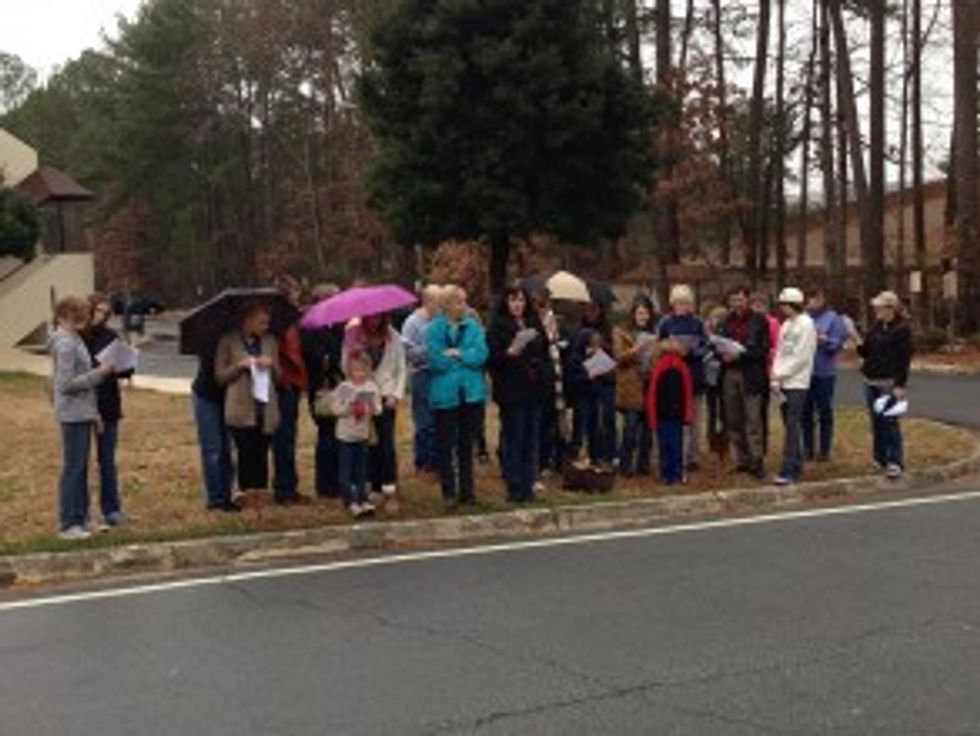 Pro-life protesters participating in "empty manger" Christmas caroling. Image source: Pro-Life Action League.
Scheidler called the empty manger a focal point of the protests because "it symbolizes both the emptiness of when a child is taken by abortion, and the hope and joy of anticipating new life."
The groups of protesters sing Christmas carols that focus "on the Christ child."
"One of the songs the groups sing is 'What Child is This,'" Scheidler said, "because, in a sense, it is a question we ask about each child conceived, a question that goes unanswered after an abortion."
Scheidler called "Silent Night" one of the most "meaningful" carols the groups sing.
"I've personally seen it save babies from abortion," Scheidler said.
According to Scheidler, two events in the last few months have reinvigorated the pro-life movement.
A series of undercover videos released by the Center for Medical Progress raised allegations that Planned Parenthood is trafficking aborted fetal body parts. Profiting from the sale of human organs – including fetal human organs – is a felony in the United States. Spokesmen for Planned Parenthood have denounced the videos as "heavily edited" and have denied illegal conduct.
"Those videos shocked even people like me who have fought abortion for years," Scheidler said.
Scheidler said there is also a desire to confront a myth that pro-lifers are "violent" after the tragic fatal shooting at a Planned Parenthood clinic in Colorado Springs last month.
"They want to show that the pro-life movement is peaceful, and that they are not responsible for this violence," Scheidler said.
As 2015 draws to a close, Scheidler said that the pro-life movement is energized and ready to bring their "enthusiasm to the electoral process."
"We're all going to be focusing really hard on electing a pro-life president," Scheidler said. "We're ready with the same kinds of volunteerism and donations, and we're eager to jump behind a candidate who is truly pro-life."
The group is in the midst of 30 scheduled events, a complete list of which may be found here.
Pro-Life Action League was one of the groups behind nationwide #ProtestPP events in October.