President Barack Obama had a private White House screening of "Star Wars: The Force Awakens" Friday with the families of fallen soldiers.
Star Wars characters even showed up, with two storm troopers as well as R2-D2.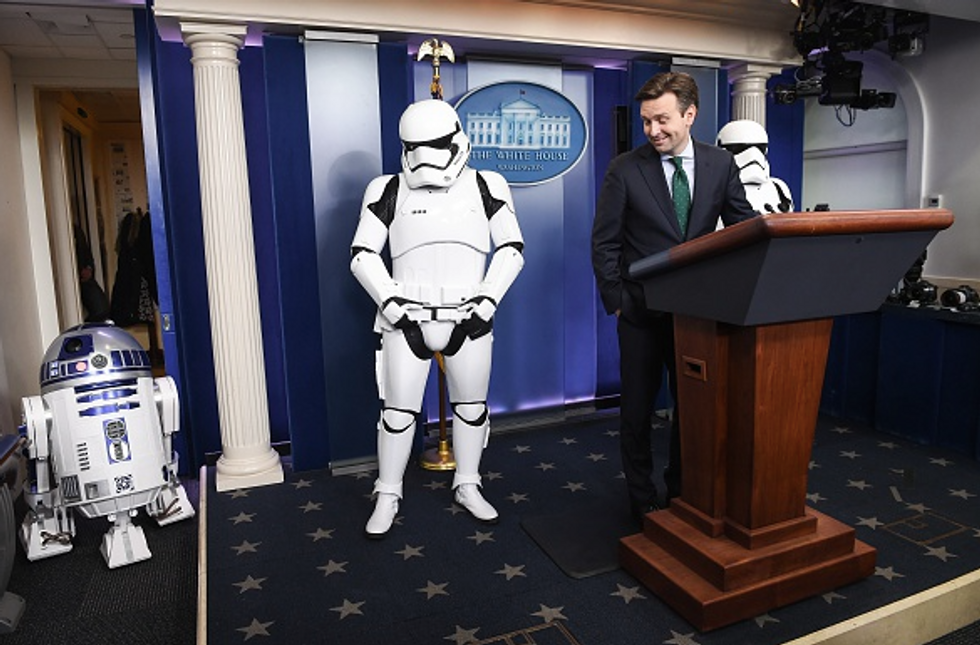 Press Secretary Josh Earnest speaks to the press in the briefing room at the White House in Washington, DC, on December 18, 2015 with Star Wars characters R2D2 and Storm Troopers. The new Star Wars movie 'The Force Awakens' was shown at the White House for children of military families. (NICHOLAS KAMM/AFP/Getty Images)
Kicking off his year-end press conference, Obama said, "Clearly this is not the most important event that's taking place in the White House today. There is a screening of "Star Wars" for Gold Star families and children coming up. So I'll try to be relatively succinct."
It wasn't long after the ended that White House press secretary Josh Earnest returned to the briefing room flanked by two storm troopers, with R2-D2 on the side. Earnest spoke briefly to thank Disney. At one point, R2-D2 played the presidential music, "Hail to the Chief," and sounded off his usual beeps and whistles.
Reporters, photographers and cameramen in the White House were not given advance notice, which prompted a mad rush to see the characters.
—