As a few men opened fire on a seemingly random group of people, a 15-year-old high school student jumped on top of three girls, shielding their bodies from the hail of gunfire with his own.
Zaevion Dobson, a high school football player, was pronounced dead at the scene in Knoxville, Tennessee Thursday evening after protecting the other girls from what police have called a "cowardly and senseless act of violence." According to Knoxville Police Chief David Rausch, Dobson, affectionately called "Zae" by his friends, was the only person hit.
"I'm shocked. I'm really just shocked," Zaevion's brother, Zack Dobson, told WBIR-TV. "We were just sitting on the porch chilling, and we see these random dudes walking up."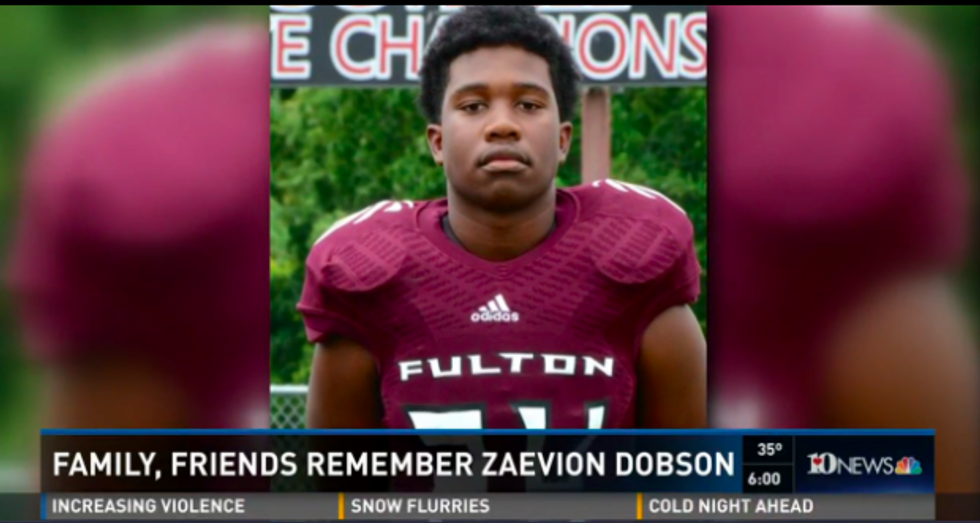 Image source: WBIR-TV
"He was laying there, and I just pick him up and put him in my arms. He was dead," Zack said. "Unfortunately he wasn't lucky, but he saved ... lives."
"Just know that I miss him. I miss my kid brother," Zack said.
According to WBIR, police first responded to a report of a shooting in Knoxville at the home of 46-year-old Lisa Perry who was shot multiple times. Perry is recovering in the hospital with non-life threatening injuries.
After that shooting, police said Lisa's son, Brandon, drove with a group of his friends to the Lonsdale neighborhood where Dobson lived. Once there, police said that Brandon and his group fired several shots "seemingly at random."
Later that night, around 2 a.m., Knoxville police responded to yet another report — this time of a car that had crashed into an apartment building. The driver of the car was Brandon, who had been shot multiple times. He died four hours later, according to WBIR.
Two men were taken into custody after Brandon crashed his car, WBIR reported. One man was questioned and released, but the other man, Christopher D. Bassett, 20, was charged with being a convicted felon in possession of a firearm and violation of probation. He is being held without bond as additional charges are pending.
Police said gangS are believed to have been involved in Thursday's events.
"I never thought in a million years this would happen to my little brother, my baby brother," Markastin Taylor, an older brother, said.
Clarence Mitchell, Dobson's youth football coach, told WBIR that he was never disrespectful but instead "full of love and compassion."
Fulton High School football coach Rob Black called Dobson a "success story." WBIR reported that he had dreams of playing football for a Division I college after high school.
(H/T: WBIR-TV)