In 1979, Hezbollah militant Samir Kantar perpetrated what is viewed in Israel as one of the country's most notorious terrorist attacks that killed four — including fatally shooting a man then killing his 4-year-old daughter by smashing her skull.
Now, 36 years later, Hezbollah announced Sunday that Kantar was killed in an Israeli airstrike in the Syrian capital of Damascus. While Israeli officials declined to comment on the report, both Israeli politicians and the sole survivor of the attack are hailing his death as "historic justice."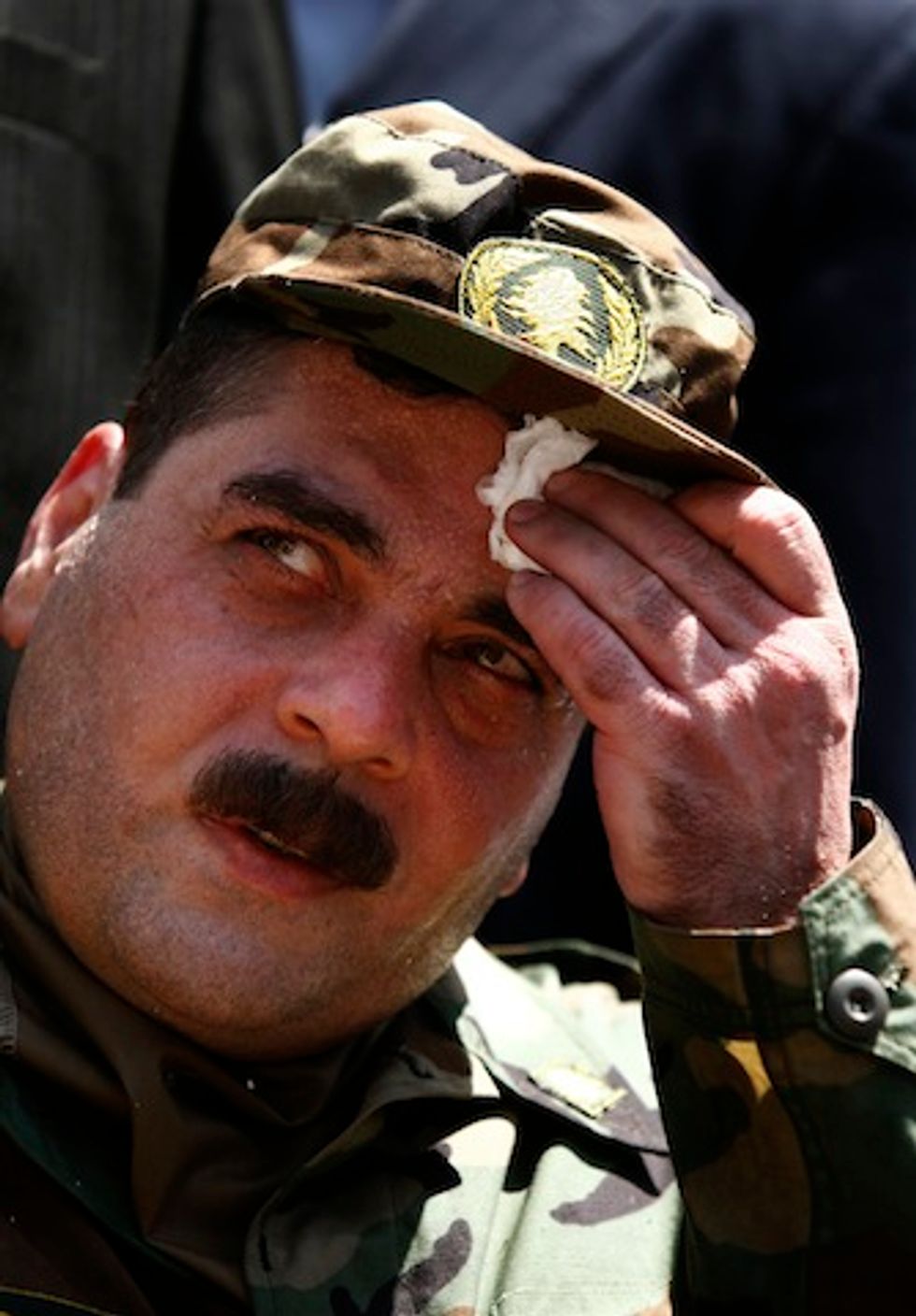 Freed Lebanese prisoner Samir Kantar wipes the sweat from his brow during a celebration for him July 17, 2008 in his mountain village of Aabay, outside of Beirut, Lebanon. Kantar was the most controversial prisoner released from Israel in a prisoner exchange agreement between Israel and Lebanon. (Photo: Paula Bronstein/Getty Images)
On that fateful day in April 1979, Kantar and three other militants secretly sailed from Lebanon to Israel on a rubber boat and landed in the northern Israeli town of Nahariya where they shot dead an Israeli police officer then broke into the Haran family's apartment.
Kantar and his gang kidnapped father Danny Haran and his 4-year-old daughter Einat. The mother Smadar and 2-year-old daughter Yael hid in a crawl space in the home.
Kantar, then 16-years-old, took the man and his small child to the beach where the terrorists and police exchanged fire. The Israeli news site Ynet recounted that Kantar shot and killed 31-year-old Danny Haran then crushed Einat's skull with the butt of his rifle, killing her too.
Meanwhile, at the home, the mother Smadar accidentally smothered to death her crying 2-year-old to try to prevent the sounds from giving away their hiding place.
Kantar was sentenced to three life sentences over the attack, but was released from Israeli prison in 2008 in a deal with Hezbollah in exchange for the return of the bodies of two Israeli soldiers killed in 2006.
Ynet notes that in recent years Kantar has served a key role in Hezbollah efforts in the Golan Heights with the aim of one day launching attacks against Israel from there.
Eight others besides Kantar were killed in the Saturday night airstrike on the Damascus apartment building, Arabic media reported.
Hezbollah's Al-Manar television reported that two Israeli Air Force jets entered Syrian airspace and launched four missiles at the building.
Bassam Kantar, the convicted terrorist's brother, confirmed in a Twitter post that Samir had been killed, referring to him as a martyr.
"With pride, we mourn the martyrdom of the commander Samir Kantar. We have the honor of becoming among the families of martyrs after being among the families of prisoners for 30 years," Bassam Kantar wrote.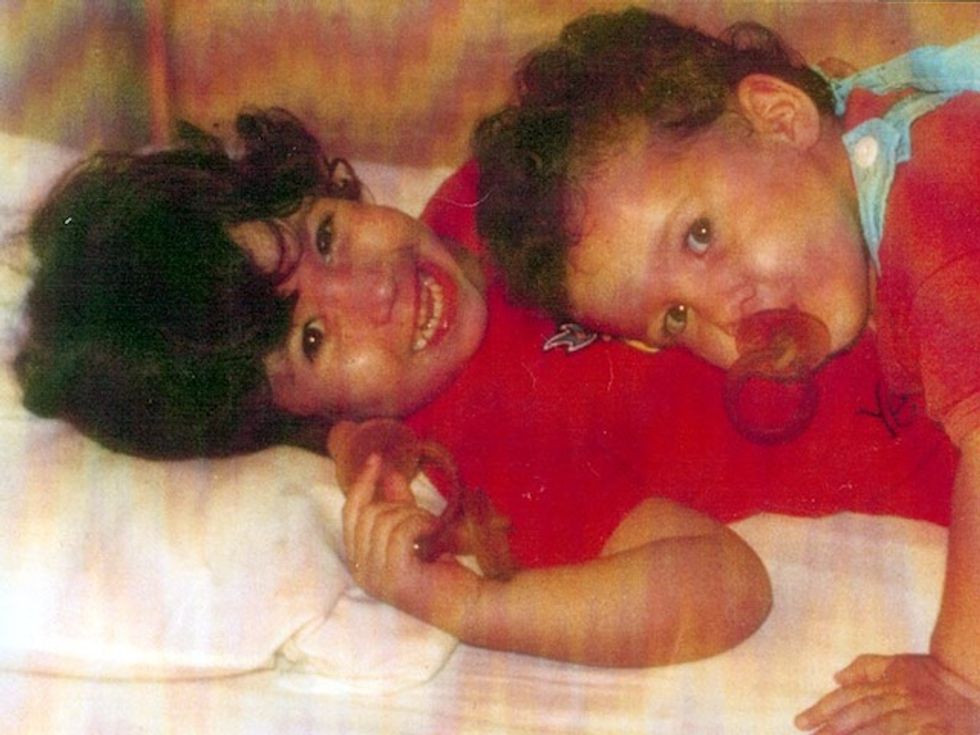 Einat (L) and Yael Haran were killed in the terrorist attack. (Israeli government photo)
Israeli government minister Yoav Gallant said Kantar's death was a "good" thing.
"It is good that people like Samir Kantar will not be part of our world," Construction and Housing Minister Yoav Gallant told Israel Radio.
The minister would not comment on who was behind the airstrike on the building.
"I am not confirming or denying anything to do with this matter," Gallant said.
Smadar Haran who lost her husband and her daughters told Yedioth Ahronoth Sunday that "historic justice has been done."
Danny Haran's brother Roni Keren said, according to Arutz Sheva, "They said it was time, every dog has its day."
"I hope it will convey the message: Whoever murders Jews in Israel and around the world, his end will be like that of Samir Kantar and the Munich murderers. This is probably the only language understood in the Middle East," Keren said.
Israel historically has had a policy of quietly hunting down terrorists and Nazi war criminals, with no expiration date to the meting out of justice. Examples include the 1988 assassination of the PLO's Khalil Al-Wazir, aka "Abu Jihad" and the Mossad's 20-year "Wrath of God" operation to track down and kill those behind the 1972 killing of Israel's Olympic team in Munich.
Kantar never expressed remorse for his actions, and insisted his targets were military.
"There are no civilian targets — it's 'civilian' in quotation marks," he told Al Jazeera in 2008. "The Zionists themselves define the Israeli as a soldier who is on leave for 11 months every year."
The Israeli government almost never comments on reports on airstrikes attributed to it in Syria.
Kantar has been honored by the Syrian and Iranian regimes, but in September he was named by the U.S. State Department as a "Specially Designated Global Terrorist."