Republican presidential contender Texas Sen. Ted Cruz should "just admit that he changed his mind" on a variety of issues, according to Kentucky Sen. Rand Paul.
Paul's own GOP presidential campaign released a new video Sunday hitting Cruz in a series of attacks on his stance on immigration, Syrian refugees and the Patriot Act that asks, "where does Ted Cruz stand?" The ad slams Cruz as "flip flopping."
"America deserves a conservative who knows what he wants," the new video says after featuring several news clips of Cruz floundering during interviews.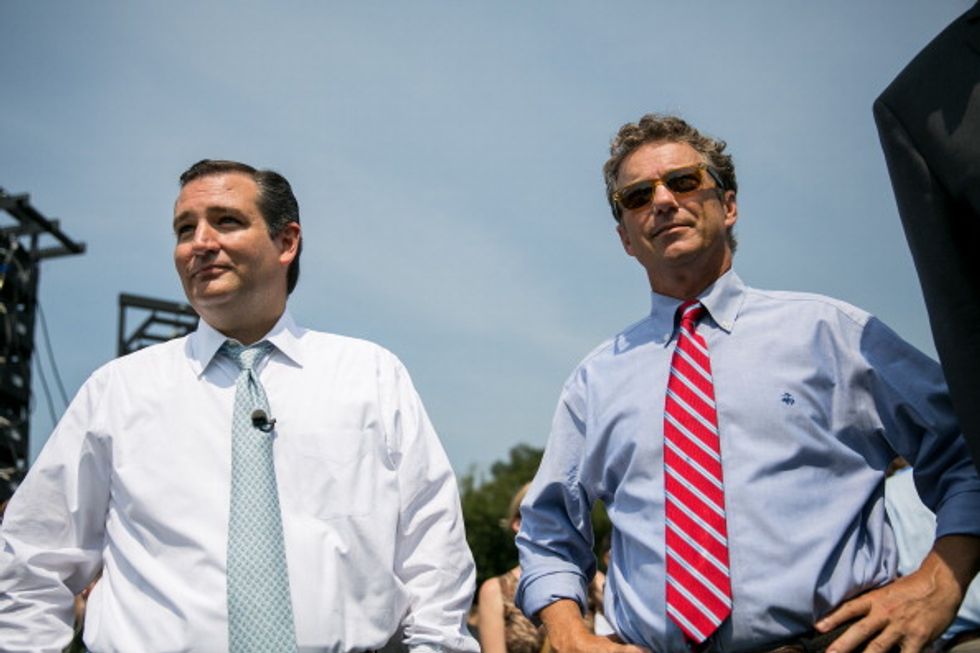 WASHINGTON, DC - SEPTEMBER 10: U.S. Sen. Ted Cruz (R-TX) (L) and Sen. Rand Paul (R-KY) wait to speak at the "Exempt America from Obamacare" rally, on Capitol Hill, September 10, 2013 in Washington, DC. (Photo by Drew Angerer/Getty Images)
"I think on several things he wants to have it both ways," Paul said during an interview on CNN's "State of the Union" Sunday morning, citing Cruz's connection to the controversial Gang of Eight immigration bill.
Paul said that at the time, he agreed with Cruz's policy position — which he said was to give the 11 million undocumented people in the country a legal status but not grant them full citizenship.
"I think that he should just admit that he's changed his mind — that he used to be for legalization, but he's not anymore," the libertarian-leaning senator said.
Paul contended that Cruz has "done the same thing" when it comes to his stance on the Obama administration's trade authority deal and the reauthorization of the Patriot Act.
Paul isn't the only GOP presidential contender to begin hitting Cruz on where he stands on certain policy positions. During an interview with CBS' "Face the Nation" Sunday morning, Florida Sen. Marco Rubio discussed his ongoing battle with Cruz over immigration.
"Well Ted was open, and was in fact a supporter of legalizing people that were in this country illegally," Rubio said. "He was during the debate on the Senate bill, and he was after the debate on the Senate bill. He made it clear on multiple occasions that he was against citizenship, but he was open to legalization. And then for weeks now on the campaign trail, he has refused to answer that question until the other night at the debate when he said he did not 'intend' to legalize people."
"Again, trying to find himself some wiggle room," he continued.
Cruz has argued that he does not, in fact, support legalization and contended that his amendment to the Gang of Eight bill was designed as a poison pill meant to sink the legislation.
"I think when you spend your whole time telling people you are a clear talker and you say what you mean, and everyone else is a sellout, but you're the only purist, I think it is fair to say hold on a second," Rubio said. "Here is where you have been in the past on some issues, and here is where you are now."
As CNN reported, Paul didn't miss a chance to slam Rubio during his appearance on "State of the Union" as well.
"The difference between Marco Rubio and I is I show up for work," Paul said, referencing the number of votes Rubio has missed in the Senate while on the campaign trail. "I think he ought to resign or give his pay back to the taxpayer."
With business mogul Donald Trump leading the pack of Republican presidential candidates, Cruz and Rubio have been hitting each other hard as they climb in the polls — especially on immigration.
According to Real Clear Politics' aggregated polling data, Cruz is polling in second at 17.1 percent with Rubio at 12.3 percent. Paul, who barely made the cut to appear on the main stage alongside the other two senators during last week's GOP debate, is in seventh place at 2.4 percent.