The Republican presidential candidates squared off — or at least, some of them did — during the cold open of "Saturday Night Live."
The venerable comedy show parodied last week's CNN GOP presidential debate, with debate moderator Wolf Blitzer's character favoring Donald Trump, Ben Carson, former Florida Gov. Jeb Bush, Texas Sen. Ted Cruz and Florida Sen. Marco Rubio — asking the rest of the candidates on stage to simply "wave so your parents know you're here."
The Republicans' characters discussed just how they planned to tackle the Islamic State as president.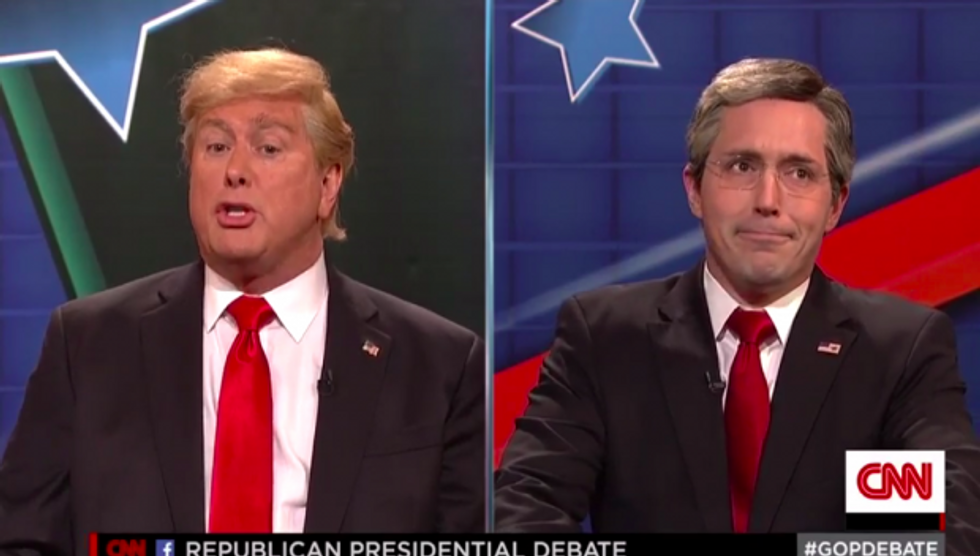 Image source: NBC
"So look out ISIS, because I'm going to crash your party, and just like every party I go to, I'm going to ruin it," Cruz said, adding that he was voted "most likely to throw a beer at" in a Politico poll.
Christie said he wanted to use some "fear-mongering" rhetoric in order to answer his debate question.
"Mothers are putting their children on buses, and these buses are being driven off cliffs — by terrorists," his character said. "Today in our great country, one out of every three babies born are already in ISIS. They are here folks, and I am the only one up here with the stones to take them on."
As for Russia, Carly Fiorina's character adamantly said that she knows Putin personally because she once sold him a HP printer that does not work.
"Let's face it, I'm the only one up here you'd swipe right on," Rubio said of his likability, referencing the Tinder app.
When Kentucky Sen. Rand Paul's character attempted to interject into the debate, Blitzer said, "we are not taking any comments from the audience yet."
Watch the "SNL" cold open below — and see what Trump discovered when he looked at Bush's birth certificate — below.