When Democratic presidential front-runner Hillary Clinton implored people to check out where her donations come from on OpenSecrets, the political money tracking group did just that — and publicly called her out.
"I think it's important to point out that about 3 percent of my donations come from people in the finance and investment world. You can go to OpenSecrets.org and check that," Clinton said during Saturday's Democratic debate. "I have more donations from students and teachers than I do from people associated with Wall Street."
A blog post on the Center for Responsive Politics' website, the nonpartisan research group that operates OpenSecrets, said that while the former secretary of state is "technically right," there are "some important caveats" such as PAC donations.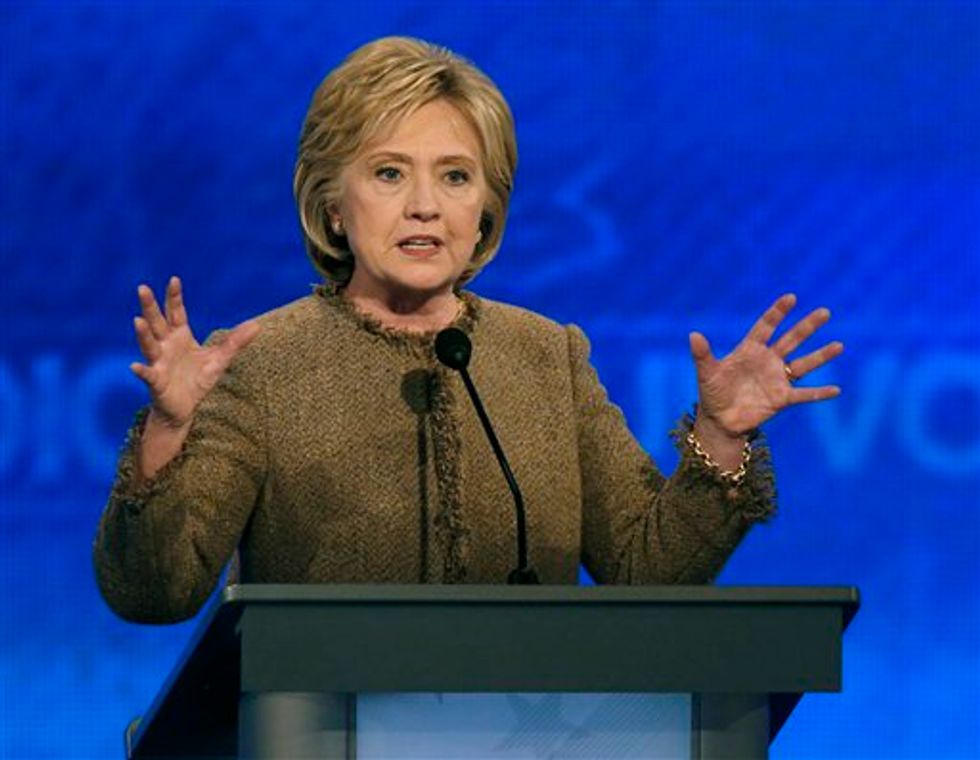 Hillary Clinton speaks during a Democratic presidential primary debate Dec. 19 at Saint Anselm College in Manchester, New Hampshire. (AP Photo/Jim Cole)
"But Clinton's statement ignores how dominant super PACs have become in the campaign finance picture," Will Tucker of the Center for Responsive Politics wrote. "And donors in the securities and investment and commercial banking industries have given the super PACs backing Clinton more than $3.5 million out of the $20.3 million they've raised overall from individuals, unions and other entities — a healthy 17.2 percent. Virtually all of that $3.5 million came from the securities and investment industry rather than commercial banks, putting Wall Street at second place on Clinton's list of top industry donors to her super PACs."
"Bottom line: Taking into account donations to both outside groups and the Clinton campaign itself, Wall Street has provided about 7.2 percent of the funds backing Clinton — more than double what she said on Saturday," Tucker wrote.
The Center for Responsive Politics criticized Clinton's math — saying that in order to arrive at the 3 percent figure, she would have to divide her contributions from the securities and investment industry by her campaign's total amount. What that does, according to the research group, is eliminate donors who gave less than $200 to her campaign — donors who very well could be "associated with Wall Street."
The Center for Responsive Politics said that Clinton's assertion that she has more donors who are students and teachers than associated with Wall Street can't really be checked as that information is part of the Democratic front-runner's internal campaign data. However, it is safe to say that the education industry does largely support Clinton, the group said.
However, Tucker wrote that the Center for Responsive Politics does not generally include students and teachers in the same group — the education industry — as most students do not receive their income from education. According to OpenSecrets, $747,493 came from people who described themselves as "students" whereas $518,495 came from those who identified as "teachers."
"So, in short: Hillary Clinton, thank you for using OpenSecrets. Next time, just call us, maybe," the Center for Responsive Politics said.
.@HillaryClinton's "3%" from Wall St is more like 7.2%. Thanks for using OpenSecrets. Next time, just call us, maybe https://t.co/USJfvtp333

— OpenSecrets.org (@OpenSecrets.org)1450727244.0
Clinton was criticized last month for claims she made regarding Wall Street donations as well. She said in November that she received a lot of financial support from Wall Street as she was a New York senator during the 9/11 terrorist attacks. However, an OpenSecrets search showed that she received seven-figure support from Wall Street prior to the attacks.