The mystery of Democratic presidential front-runner Hillary Clinton's empty podium during Saturday's debate seems to have been solved.
While the presidential candidates were given only an allotted time of less than six minutes for breaks, the men had one advantage — a closer restroom. And Clinton faced an additional challenge when she went to the ladies' room during one break: According to the Boston Globe, it was occupied, and she had to wait for it to be cleared.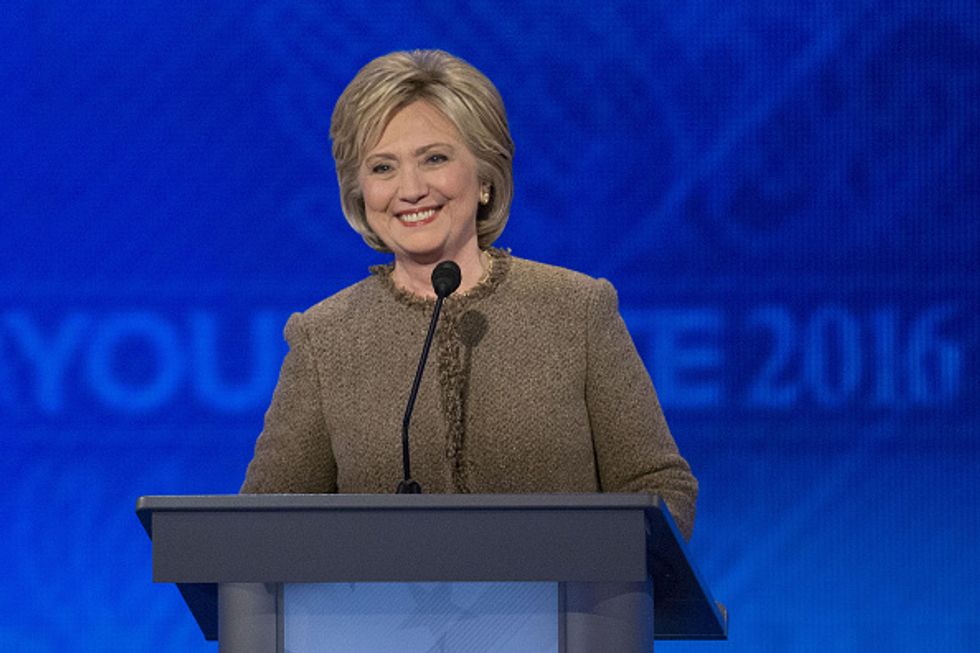 Hillary Clinton, former Secretary of State and 2016 Democratic presidential candidate, smiles after walking on stage following a break in the Democratic presidential candidate debate at Saint Anselm College in Manchester, New Hampshire, Saturday. (Andrew Harrer/Bloomberg)
Even though the restroom contained multiple stalls, Clinton opted to wait until Lis Smith, deputy campaign manager for former Maryland Gov. Martin O'Malley, who is challenging Clinton for the nomination, was cleared from the room. The Boston Globe reported that Smith had been given verbal approval from the Clinton staffer stationed outside the door to use the facility.
Clinton spokesman Nick Merrill told the Globe that there was not a security reason as to why Clinton chose to wait until the entire room was empty.
Clinton reappeared onstage after the break as the moderators had already begun to ask Democratic candidates O'Malley and Vermont Sen. Bernie Sanders questions as they were back on stage and behind their assigned podiums at Saint Anselm College. As they crowd cheered upon her arrival, Clinton uttered a simple "sorry."