Most parents spend the holiday season reminding their kids that it's not all about the presents. Alex Hovater, 6, of Bakersfield, California, is not your average kid.
After seeing a homeless man sleeping under a bridge earlier this winter, Alex asked his mother, Machelle Hovater, if there was anything they could do to help.
"He had a lot of questions," Machelle said in an interview with a local TV station. "He wanted to know if that's where he lived."
Alex was mostly concerned about the winter weather. "I was like, well its getting close to Christmas, and it's going to be cold outside, so at least give them some snacks and water and a jacket before it freezes up," he said.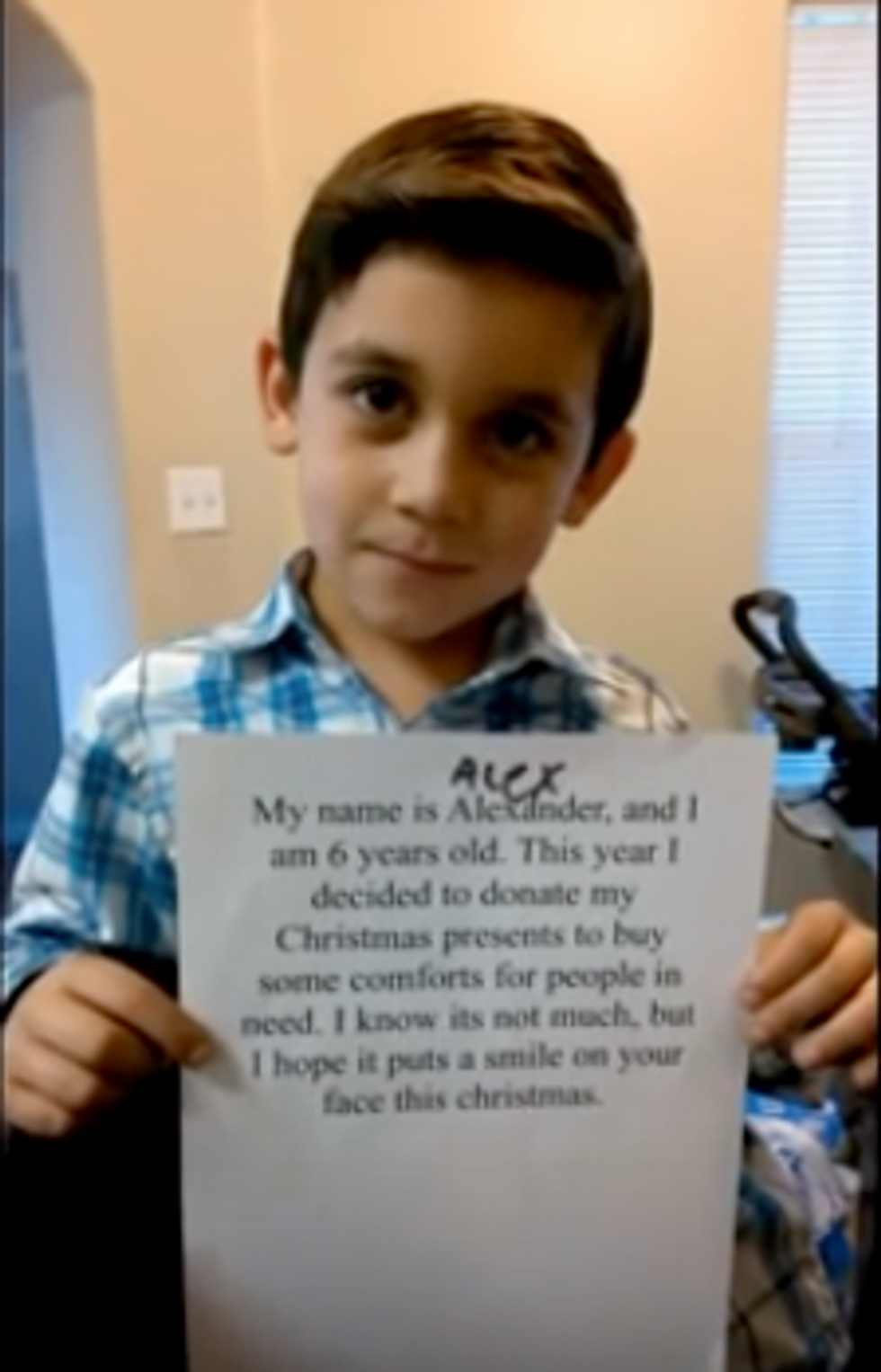 In a YouTube video posted by Machelle Hovater, 6-year-old Alex Hovater holds up a copy of the letter he included each of the care packages he distributed to the homeless. (Image source: YouTube)
The first-grader decided that he wanted to do something to improve the lives of the homeless this Christmas, but it would cost him, big time.
Machelle was moved by her son's heart for society's downtrodden and often forgotten members, but financial constraints left her with limited options. She suggested he could keep all of his Christmas presents or give them up to help the homeless.
"He was like, 'Can we do both?' at first, and I was like, 'Nope, I only have enough money for one or the other.' So he said, 'OK, we'll help them out," Machelle explained.
Alex and his parents packed bags filled with snacks and some basic necessities, including jackets.
Machelle posted a YouTube video that shows her 6-year-old approaching strangers on the street with bundles of food, water and clothing. In the video, Alex is met with surprise, then smiles, while delivering the bags to eight different homeless people.
Alex's parents estimated that they spent about 30 percent of their Christmas budget on this endeavor, money that otherwise would have gone to presents for their kids.
"We tend to want to give our kids everything," Machelle said. "Growing up with that sense of entitlement and that sense of 'I want, I want, I want,' we kind of lose sight of what Christmas and what giving really truly is."
In the hope that those who saw Alex in action would encourage their kids in doing the same, Machelle Hovater launched a social media effort akin to the "ice bucket challenge." She created the hashtag #AlexGivingChallenge and encouraged five of her friends to post videos of their own children giving generously to those in need.
Watch the interview with Alex and his family here:
(H/T: KBACK/KBFX)