The headline of a recent Washington Post story reads, "How gun deaths became as common as traffic deaths."
How gun deaths became as common as traffic deaths: https://t.co/bsk6Ixvovv

— The Washington Post (@The Washington Post) 1450635662.0
Many readers might assume that means gun deaths have skyrocketed in recent years, but the data included in the Post's own story tell a different story.
It is true that gun deaths and motor vehicle deaths recently hit similar levels — only after a significant drop in traffic deaths.
Here's the graph WaPo included in its story: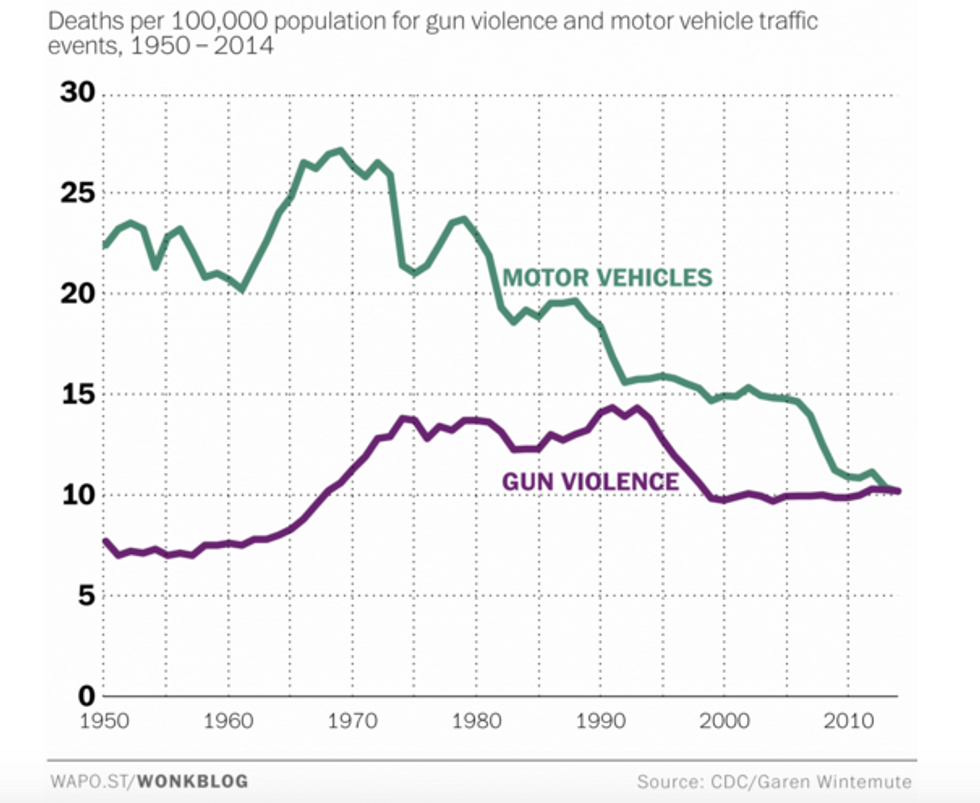 Washington Post
Several Twitter users quickly accused the Washington Post of using a "deliberately misleading headline" to lead people to believe that gun deaths were on the rise.
Twitchy compiled some of the responses:
And the 2nd paragraph reads, "The trend was driven largely by the sharp drop in the rate of traffic fatalities," https://t.co/Q7sMy5XhNJ

— ldelvalle (@ldelvalle) December 20, 2015
Such a dishonest way of noting that traffic deaths have fallen. https://t.co/ghr94HHMWU

— Charles C. W. Cooke (@charlescwcooke) December 20, 2015
@washingtonpost@Carolynyjohnson Traffic deaths have fallen to the level of gun deaths. Deliberately Misleading Headline.

— SQUASHING!Duck (@sttngduck) December 20, 2015
Because both fell but traffic deaths fell by more and WaPo went with a fearmongering headline #savedyouaclickhttps://t.co/sQ5w432UEE

— Jon Ireland (@jrireland1) December 20, 2015
FIFY: Finally, cars are as safe as guns. https://t.co/tVSu5JWWVh

— Roger (@Roger247) December 20, 2015
---