Following last summer's thwarted terror attack on a high-speed passenger train in Europe, TheBlaze began looking into the security of Amtrak, America's national rail service.
How easy would it be for a bad guy or a terrorist to board a crowded train carrying either weapons or an explosive device? Based on actual experiences recorded by TheBlaze, it is quite simple.
The topic of passenger train security is not a new worry — it has been a heightened concern for many in law enforcement since the terror attacks of Sept. 11, 2001.
Former CIA analyst and member of the NYPD Terror Squad Buck Sexton is among those troubled by the inconsistencies in security procedures on Amtrak trains.
Sexton, who also hosts a radio show for TheBlaze Radio Network, spoke with TheBlaze about the problems of securing the passenger rail lines. "It's not a matter of if, it's a matter of when," he said, adding, "One bad guy on a train, carrying a couple of duffle bags with explosives ... if detonated when the train is on a bridge over a river could kill 300-400 people and cripple rail traffic in the Northeast."
On several occasions, TheBlaze was able to board an Amtrak train without anyone checking for a ticket or a matching ID. Plus, carry-on baggage was never inspected — not even randomly.
Amtrak told TheBlaze that more than 30 million people rode their trains across the country in fiscal year 2015. With more 11 million riders on the Northeast corridor, the most heavily traveled of Amtrak's 43 routes, could well be an attractive target for terrorists.
TheBlaze sent a video to Amtrak, showing the simple way someone could sidestep the current boarding process at New York City's Pennsylvania Station — the country's business transportation hub. On multiple occasions, TheBlaze was able to walk on a train completely unchecked, including anything being carried aboard.

Image source: TheBlaze/Mike Opelka
On many of the trips taken for this report, tickets were not checked for more than 15-20 minutes after the train left the station. And despite Amtrak's own stated policy, not once was identification requested to verify the person riding the train matched the name on the ticket.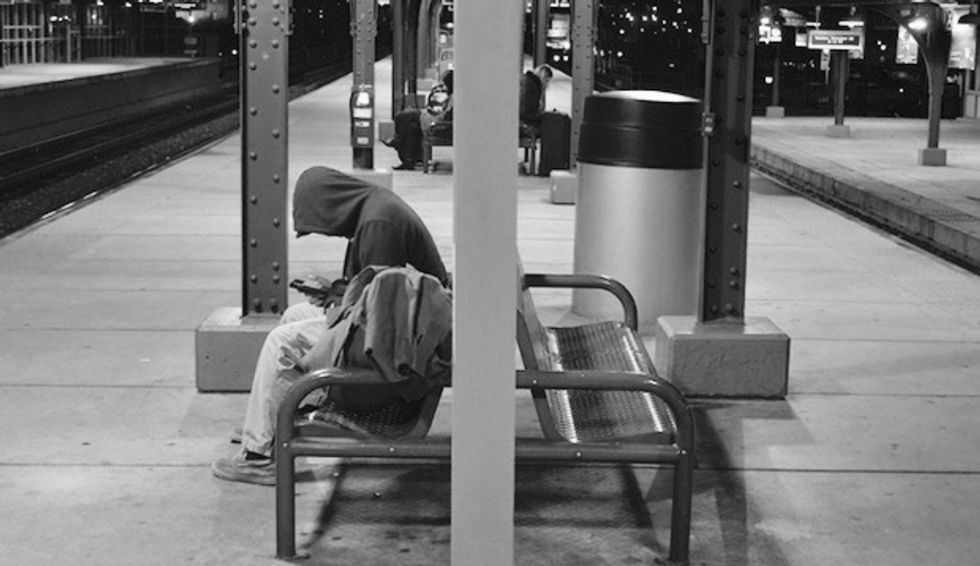 Image source: TheBlaze/Mike Opelka
Queried by TheBlaze about those issues, the Amtrak press office sent a response that included the following:
Amtrak has a number of security initiatives to improve safety and security for our employees and passengers. Efforts include the use of explosive detection K-9 teams, passenger and baggage screenings, and strong partnerships with local, state, federal and international agencies — including active participation in FBI Joint Terrorism Task Forces — to share intelligence and conduct joint security exercises.
Despite the first paragraph mentioning "passenger and baggage screenings," TheBlaze witnessed almost no passenger screening and, while monitoring hundreds of trips on both the Acela and regular Amtrak service, never witnessed any carry-on luggage being screened.
The Amtrak response also mentioned the rail line's reliance on passengers who "see something" to "say something":
In addition, both passengers and employees are partners in our safety and security. Individuals are encouraged to report behaviors or activities that are unusual or out of the ordinary such as trespassers and suspicious packages by calling Amtrak Police at 1-800-331-0008 or 911, or Txt-a-Tip by sending a text to APD11 from a smartphone or to 27311 from a standard cell phone.
Amtrak's statement also admitted that the rail system is a "very open and therefore porous transportation environment." Citing "easy access, convenient locations and intermodal connections," Amtrak insists the security procedures like those found at airports are "not easily transferable to the rail station system."
The American rail system's security procedures are close to those found on the European trains. And in Europe, following the thwarted August terror attack, officials reportedly responded to the incident by putting "Be Vigilant" stickers on the uniforms of rail workers.
More than one of the experts TheBlaze spoke with mentioned the "inconvenience" to rail riders a strict ticket-checking system would impose.
Looking for comments or responses to the videos showing potential security problems with the train stations in their states, TheBlaze reached out to the offices of Sens. Chuck Schumer (D-N.Y.), Kirsten Gillibrand (D-N.Y.), Tom Carper (D-Del.) and Chris Coons (D-Del.) with letters expressing concerns. The messages to Gillilbrand and Schumer included one of the demonstration videos.
Carper's office suggested TheBlaze speak with Schumer's office and TSA Administrator Peter Nefenger.
The only response from Schumer's staff included a copy of an Aug. 13 press release announcing the FCC writing new rules to allow Amtrak police to monitor the same radio frequencies as other first responders.
At the time of publication, the TSA's only response to TheBlaze's request for comment appeared to be a prepared statement on basic activities performed by TSA in conjunction with other law enforcement agencies and transportation providers.
Concerning questions about baggage screening, the agency replied, "TSA provides resources and equipment to a number of passenger rail agencies to conduct random baggage screening."
__
Follow the author of this story on Twitter and Facebook: