Citizens of the oil-rich nation of Brunei could face up to five years in prison if they engage in public celebrations of Christmas, such as wearing Santa hats and sending holiday greetings, British and Australian media reported.
Britain's Independent reported Tuesday that the country, where Islam is the official religion, introduced the Christmas ban last year over concerns that marking the Christian holiday "excessively and openly" could move Muslims away from their faith.
Under the directive, Christians are allowed to celebrate the holiday but only in private.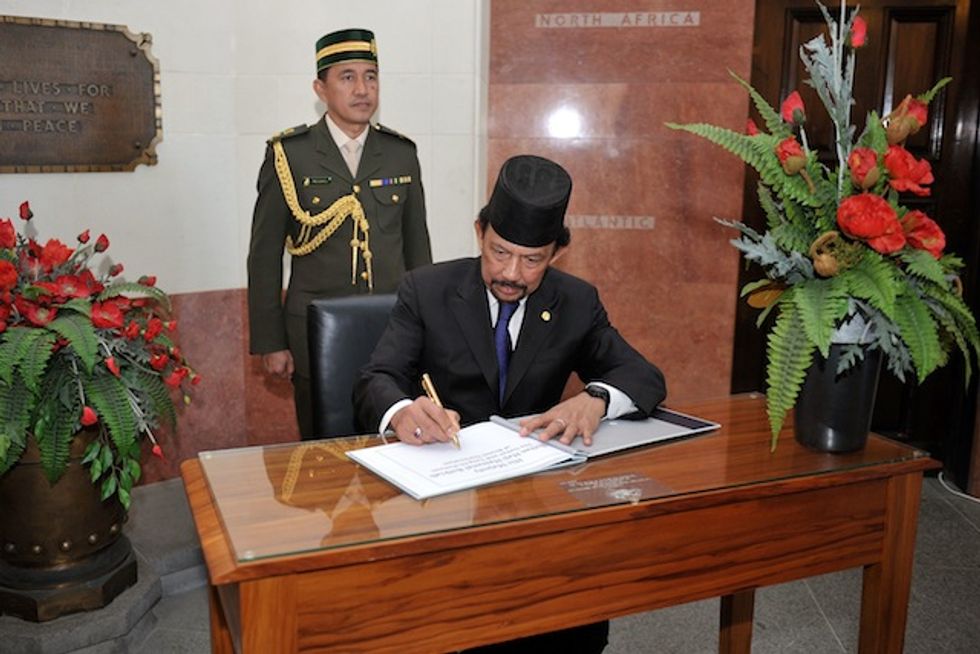 Sultan of Brunei Hassanal Bolkiah signs a book at the National War Memorial on March 26, 2013, in Wellington, New Zealand. (Hernie Othman-Pool/Getty Images)
The Borneo Bulletin earlier this month reported on sermons by the nation's imams warning Muslims that they are prohibited from imitating other religions.
"During Christmas celebrations, Muslims following that religion's acts — such as using their religious symbols like cross, lighting candles, making Christmas trees and singing religious songs, sending Christmas greetings, using signs praising the religion, putting up decorations or creating sounds and doing anything that amounts to respecting their religion — are against Islamic faith," the Muslim leaders said.
The religious leaders reminded the Muslim faithful of a fatwa by the state mufti stating that non-Muslims are allowed to engage in their religious festivities, but only on "condition that the celebrations are not publicized or displayed openly to Muslims."
"These enforcement measures are … intended to control the act of celebrating Christmas excessively and openly, which could damage the aqidah (beliefs) of the Muslim community," the Ministry of Religious Affairs said in a statement reported by the Sydney Morning Herald.
The decision by Brunei's ruler Sultan Hassanal Bolkiah last year to enact Shariah law prompted a boycott of the hotels he owns — including the Beverly Hills Hotel — by Hollywood celebrities including Jay Leno. Under the penal code reported last year, those engaging in homosexuality could face death by stoning and thieves could face amputation.