UPDATE 5:01 p.m. ET: MINNEAPOLIS (TheBlaze/AP) — Gov. Mark Dayton says the moving protest that has led to disruptions at the Mall of America and Minnesota's main airport has created a "very, very dangerous situation."
Dayton pleaded Wednesday with protesters aligned with the Black Lives Matter movement to stand down from blocking access to roads and terminal entrances at Minneapolis-St. Paul International Airport.
Arrests were made at the airport during the protest.
#blacklivesmatter protest BlackXmas2 at #mspterminal2 @StarTribune pic.twitter.com/oK3jUj9RmA

— Rich Tsong-Taatarii (@rtsongphoto) December 23, 2015
He told WCCO Radio that their demands have been met for thorough state and federal investigations of the shooting of Jamar Clark by Minneapolis police.
The governor says he questions the need for this type of demonstration. Dayton says protesters' call for the release of video footage of the Clark altercation has to wait, so it doesn't jeopardize the integrity of investigation that he says everyone wants.
Airport spokesman Patrick Hogan says traffic backups persist on roads leading to the airport, and that security checkpoints inside the terminal were temporarily closed. He says that was done to prevent protesters from rushing through them and forcing an evacuation of the gate areas.
It's possible that there could be some flight delays to accommodate passengers stuck in security lines when they reopen.
Original story below
MINNEAPOLIS (TheBlaze/AP) — A large protest that started at the Mall of America quickly migrated Wednesday to Minneapolis-St. Paul International airport, where demonstrators blocked roads and caused significant traffic delays.
Police warn #blacklivesmatter protesters Of possible arrest at #mspterminal2 @StarTribune pic.twitter.com/JOdXtKksUk

— Rich Tsong-Taatarii (@rtsongphoto) December 23, 2015
Airport officials said access to one of two terminals was blocked, which also caused backups on nearby roads. Some protesters took a light-rail train to the airport after the nation's largest mall was closed by police.
Crowd cheering and chanting to let more protesters further into the airport #BlackXmas #Justice4Jamar pic.twitter.com/wXHgxXcBRE

— Brandon Long (@BLongStPaul) December 23, 2015
Protesters leave @mallofamerica for @mspairport on the train #Justice4Jamar #blackxmas2 @StarTribune pic.twitter.com/Go0Wgt6uSO

— Leila Navidi (@LeilaNavidi) December 23, 2015
#blacklivesmatter protest at #mspterminal2 for the 1:30 pm #BlackXmas2 @StarTribune pic.twitter.com/Pgcd9xydp4

— Rich Tsong-Taatarii (@rtsongphoto) December 23, 2015
Hundreds of protesters left the nation's largest mall shortly after a rally began Wednesday afternoon, chanting for justice for a black man recently shot by Minneapolis police. The protest was organized by Black Lives Matter activists.
My crowd estimate: roughly 600. That's based on actually counting heads. #MOA pic.twitter.com/etPiPTaaGN

— John Reinan (@StribGuy) December 23, 2015
Stores closed their gates, kiosks were covered and even Santa left his sleigh at massive suburban Minneapolis mall shortly before protesters gathered Wednesday afternoon, one of the busiest shopping days of the year. They abruptly walked outside while chanting, "What do we want? Justice! When do we want it? Now!"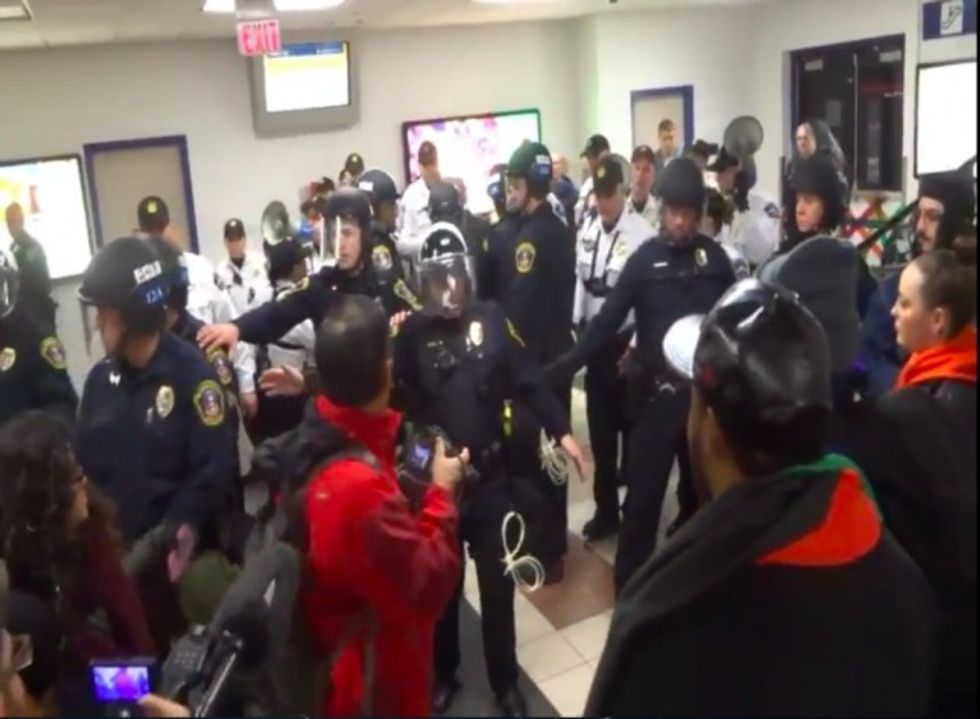 Image source: Twitter
Police quickly closed the mall's main entrances and urged onlookers out of the mall's central rotunda, threatening arrest.
Organizers said the rally was intended to draw attention to the police shooting last month of Jamar Clark. The 24-year-old black man died the day after he was shot by Minneapolis police responding to a recent assault complaint.
A similar demonstration last December drew hundreds of demonstrators angry over the absence of charges following the police killings of unarmed black men in New York City and Ferguson, Missouri. Stores in the mall had to close, and dozens of people were arrested.
The massive retail center in the Minneapolis suburb of Bloomington houses an amusement park and more than 500 shops spread across four floors, attracting shoppers from around the globe.
Neither mall officials nor Bloomington police said what security measures they put in place to prepare for the protest, though special event staff members were searching bags and stationed at every mall entrance. Security guards cordoned off parts of the central rotunda, and officers from several cities patrolled inside.
Police now out in full force, PA system urging shoppers to "seek shelter" as mall goes into lockdown. pic.twitter.com/orB80DOpHI

— Patricia Lopez (@StribLopez) December 23, 2015
Dozens of stores had closed their gates shortly before the protest started.
The mall sought a court order blocking the planned protest. A judge on Tuesday barred three organizers from attending the demonstration, but said she doesn't have the power to block unidentified protesters associated with Black Lives Matter — or the movement as a whole — from showing up.
Bloomington Police Deputy Chief Denis Otterness confirmed officers would be at the mall, but declined to discuss their plans for handling the protest.
"We're just not releasing that at this point," he said. "Our number one priority is the safety of everybody out at the Mall of America today."
Gov. Mark Dayton also told reporters early Wednesday that 30 Minnesota State Patrol officers will be on scene at the local police department's request. He said he sympathizes with protesters' concerns, but he stressed that the mall is private property.
Kandace Montgomery, one of three organizers barred by the judge's order, said the group isn't deterred by the ban. On one of the busiest shopping days of the year, Montgomery said the retail mecca is the perfect venue for their demonstration to pressure authorities involved in the investigation of Clark's death to release video footage.
"When you disrupt their flow of capital ... they actually start paying attention," she said. "That's the only way that they'll hear us."
Associated Press writer Jeff Baenen contributed to this report.
This is story has been updated.