Politico released a report Wednesday morning of more leaked audio from a Ted Cruz Manhattan fundraiser earlier in December, this time of an exchange between Cruz and a donor on the subject of same-sex marriage, but even MSNBC's "Morning Joe" panel questioned the report's potential implications.
The alleged dispute: Cruz said following this summer's Supreme Court ruling that gay marriage would be "front and center" in his 2016 campaign. But in his luncheon with Manhattan donors, Cruz softened his tone, saying that the issue is one to be left up to the states.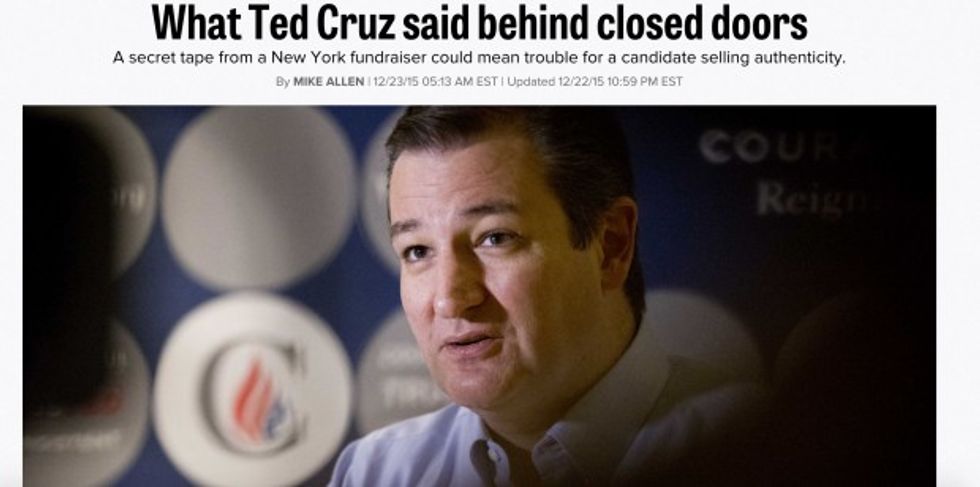 Politico
After playing the leaked audio and reading a statement that Cruz made on the subject in July, "Morning Joe" co-host Willie Geist brought in the report's author, Mike Allen, and said that the entire MSNBC panel "shrugged" at the report.
"Mike, as we listen to this, I think we all shrugged a little bit," Geist said. "I think he was just talking broadly there about defending the Constitution, which is something he has said consistently."
When asked if there is a "problem" between what Cruz said last summer and what he said at the fundraiser, Allen said that people are just used to "hearing the red meat Ted Cruz."
"What we're hearing here is him navigating a very different crowd," Allen said. "This is fundraiser in midtown Manhattan at the Sullivan & Cromwell law firm, and someone there says, 'Im against your view on gay marriage; it's the one place we differ. Is it a top three priority for you?' And Senator Cruz says 'no' and then gives what he's always said about referring it to the states. So we see the senator navigating a crowd that is not entirely friendly in a different tone volume than we're used to seeing on the stump."
When asked by show host Joe Scarborough if Cruz's opponents think they "have something" to use against the Texas Senator, Allen said that rival campaigns will attempt to contrast Cruz's tone to one crowd and his tone to a different crowd.
"Well Joe, what opponents think, is that they're going to try to make a case of, as you said in your led in, 'New York Ted,' 'Iowa Ted,'" Allen remarked. "Not so much that he says something different, but that he emphasizes different priorities in different settings."
Watch the segment below via MSNBC:
—
Follow the author of this story on Twitter and Facebook:
[facebook //www.facebook.com/plugins/like.php?href=