Rick Pearlstein, a liberal author of an anti-Republican trilogy of books critical of Barry Goldwater, Richard Nixon and Ronald Reagan, most recently took a shot at Star Wars creator George Lucas.
Pearlstein, a writer for the Washington Spectator and most recently the author of "The Invisible Bridge: The Fall of Nixon and the Rise of Reagan," said that Americans were beginning to understand the complexity of the world in the 1970s after Watergate and the Vietnam war, and that their country wasn't always the good guys.
Then Star Wars ruined that.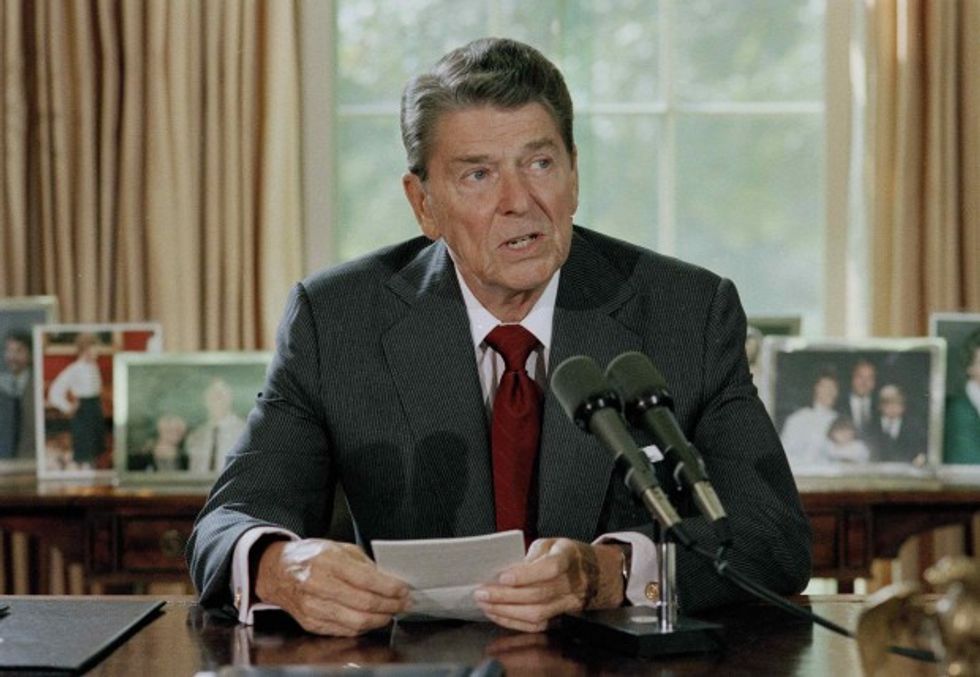 AP Photo/J. Scott Applewhite
"But no wonder the man who erased that complexity — who granted us the imaginative power to reverse these polarities, and identify ourselves only and always with the scrappy rebels resisting an evil empire (and only two years after the fall of Saigon) — won more wealth than he could imagine. He gave us permission to stop growing up. George Lucas, I mean; though the formulation applies to Ronald Reagan, too," Pearlstein wrote.
Of the new Star Wars film released last week, Pearlstein observed the problems with American nostalgia.
"And now this Christmas we get nostalgia for that nostalgia. Unsurprising — just like the Republican presidential candidates onstage at the CNN foreign policy debate last week aching to release us from the grown-up responsibility to use our power wisely was not surprising. Enjoy the show: that's fine. I will too," he wrote. "Just remember that infantile denial is what gives Republicans their power — and that the temptation surrounds and penetrates us, too. It binds America together. Just remember that in the end you're watching a children's movie."
He was critical of Lucas, the Star Wars creator, quoting the filmmaker who said, "I discovered that making a positive film is exhilarating."
He further begrudgingly quoted Lucas for teaching a good-versus-evil concept. He quoted Lucas, who said, "Everybody's forgetting to tell the kids, 'Hey, this is right and this is wrong.'"
"That's what he set out to correct," Pearlstein wrote. "Ronald Reagan couldn't have said it better. Star Wars was a Ronald Reagan sort of film."
(H/T: Newsbusters)