Republican presidential candidate Marco Rubio has a sobering Christmas message in an op-ed this morning — don't forget that Christians are being slaughtered in the Middle East and persecuted around the globe.
The Florida senator drew parallels between the plight of Christians fleeing from groups like the Islamic State and the story of the birth of Jesus.
"As American families put up our Christmas trees and start playing carols, it's perhaps easy to forget that the first Christmas wasn't all that silent of a night," Rubio writes with the Southern Baptist Convention's Russell Moore in the Washington Post Thursday.
"The birth of Jesus happened, after all, in something of a war zone," they write. "A tyrant sought to maintain his power and used violence against innocent bystanders — in this case, the children of Bethlehem — who stood in his way. This year, perhaps more than most, Americans should go into the Advent season with a sense of weight, knowing the bloodshed currently erupting in the land of Jesus's birth."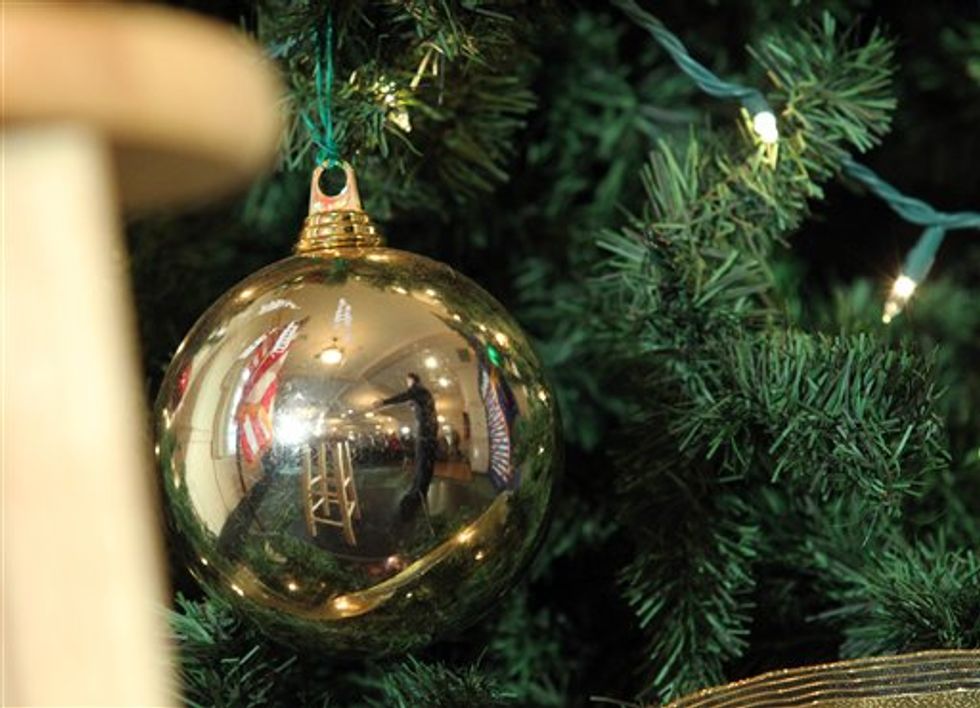 Marco Rubio is reflected in a Christmas ornament on Monday in Rochester, N.H. (AP/Mary Schwalm)
Rubio, who is Catholic, and Moore point out that Pope Francis said in 2014 that more Christians have been martyred in recent years than in Christianity's early centuries.
Rubio's Christmas message is similar to President Barack Obama's yesterday, reminding of the "brutal atrocities committed ... by ISIL" and ending with a line from the carol "I Heard the Bells on Christmas Day."
"As the old Christmas carol reminds us: 'The wrong shall fail, the right prevail, with peace on earth, goodwill to men,'" Obama said in a statement.
Rubio and Moore, meanwhile, said in their editorial that they've been working to re-authorize the U.S. Commission on International Religious Freedom, an independent body that keeps tabs on the fate of religious groups abroad and makes recommendations to the president and Congress.
But most importantly, Rubio and Moore write, members of the Christian church in America should pray for their persecuted brothers and sisters.
"As we prepare to celebrate Christmas in the United States, let's remember the words of the Apostle Paul, who wrote that the church is a body made of many parts, and if one part of the body suffers, we all do," they wrote. "So we ask you to join us in praying openly for all of those who are forced to pray in secret."