While gun violence is a problem that affects more than just black Americans, venerable movie director Spike Lee said that he hoped to convey that it's "not always policeman" who die from guns with his new movie.
During an interview with NBC's Chuck Todd, Lee said that while he does not usually speak to the "takeaway" in his films, he hopes that when people view his latest film, "Chi-Raq," they "think about guns." Lee said 88 Americans die daily from gun violence — and not just in places like Chicago or "in the hood."
"It affects rural areas, it affects everybody," he said.
"I want to speak in this film on black-on-black violence. It's not always policeman," Lee said. "It wasn't a cop that executed Tyshawn Lee, the 9-year-old boy who was murdered in an alleyway in a Chicago suburb. To me, the complexion or color of the trigger finger does not matter to me. You kill somebody, you kill somebody, no matter who you are."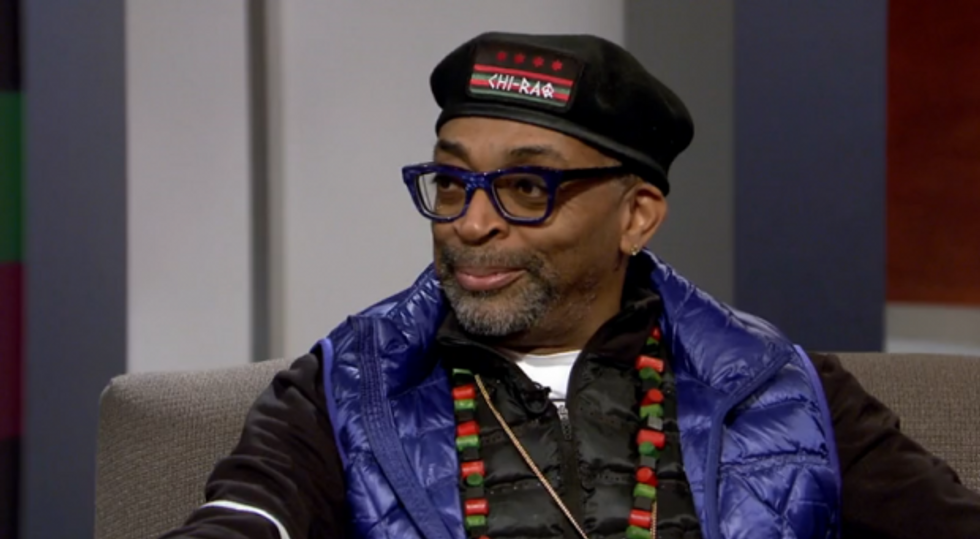 Image source: NBC
Lee attributed Chicago's problem with violence to the segregation of the city.
"I think part has to do with Chicago is America's biggest segregated city," the director said. "And I think that has a lot to do with it. People are just thrown to one side of town and left there on their own devices."
While discussing his new film, Lee said he had to go to a funeral on the first day of pre-production as one of "his guys" had been fatally shot.
"June 1 was the first day of filming, July 9 was the last day. During that time, 331 people got wounded and shot, 65 people got murdered," he said. "It's escalated since then."
Lee said people are not outraged about the violence in Chicago because "it's not Sandy Hook" and "people are numb." He argued that the U.S. could do more to crack down on gun violence — such as tougher background checks — that would not infringe on Americans' Second Amendment rights.
On the Black Lives Matter movement, Lee praised the activism, but said for him, there would be more. 
"For me, trying to be the best person I can be, I cannot just scream, 'cops are killing us, cops are killing us, they're shooting us down in the streets,' and then we have a case like Tyshawn Lee, and I'm like," Lee said, holding his hands over his eyes, mouth and ears to mimic blinders. "It goes back to my earlier statement. I don't care what color or complexion the trigger finger is."
The satirical movie "Chi-Raq" follows a group of women who rally together to try to end gun violence in a Chicago neighborhood — including by abstaining from sex — after a child is killed by a stray bullet. Lee said that the final scene of the movie features more than 50 Chicago women whose children have been murdered.
Lee said that while Chicago Mayor Rahm Emanual never told him not to make the film, he did have some reservations.
"He said the title is going to hurt economic development and tourism," Lee said. "I put more volume in lives. That's me."
Watch Lee's full interview with NBC's Chuck Todd below.