© 2023 Blaze Media LLC. All rights reserved.
See the New Shark Scientists Just Discovered in the Deep Ocean: 'We're Not Totally Sure What This One Is Eating
A new shark has been discovered by scientists swimming in the deep ocean off the coast of Central America.
Etmopterus benchleyi, referred to as the Ninja Laternshark, was found swimming 1,000 feet below the surface of the Pacific Ocean in 2010. However, scientists were only able to recently confirm it was a new species and just announced their findings this month in the Journal of the Ocean Science Foundation.
Journal of the Ocean Science Foundation.
The glow-in-the-dark Ninja Laternshark is nothing to be afraid of, they say — in fact, some of the fish are so tiny they might even fit in your hand.
"I've seen a few reports alluding to how dangerous and scary this shark might be, which is pretty funny to me since the largest one we found (a full grown adult) was 515 mm long (20 inches) from head to tail," Victoria Elena Vasquez, a grad student at the Pacific Shark Research Center who was part of the team that made the discovery, told Fox News.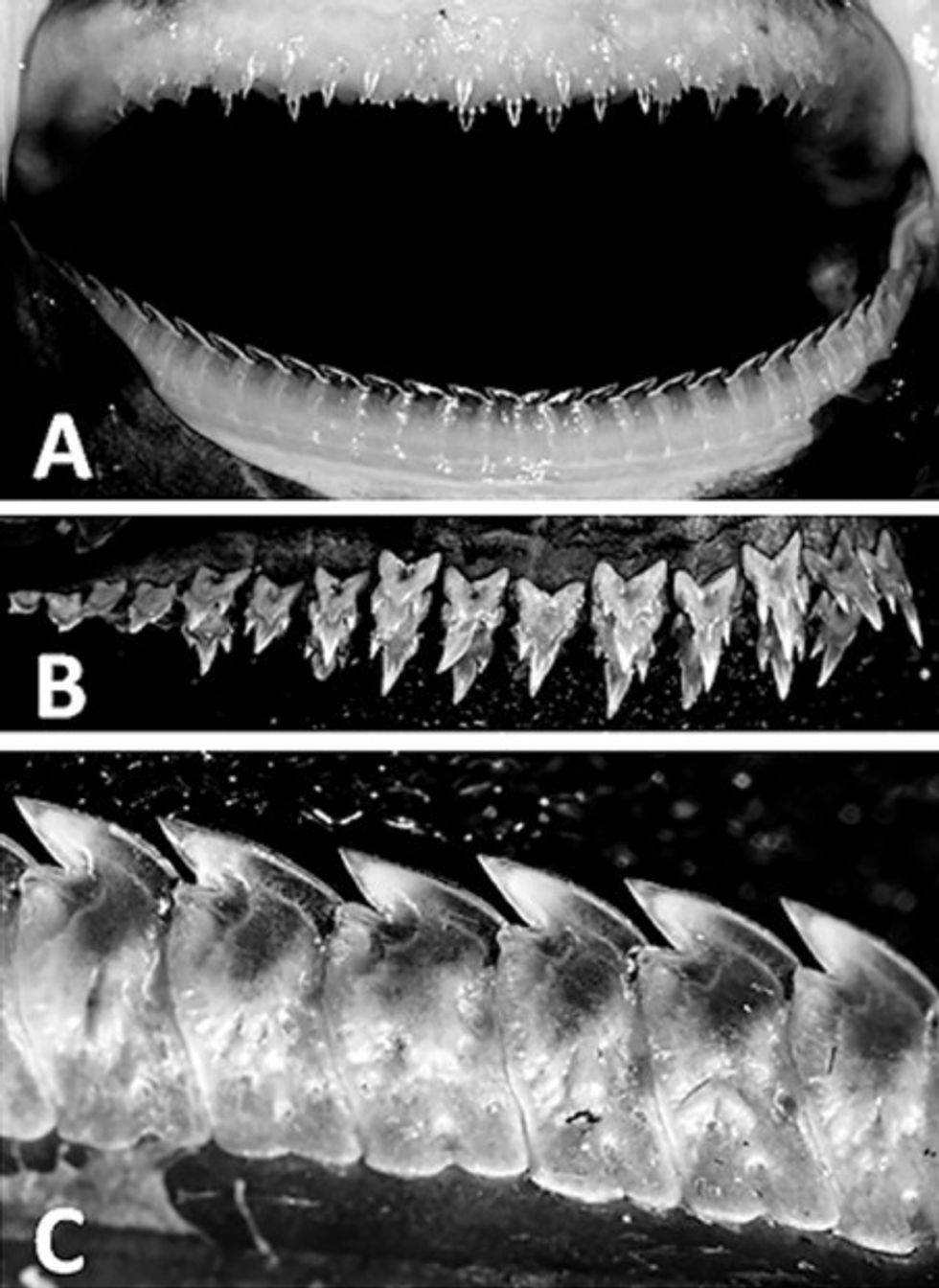 Journal of the Ocean Science Foundation.
But, despite the shark's small size, it could still be a big player swimming as deep as 4,734 feet.
"It is probably living in an environment where it might, even though it is really small compared to other sharks, be one of the larger things there," Vasquez told Fox News.
"We're not totally sure what this one is eating but other lantersharks are eating smaller fish, crustaceans," she added. "It's likely that it's eating the same things or something similar."
Vasquez said scientists are learning more about the deep ocean as technology improves.
"A lot of this is happening because we're getting to the deep sea a lot more," she told Fox News. "As deep exploration increases whether that be through science or commercial fishermen, we're discovering more of these animals."
—
Follow the author of this story on Twitter and Facebook:
Want to leave a tip?
We answer to you. Help keep our content free of advertisers and big tech censorship by leaving a tip today.
more stories
Sign up for the Blaze newsletter
By signing up, you agree to our
Privacy Policy
and
Terms of Use
, and agree to receive content that may sometimes include advertisements. You may opt out at any time.