New York Jets offensive lineman D'Brickashaw Ferguson says that, after watching the new Hollywood hit movie "Concussion," he feels "betrayed" by the NFL for not being forthright with their knowledge of concussions.
The veteran player, who hasn't missed a snap in 150 straight games, said his perspective on the situation changed after he saw the movie and read the book the movie was based on. He says he never realized he was at risk of chronic traumatic encephalopathy, the disease the book and movie centers on.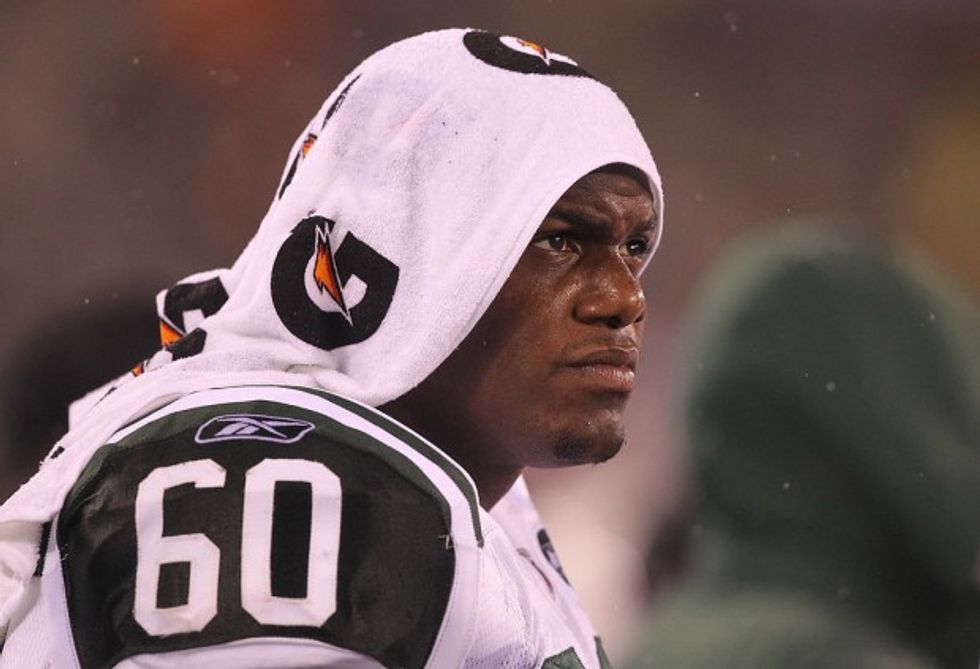 D'Brickashaw Ferguson of the New York Jets. (Getty Images/Al Bello)
Ferguson said he learned that offensive linemen are most prone to the disease because of small, repeated blows to the head.
"Perhaps I was a little naïve in my understanding of how the brain is affected by hits to the head. As I understood it, concussions dealt with big collisions, typically occurring at the skill positions," Ferguson wrote in Sports Illustrated. "After learning all of this, I feel a bit betrayed by the people or committees put in place by the league who did not have my best interests at heart."
Ferguson was also critical of former Jets team doctor Elliot Pellman, who served as the chairman of the NFL's committee on head injuries. Pellman was the team doctor during Ferguson's rookie year in 2006.
"[To] learn that he was a part of the group that tried to discredit the scope and impact of brain injuries among players within the league is disheartening," Ferguson said.
More from Ferguson's article:
Since seeing Concussion, I can't avoid wondering if I am in danger of experiencing some degree of brain injury when I am done playing. It couldn't happen to me, right?

I've played in 165 games, including playoffs, participated in over 10,000 plays, and this doesn't even include practices or training camps. Though I cannot remember ever having a concussion, I now know as an offensive lineman that it is the frequency of collisions that can ultimately lead to brain injury. It's a different conversation when you are involved in the story and not just watching a movie about it. I fear the unavoidable truth is that playing football has placed me in harm's way, and I am not yet sure of the full extent of what it might cost me.
Though he says he wouldn't go back and change his decisions, given what he has "accomplished on and off the field," Ferguson says there is one thing he would rethink: letting his child play football.
"I sincerely believe that the game has and will continue to improve on all levels and put its players in the best possible position," he concluded, "but I do have doubts in whether that is something that I would want to let my child pursue."
—
Follow the author of this story on Twitter and Facebook:
[facebook //www.facebook.com/plugins/like.php?href=