Just hours after announcing a major fourth quarter haul of $23 million, two top aides quit the presidential campaign of retired neurosurgeon Ben Carson.
Campaign manager Barry Bennett and communications director Doug Watts resigned amid Carson's struggle to solidify his place at the top in the race for the 2016 Republican presidential nomination — and Bennett said Carson hasn't proven he can surround himself "with good people."
The once-surging candidate who led the GOP field with 29 percent in November is now polling at 10 percent nationally and at 7 percent on Iowa, where the first presidential caucus will take place Feb. 1.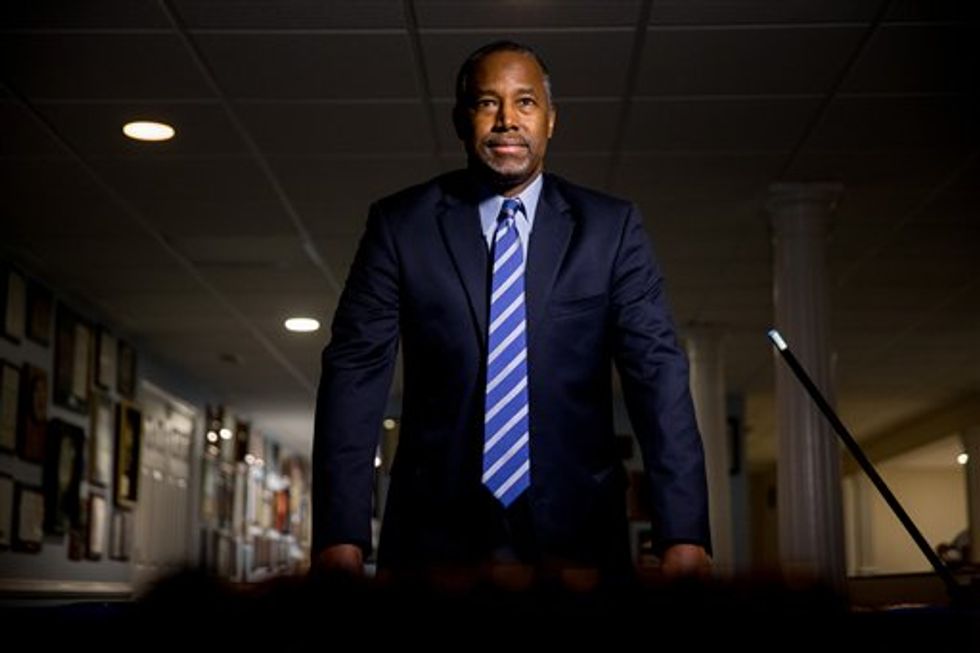 Republican presidential candidate Dr. Ben Carson poses for a photograph following an interview with The Associated Press in his home in Upperco, Maryland, Dec. 23. (AP Photo/Andrew Harnik)
Bennett and Watts' resignation come shortly after Carson signaled to Fox News anchor Neil Cavuto that voters would "quite publicly" see changes in his campaign starting next week. Additionally, a source close to the campaign blamed internal frustrations on Carson's close personal aide Armstrong Williams.
The source said Williams has been an "ongoing problem since day one," according to NBC News. The source charged Williams with being responsible for the struggles Carson's campaign has had in the polls and in fundraising throughout December.
Bennett later told The Daily Beast's Gideon Resnick that he resigned after "coming to the realization I was not going to be able to solve the Armstrong Williams issue."
Bennett tells me: "I have resigned after coming to the realization I was not going to be able to solve the Armstrong Williams issue."

— Gideon Resnick (@GideonResnick) December 31, 2015
Carson is "one of the smartest men I've ever worked for," Bennett told the Associated Press, but added that he believes Carson has become Williams' "script reader."
"You have to surround yourself with good people," Bennett told the AP. "And he hasn't demonstrated that he can do that. No one wants Armstrong Williams anywhere near the Oval Office."
Though the shake-up comes only four weeks ahead of Iowa's first-in-the-nation caucuses, Carson recently issued a statement saying he has "100 percent confidence" in his team.
Carson advisor Ed Brookover will take over as campaign manager and ret. Gen. Bob Dees will serve as campaign chairman, NBC News' Hallie Jackson reported Thursday.
This story has been updated.