Recent FDA approval of initial testing on a new, individually customized cancer treatment at Baylor Hospital in Texas could bring new hope to the lives of millions struggling to fight the disease.
The new course of action replaces chemotherapy with a simple, monthly injection.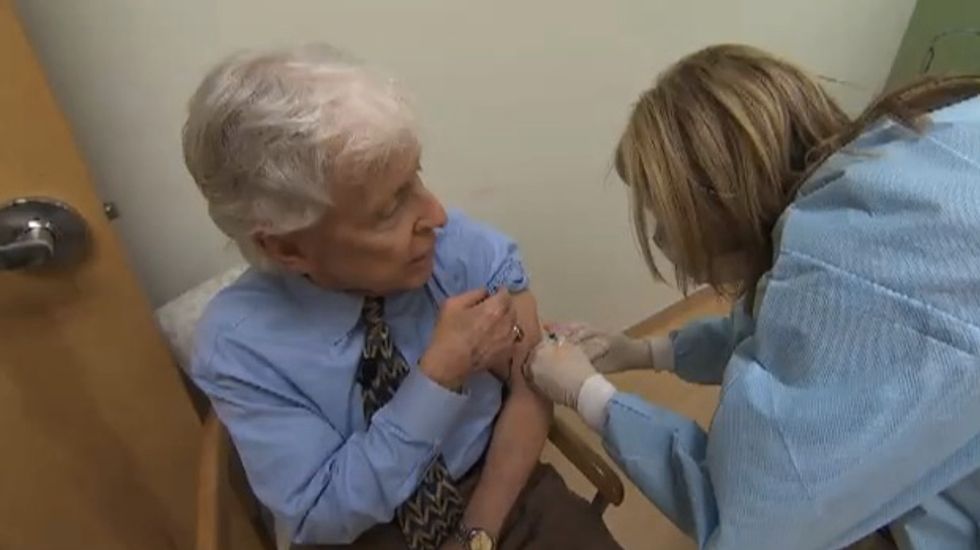 Image source: CBS DFW
The innovative program is a radical departure from traditional thinking that attempted to "cure" a patient's cancer. Instead, doctors and researchers at Baylor's Mary Crowley Cancer Center are focused on controlling the disease, using cells taken from the tumor growing inside a patient.
After harvesting cells from the tumor, an individualized vaccine is created. Patients receive a monthly injection of the specialized vaccine engineered to allow the body's immune system to keep the cancer in check.
Comparing the experimental program to how medicine treats other diseases, Doctor Maurizio Ghisoli told CBS News, "Change from an acute deadly disease to a chronic disease, probably we do the same for hypertension or diabetes."
"We don't cure, but we control the disease," Ghisoli added.
If successful, this breakthrough could mean the end of cancer patients having to endure intense and often debilitating chemotherapy treatments.
While still in the clinical trial phase, Baylor's program has shown promising results on patients like college student Carly Rutledge.
When she was just 15-years-old, Rutledge was diagnosed with an aggressive form of bone cancer called Ewings Sarcoma. Conventional treatment had the young woman undergoing regular chemotherapy treatments lasting five days at a time, something she described as "very intense."
Rutledge told CBS that her participation in the experimental program has been a completely different experience from chemotherapy.
"Immune therapy could not be more the opposite, she said. "I would fly in and out in one day and get a shot."
Rutledge's cancer is reportedly in remission with no side effects from the treatment.
According to the report, Baylor Hospital is the only facility cleared to test this form of cancer treatment. While the FDA's latest action will help expedite the program and increase clinical testing at Baylor, full government approval of the therapy could be five years away.
Watch the report from CBS Dallas.
H/T - CBS DFW
--
Follow the author of this story on Twitter and Facebook: