Texas Sen. Ted Cruz's personality could be a hinderance to his campaign, fellow GOP presidential contender Kentucky Sen. Rand Paul said on Sunday.
During an interview on NBC's "Meet the Press," Paul criticized Cruz's handling of disagreements with leadership — referencing the time Cruz called Sen. Mitch McConnell (R-Ky.) a liar from the Senate floor. Paul said that unlike Cruz, he is able to keep his arguments with leadership to a professional level.
"I've given 10-hour speeches, 13-hour speeches without calling anybody names, but talking about the history of our country, the importance of the Bill of Rights, the importance of the Fourth Amendment and privacy, but I tend not to have the same strategy of attacking people personally," Paul said told NBC's Chuck Todd. "It hasn't done well for him in Washington. It may be rousing people, but ultimately I don't think that kind of personality would allow him to be the nominee."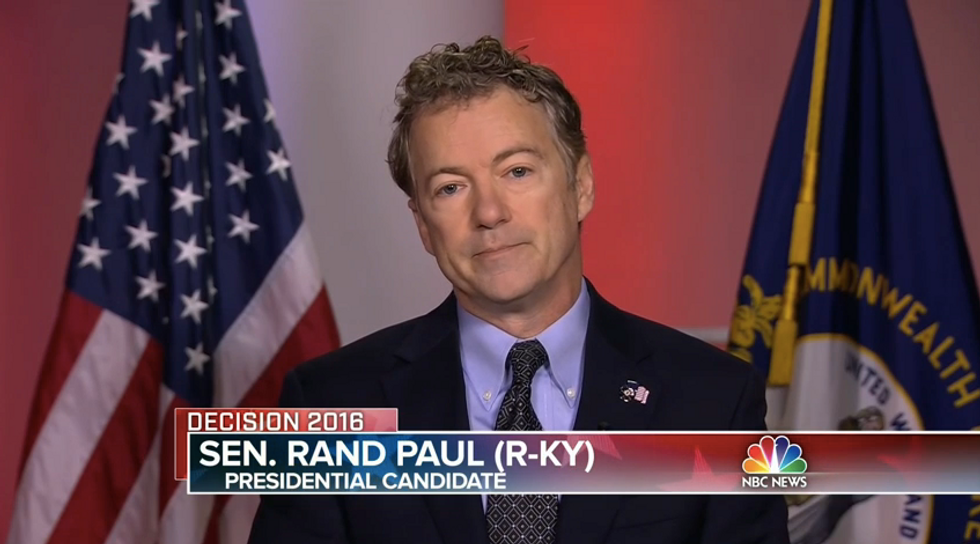 Image source: NBC News
Paul also said that name-calling from the Senate floor "does not meet the rules of the Senate."
During the interview, Paul continued to criticize both Cruz and Florida Sen. Marco Rubio for missing votes while on the campaign trail as well as accused Cruz of copying the libertarian-leaning senator's policy positions.
"They say imitation is the sincerest form of flattery, and I think on foreign policy [Cruz] has started talking about regime change being a bad idea, toppling secular dictators being a bad idea, and I think I've been the leader on that issue, " Paul said.
Over the holiday, Paul tweeted his "New Year's resolutions" — specifically targeting Cruz and Rubio.
"I resolve to give [Cruz] more lead time before I announce my policy positions, so he can replicate them faster #NewYearsResolution," Paul tweeted.
According to Real Clear Politics' polling data, Paul is in seventh among the vast field of GOP presidential candidates at 2.8 percent. Cruz is in second — behind business mogul Donald Trump — with 19.5 percent. Rubio follows at 11.5 percent.
Watch Paul's interview below.