Amid the racial tensions on the University of Missouri's campus that culminated last semester, a school administrator is promoting "inclusive terminology" and stating that the First Amendment does not give people the right to say whatever they wish.
In an interview with the Economist published over the weekend, Mizzou Interim Vice-Chancellor for Diversity, Inclusion, and Equity Chuck Henson criticized defenders of the First Amendment for leading the backlash against the recent changes at the school — including the resignation of President Tim Wolfe, who is white. Henson also asserted that the First Amendment does not give people the right to say "hateful things."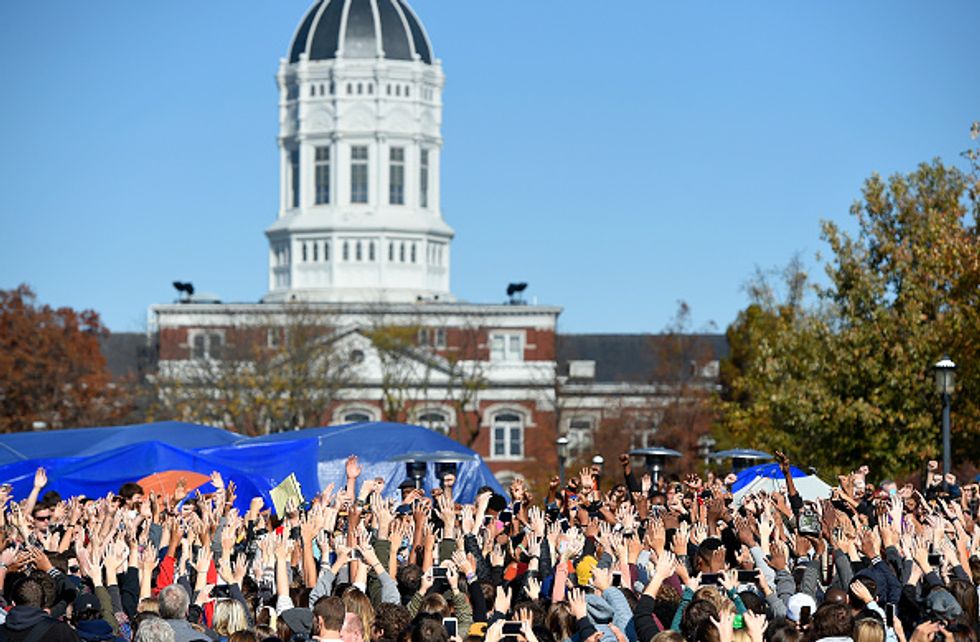 Student protesters on the campus of the University of Missouri in Columbia react to news of the resignation of University of Missouri system President Tim Wolfe Nov. 9, 2015. Wolfe resigned under pressure from student protesters who claimed the president had not done enough to address recent racially motivated incidents on the campus. (David Eulitt/Kansas City Star/TNS via Getty Images)
The Economist reported:
Yet the First Amendment does not give people a free pass to go round saying hateful things, points out Mr. Henson. 

To help students and faculty realise this, Mizzou has developed a new guide to 'inclusive terminology' which ensures a healthy level of respect for all minority groups. It includes terms such as 'adultism' (prejudice against the young), 'minoritised' (when under-represented groups are made to feel inferior) and intersextionality (obscure). Some will see this stuff as movement in the right direction. But it is also likely to increase the ire of those who watched the protests and thought they saw a group of privileged college students complaining about how terrible their lot is.
Henson, who is also a law professor, received immediate criticism.
"The idea that the First Amendment does not give a 'free pass' to say 'hateful things' is demonstrably incorrect," Ari Cohn, a lawyer with the Foundation of Individual Rights in Education, told TheBlaze Monday. "Speech that might be considered 'hateful' is entitled to full First Amendment protection unless it falls under one of the very narrow categories of unprotected speech defined by the Supreme Court."
"History has taught us that the right to free speech is an essential tool for oppressed minorities," Cohn continued. "It would be tragically ironic to curtail free speech in the pursuit of remedying oppression."
FIRE, a nonprofit organization that focuses on civil liberties in academia, has assigned the University of Missouri a "red light" speech code rating. According to the organization, that rating means the public school has a least one policy that clearly restricts speech.
Henson told the Economist that he has received multiple death threats since assuming his leadership position at the university.
Cohn said that death threats do fall under the narrow definition of what constitutes a "true threat" and would be subject to disciplinary action or prosecution.
"But Mizzou may not, consistent with the First Amendment and decades of legal precedent, ban merely hateful speech, or mandate respectfulness and civility," he said. "The university may certainly encourage students to be respectful and nice to one another by using its own speech and educating students, but it may not enforce such values at the expense of students' rights."
Prior to winter break, the university published a series of posts to its website that reaffirmed the school's commitment to fostering a free exchange of ideas and its support of civil liberties, including free expression.
University officials declined to comment to TheBlaze on Henson's allegations of death threats he has received. A Mizzou police department spokesperson told TheBlaze that the local police department would typically conduct a criminal investigation into any death threats brought to its attention. If the threat was found to have been made by university personnel or a student, then punishment would be handed down through the "proper channels."
(H/T: The Economist)