Ahead of a new gun control push, White House press secretary Josh Earnest referred to former President George W. Bush — typically the rhetorical foil for Obama administration officials — as an example of why President Barack Obama's executive actions on guns will have public support.
"We have actually seen Republicans in the not-too-distant past actually articulate their support for some of these common-sense reforms," Earnest said. "President Bush — President George W. Bush, in the context of both the presidential election and his re-election, expressed support for background checks at gun shows."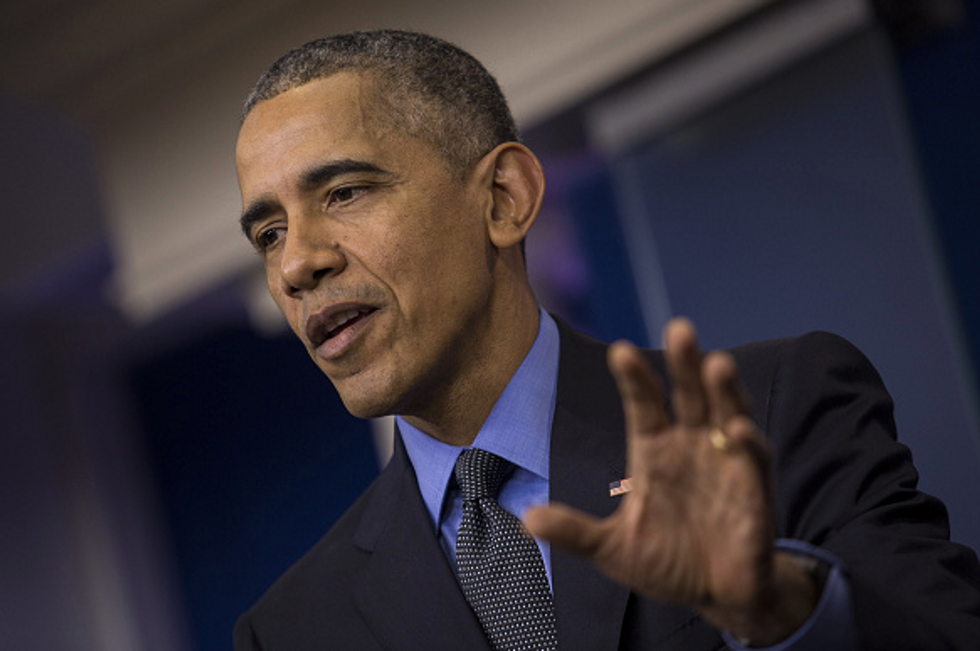 Drew Angerer/Bloomberg via Getty Images
Obama is meeting with officials from the Justice Department, the FBI and the Bureau of Alcohol, Tobacco and Firearms at the White House Monday, and will later have a meeting with congressional Democrats backing gun control.
Unable to push gun control legislation through Congress, Obama will be announcing executive actions this week that would expand the number of "small-scale gun sellers" who have to be registered through the ATF, which would require these sellers to conduct background checks. The White House has not stated on the record when the announcement would be.
While advocating for Obama's planned executive moves, Earnest cited Bush's past comments on background checks.
"When he was running for re-election in October 2004, President George W. Bush said, 'I believe in background checks at gun shows or anywhere to make sure guns don't get in the hands of people that shouldn't have them.' This is not a controversial notion," Earnest said. "This is something that the previous Republican president — one that everyone would agree is a conservative — a proud gun owner himself and had previously served as the governor of a state with a large number, millions of gun owners, this is a position that he has taken. So that infuses my confidence that there is strong public support as a policy matter for these steps."