Republican presidential candidate Dr. Ben Carson sought to assure the evangelical community Monday that he does believe in the rapture, though his views on the matter would be likely be seen as unorthodox by many.
During an interview on CNN's "The Lead," anchor Jake Tapper asked Carson and his campaign chairman, retired Maj. Gen. Robert Dees, about the significant campaign shakeup that left Carson without two of his top aides.
Tapper specifically mentioned Carson's recent interview with the Washington Post that left voters with the impression that Carson, a Seventh-day Adventist, does not believe in the rapture or hell. After resigning over the holidays, former Carson campaign manager Barry Bennett called the interview "damaging."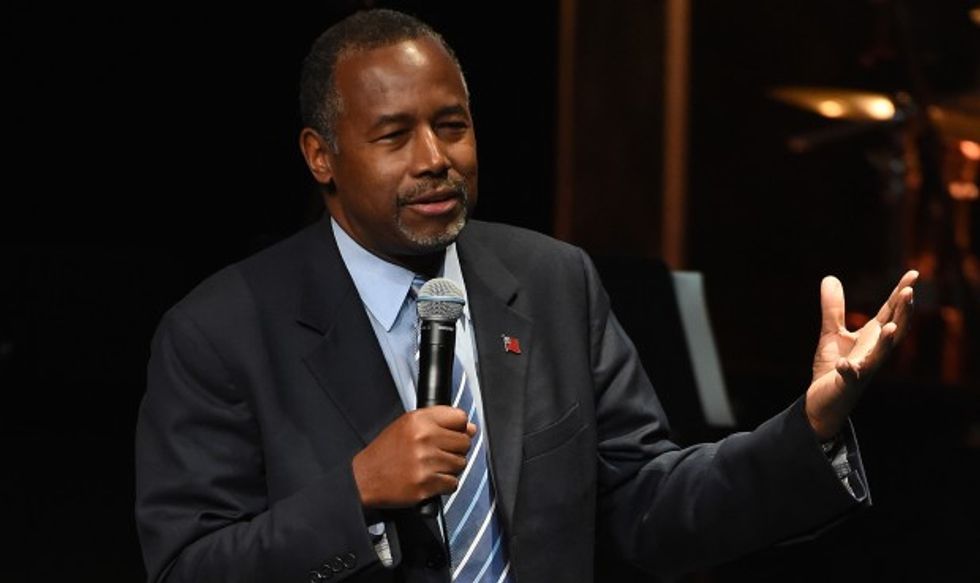 Ethan Miller/Getty Images
Tapper gave Carson and Dees the opportunity to reflect on Bennett's comments and offer a response.
Dees went first, asserting that Carson is "a man who believes in mainstream doctrine" and "the divinity of Jesus Christ." In his words, Dees was attempting to "major on the majors."
Carson then took the opportunity to clarify his actual beliefs regarding hell and the rapture.
"I don't believe in a secret rapture where people just — he's sitting here one minute and he disappears," Carson said. "I believe in what the Bible says and the book of Thessalonians where he will come, everybody will see him, people will be raised from the dead, called up."
After sharing his take on the rapture, the candidate moved on to the subject of hell.
"I personally don't believe in the situation where there's this dungeon and a bunch of little minions poking people forever and ever and burning them," he said. Carson called such conceptions of hell "inconsistent with the character of God" and contrary to Scripture.
He reiterated Dees's claim that his beliefs are "mainstream" and said that being a Seventh-day Adventist would not hurt him in the polls as his ideology is compatible with Christianity at large.
"There isn't anything that's non-mainstream Christian about Seventh-day Adventists — the one exception may be that they believe that Saturday is the Sabbath, simply because that's what the Bible says," Carson said. "That doesn't mean that people who worship on Sunday are evil people or doomed — I don't believe that."
Carson and Dees, who met at church, share strong Christian convictions. Faith has been a key feature in Carson's presidential campaign, which Dees said he "unequivocally" endorses.