The masked man suspected by some to know him to be the star of a new Islamic State execution video was identified by British media Tuesday as a Muslim convert from Hinduism who used to work as an inflatable bouncy castle salesman and was once arrested on suspicion of supporting terrorism.
According to reports in the BBC, Independent, Reuters and Telegraph, a British-Indian man by the name of Siddhartha Dhar is the key suspect in intelligence agency efforts to identify the masked, gun-wielding English-speaker featured in the Islamic State video posted Sunday threatening to invade and impose Shariah law in Britain.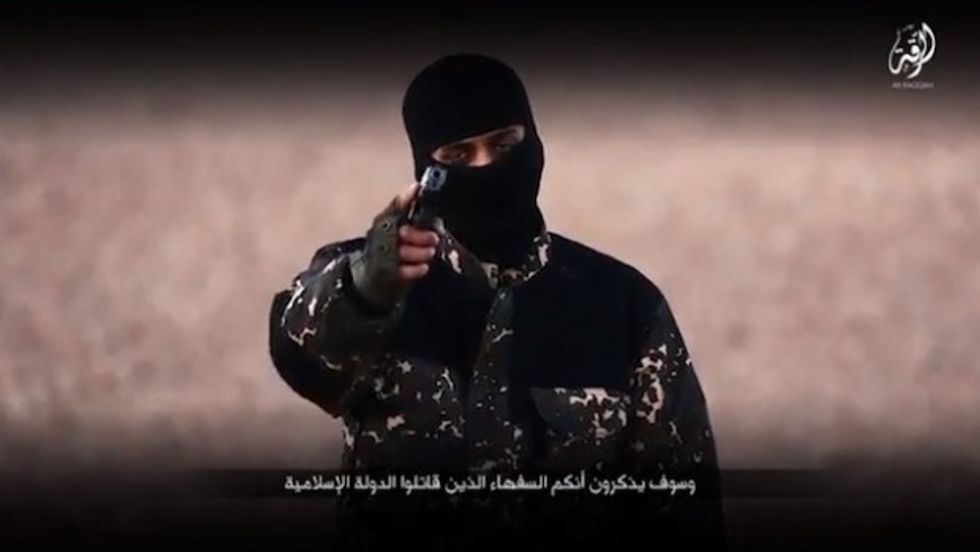 The British accented jihadist threatened the Islamic State will invade the U.K. as he called the prime minister an "imbecile." (Image source: Islamic State video)
Both his relatives and others who know him told British media outlets that there was a similarity between Dhar's voice and that of the masked Islamic State spokesman who called Prime Minister David Cameron an "imbecile."
An official source confirmed to the BBC that Dhar was the focus of the probe of the video.
"A lot of people think it is him," the source said.
A security source told Reuters that British intelligence had not yet determined the identity of the speaker in the video as voice-recognition analysis continued.
British media reported that Dhar, known as Sid, slipped out of the U.K. in 2014 even though he had been arrested on suspicion of supporting terrorism and the outlawed Islamist group Al Muhajiroun.
The Independent reported:
When he was released on bail with orders to surrender his passport, Dhar simply boarded a bus to Paris with his then pregnant wife and young children en route to Syria. Once in Isis territory he posted a number of social media messages taunting police and MI5. One tweet read: "What a shoddy security system Britain must have to allow me to breeze through Europe to the Islamic State."
The Telegraph observed, "If Dhar's identity in the terrorist outrage is confirmed it will lead to uncomfortable questions for the security services, who allowed him to leave the country just hours after the police granted him bail."
According to the Independent, he published an e-book last year which compared life under the Islamic State-ruled "caliphate" to that of a "plush holiday resort."
Dhar's sister Konika told the Independent that while she did not believe the masked man in the video was her brother, she would "kill him myself" if he was.
"If it is him, bloody hell am I shocked? I am going to kill him myself. He is going to come back and I'm going to kill him if he has done this," Konika Dhar said.
In the video, Islamic State militants appeared to execute five men accused of being British spies by shooting them point blank in the back of the head.
Because the black balaclava-wearing man delivered a threatening statement in English, he was immediately compared to "Jihadi John," the former Islamic State English-language propagandist who appeared in beheading videos before he was killed in a drone strike in Syria in November. Jihadi's John real name was Mohammed Emzawi.
The British government has said that as many as 800 citizens have traveled to Iraq and Syria to join jihadist groups.