When it comes to criticizing GOP presidential front-runner Donald Trump, former Florida Gov. Jeb Bush told MSNBC he's the man for the job — and expressed amazement that his fellow Republican presidential contenders are not "taking him on."
"You gotta take on the bully head on, and that's what I'm doing. Everybody else is in the witness protection program, I've noticed," Bush said, drawing laughter from "Morning Joe" co-hosts Joe Scarborough and Mika Brzezinski.
"When he says the things he says and guarantees that a conservative is not going to be elected president, that's wrong," Bush continued. "I've been a conservative all of my adult life."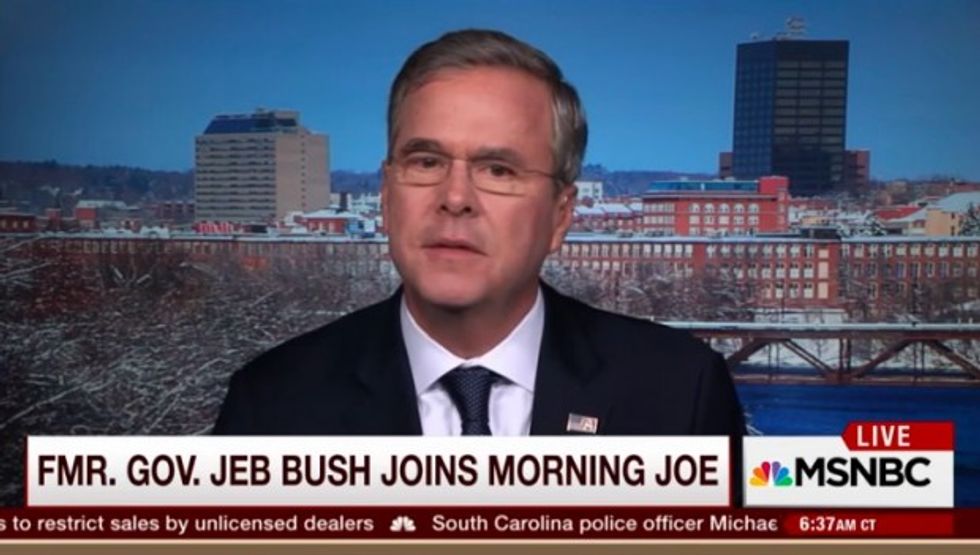 Image source: MSNBC
"I find it remarkable that no other candidate is taking him on," Bush said. "He's a bully. And his views, while it's very fun to talk about the theatrics and the like, his views are not the views of a conservative."
When asked if he would like to see his brother, former President George W. Bush, to publicly call out Trump, Bush demurred, saying, "I think that's my job."
The feud between Bush and Trump has been ongoing throughout the campaign — both on the campaign trail and on social media. Trump has often referred to Bush as "weak" and "low-energy" while Bush has called Trump a "jerk."
According to Real Clear Politics' aggregated polling data, Trump leads the field of Republican presidential contenders at 35.0 percent. Bush follows in sixth place at 4.3 percent.
Watch a clip of Bush's interview on MSNBC below.