Donald Trump late Monday dismissed criticism over his first political television ad, which claims to depict migrants "at the southern border." The migrants in the footage used for the ad, however, turned out to be Moroccans attempting to enter the Spanish-African city of Melilla, according to PolitiFact, which gave the ad a "Pants on Fire" rating.
"All it is is a display of what it's going to look like and what our country looks like," Trump said on Fox News' "The O'Reilly Factor," adding that it is just "video footage."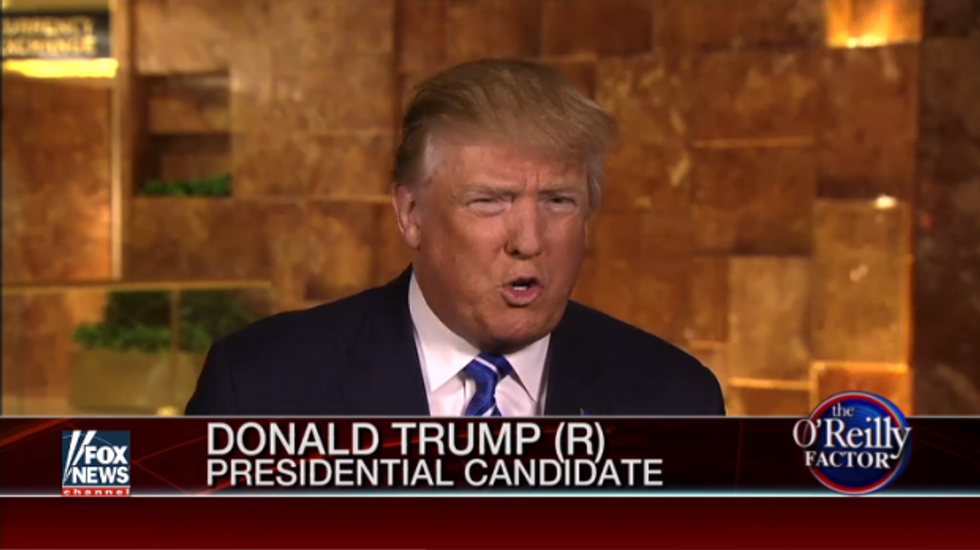 Image source: Fox News
"We're like a third-world country. We're a dumping ground," the billionaire continued. "It's really merely a display of what a dumping ground is going to look like. And that's what our country is becoming very rapidly."
"You don't think the video is a little misleading, with the talk of the border fence? For Mexico, you use a Morocco video?" O'Reilly pressed. "You don't think that's misleading?"
"No, I think it's irrelevant. All we want to do is [show] what it's going to look like," Trump replied. "They picked something, they could have picked something else. We could pick plenty of footage, that I can tell you, Bill."
Their exchange on the issue ended there, as O'Reilly told Trump that his campaign "probably should have" used footage from the Mexican border, because the "media is after" Trump.
Watch the exchange below. The relevant section begins around 3:45:
—
Follow the author of this story on Twitter and Facebook: Follow @chrisenloe
[facebook //www.facebook.com/plugins/like.php?href=