Cleveland Brown's Coach Mike Pettine and General Manager Ray Farmer are out after a crushing season, and quarterback Johnny Manziel was reportedly out over the weekend, too — partying in Las Vegas in a wig.
Manziel was scheduled to sit out during Sunday's game against the Pittsburgh Steelers due to a concussion, but according to ESPN, the team had no idea where their quarterback was all weekend. Yet, it appears ESPN Las Vegas' sources found him.
According to a report from ESPN Las Vegas, Manziel introduced himself as "Billy" at a popular night club on the Las Vegas strip Saturday night. He was also wearing a blonde wig, fake mustache, glasses and hoodie.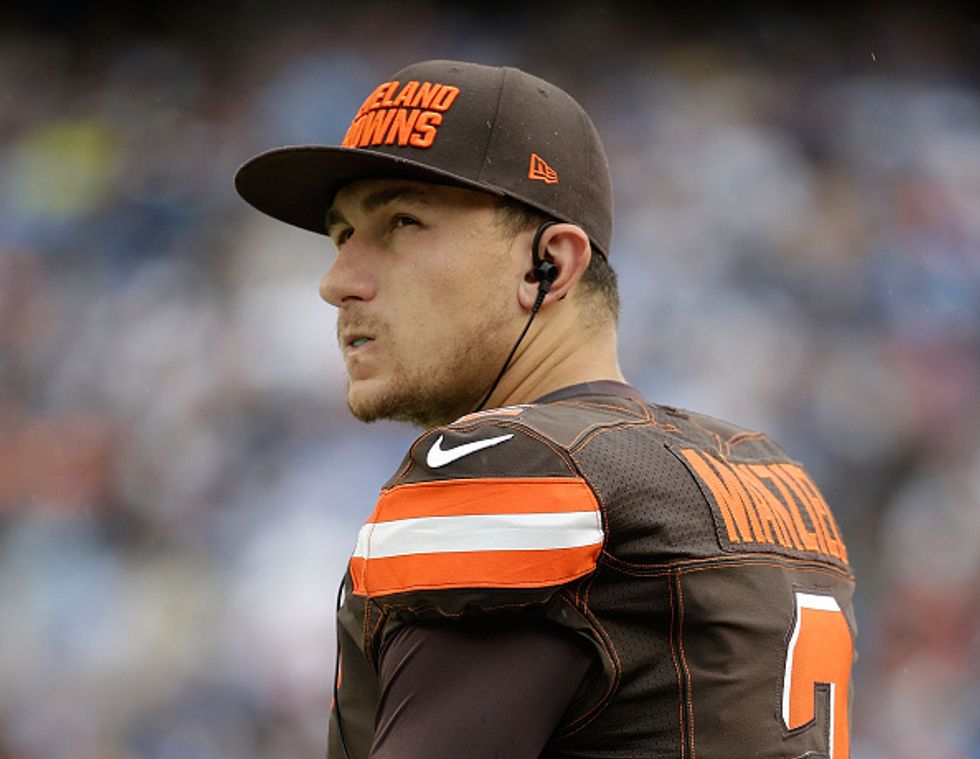 Quarterback Johnny Manziel of the Cleveland Browns looks on from the sideline against the San Diego Chargers at Qualcomm Stadium Oct. 4, 2015, in San Diego. (Jeff Gross/Getty Images)
"He was there into the 3 a.m. hour and when it came time to pay the bill, he asked to have it comped because he didn't bring cash and also didn't want to put it on his card," the report from ESPN Las Vegas said. "However, the sources tell us he ended up paying with his card and signing the check."
ESPN Las Vegas also reported that by 3 a.m., Manziel "appeared to be enjoying the party scene that Vegas is known to offer." At the club, Manziel was reportedly seated at a VIP table in a dark area where he ate with his wig and glasses on.
ESPN reported that the embattled quarterback was back in attendance among the team on Monday as Browns owner Jimmy Haslam addressed the team with Cleveland's new director of football operations, Sashi Brown. Manziel did not go into the locker room when it was open to the media, and there is no official word from the team regarding his whereabouts over the weekend or why he missed a scheduled meeting Sunday morning regarding his concussion.
"He's his own man. You can't really tell him what to do," Danny Shelton, defensive lineman, said.
And while Shelton said Manziel is "his own man," social media has erupted with new photos of what the quarterback — or "Billy" — could have looked like while in Vegas.
The Cleveland Browns were 3-13 this season.